BRAF: A Key Suspect in the Endometriosis Mystery
Oct 1, 2018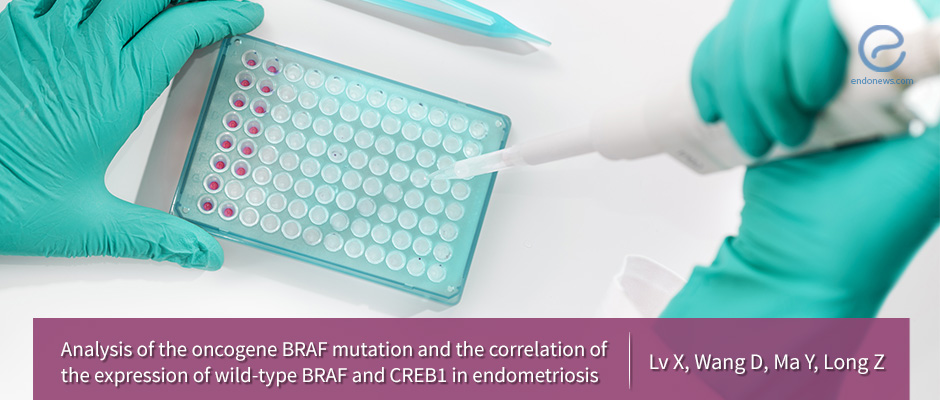 Research has uncovered a link between BRAF and the creation and promotion of endometriosis.
Key Points
Highlights:
The researchers hoped to elucidate the relationship between the B-RAF proto-oncogene (BRAF) molecular mechanisms and endometriosis by analyzing the BRAF alterations.
The researchers also wished to further explore wild-type BRAF, with regards to its relationship with the cAMP responsive element binding protein 1 (CREB1), a transcription factor.
Importance:
BRAF is a proto-oncogene and altered in many CREB1 may be a candidate gene for endometriosis intervention and treatment
What's done here?
30 patients with endometriosis undergoing a total hysterectomy composed experimental group and were compared to 25 patients who did not suffer from an estrogen-dependent disease.
The participants in the experimental group provided endometriosis and paired eutopic endometrium samples, whereas the control group participants provided normal endometrium samples, all collected during the secretory phase.
Immunohistochemistry (IHC), polymerase chain reaction (PCR), direct sequencing, quantitative PCR, or western blot analysis were performed and compared between control and endometriosis patients eutopic endometrium samples, as well as eutopic and endometriotic samples of endometriosis patients. Then the data was subject to statistical analysis.
Key results:
The researchers did not find any BRAF mutations in exons 11 or 15 of eutopic or endometriotic material.
Patients with endometriosis had higher expression levels of wild-type BRAF and CREB1 in their eutopic endometrial tissue than the levels found in normal endometrial tissue from controls
Limitations of the study:
The molecular mechanism by which CREB1 regulates the expression of wild-type BRAF is not clarified.
Lay Summary
LV et al., a group of researchers from China, recently published a study titled "Analysis of the oncogene BRAF mutation and the correlation of the expression of wild-type BRAF and CREB1 in endometriosis" in the International Journal of Molecular Medicine. The study hopes to understand the role of B-Raf proto-oncogene, serine/threonine kinase (BRAF) molecular mechanisms play in the initiation and promotion of endometriosis.
The experimental group consisted of 30 women with endometriosis from whom eutopic and ectopic (endometriotic) tissue was collected. The control group, was consisted of 25 women with no estrogen-dependent diseases and eutopic endometria was collected; and all the samples were subject to numerous analyses. These analyses include genomic DNA isolation, polymerase chain reaction (PCR), direct sequencing, transcription factor binding sites prediction, RNA extraction, reverse transcription, quantitative PCR, immunohistochemistry, and western blot.
The results of the experiments showed that there were no BRAF mutations detected in exons 11 or 15 of any patients. While looking for upstream transcription factor binding sites, researchers found that cAMP responsive element binding protein 1 (CREB1) could be a transcription factor of the BRAF gene. Both the eutopic and the ectopic endometrial tissue derived from patients diagnosed with endometriosis were found to have higher levels of wild-type BRAF and CREB1 mRNA and protein expression compared to normal endometrial tissues from controls. The results also showed that the CREB1 protein expression levels correlated positively with the wild-type BRAF protein expression and transcript levels.
The researchers reached the speculation that CREB1 activates wild-type BRAF promoter through directly binding to its promoter, increase BRAF expression to re-regulating the cell proliferation, migration, and invasion of endometriosis. They also added that additional studies are required to further verify the exact molecular mechanism by which CREB1 regulates the expression of wild-type BRAF.
---
---
BRAF
CREB1
PCR
qPCR
western blot
transcription
DISCLAIMER
EndoNews highlights the latest peer-reviewed scientific research and medical literature that focuses on endometriosis. We are unbiased in our summaries of recently-published endometriosis research. EndoNews does not provide medical advice or opinions on the best form of treatment. We highly stress the importance of not using EndoNews as a substitute for seeking an experienced physician.
<< Previous Article