M1 and M2 macrophages in ovarian endometriomas
By:
Yu Yu
- Nov 12, 2019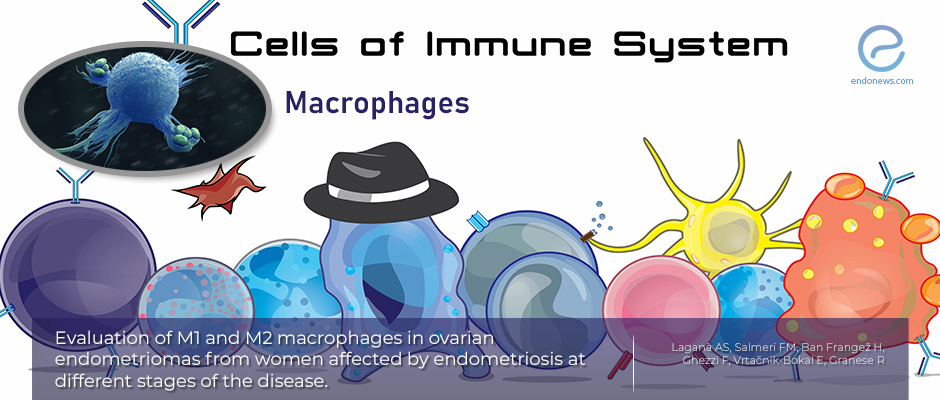 Which macrophages are you?
Key Points
Highlight:
Importance:
Early stages of endometriosis are associated with pro-inflammatory macrophages, while advance stages are associated with the pro-fibrotic activity of macrophages.
What's done here:
The study aim is to evaluate M1 and M2 macrophages in ovarian endometrioma tissue samples.
M1 macrophages are positive for the cell surface markers CD14, CD68, CD197, CD80, and M2 macrophages are positive for CD14, CD68, CD163, CD206.
Ovarian endometriomas (n=32) and the controls that are composed of functional ovarian cysts (n=13) were collected during laparoscopy.
Data:
The number of M1 and M2 macrophages was higher in endometriosis versus control groups, regardless of the stage of endometriosis.
From the stage I to stage IV of endometriosis, there was a trend for the decrease of M1 macrophages, whereas M2 macrophages were increased.
Limitation:
A small number of patients, therefore study findings need to be confirmed in a larger study.
The polarisation of macrophages may change over time. The use of additional or novel markers to characterize macrophage subpopulations in an experiment may further help to understand their roles.
Lay Summary
Macrophages play an essential role in the immune response during inflammation and have been implicated in diseases such as inflammatory conditions and cancers. Broadly, macrophages are classified into M1 and M2. The M1 macrophages are pro-inflammatory, and in contrast, the M2 is anti-inflammatory and profibrotic. The M2 macrophages are also able to induce immunotolerance and angiogenesis.
While the number and roles of these subpopulations of macrophages have been extensively studied in tumors, little is known about them in endometriosis. The current study conducted by published in "Gynecological Endocrinology" by Laganà et al. from Unit of Gynecology and Obstetrics at the University of Messina, Italy, aimed to evaluate the M1 and M2 macrophages in ovarian endometriomas collected from women with endometriosis at different stages of the disease.
The study prospectively enrolled women from December 2016 to December 2018, who are in their reproductive ages. The study cohorts include women with ovarian endometriomas and control cases, which are made up of cases with a single ovarian functional cyst persistent for more than 6 months. Both the endometriosis and control groups underwent laparoscopic surgical procedures. In total, 32 women with ovarian endometriomas and 13 controls were enrolled in the study. The endometriosis stages break down was stage I (28%); stage II (34%); stage III (22%), and stage IV (16%).
Significantly, the study results, as consistent with other previous findings, showed that the number of both M1 and M2 macrophages was higher in the endometriosis group than the controls, regardless of the disease stage. In addition, there was a progressive decrease of M1 macrophages from stage I to stage IV, but the M2 macrophages number was progressively increased from stage I to stage IV. Overall, the study findings are consistent with the transition from M1 macrophage to M2 macrophage profile that was also reported previously in a mouse study.
In conclusion, by evaluating the status of macrophages, the clearer picture of the inflammatory environment of endometriosis has been formed. The results so far suggest that the early stages of endometriosis are associated with the pro-inflammatory microenvironment, while the advanced stages had a switch to M2-polarization that have a pro-fibrotic activity. Understanding these alterations will allow researchers to better design new therapy suitable for the different stages of endometriosis.
---
---
inflammation
immune cell
macrophage
M1
M2
proinflammatory
fibrotic
endometrioma
DISCLAIMER
EndoNews highlights the latest peer-reviewed scientific research and medical literature that focuses on endometriosis. We are unbiased in our summaries of recently-published endometriosis research. EndoNews does not provide medical advice or opinions on the best form of treatment. We highly stress the importance of not using EndoNews as a substitute for seeking an experienced physician.
<< Previous Article
Next Article >>