Long noncoding RNAs to predict the endometriosis recurrence
Sep 13, 2021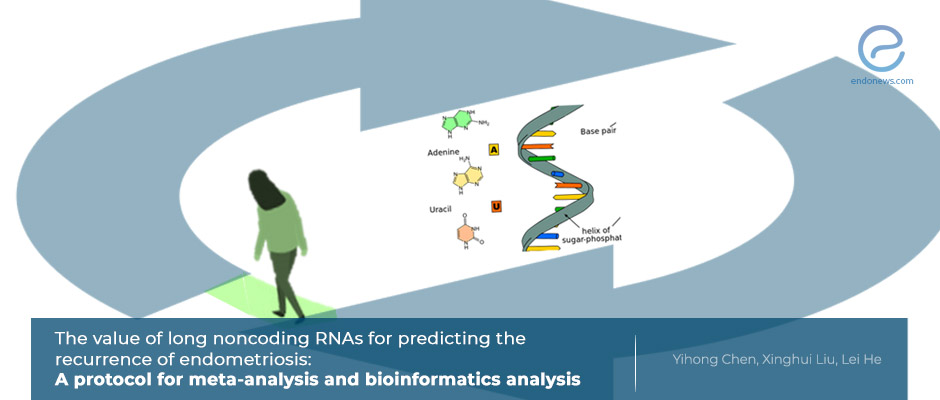 Recurrence of endometriosis may be predicted by differential expression of long noncoding RNAs.
Key Points
Highlights:
Screening of endometriosis patients with long noncoding RNAs may have clinical significance for the diagnosis, treatment, and prognosis of endometriosis.
Research is necessary for clarification of the above hypothesis.
Importance:
It would be clinically useful if long noncoding RNA predicts recurrence in women with endometriosis.
What's done here?
This is a research proposal of a meta-analysis to evaluate whether the long noncoding RNAs may be a predictor of endometriosis recurrence.
The Web of Science, PubMed, and EMBASE databases should be searched for the eligibility criteria on patients with surgically diagnosed endometriosis.
Long noncoding RNAs should be assessed in tissue, platelets, serum, peripheral blood mononuclear cells, plasma, and whole blood.
Online tool co-Long non-coding RNA was also used to screen the genes that may be related to the expression level of long noncoding RNAs.
Key results:
Results will clarify whether long noncoding RNAs have important functions to predict endometriosis recurrence, like some other diseases.
The role of long noncoding RNAs in the occurrence and development of endometriosis should be estimated in proliferation, invasion, metastasis, apoptosis, and autophagy.
To reveal the clinical significance of long noncoding RNAs for the recurrence of endometriosis, further research is needed.
Lay Summary
Despite extensive research, the exact pathophysiologic mechanism of endometriosis remains unclear; and the absence of non-invasive biomarkers to diagnose endometriosis is still a big problem both for clinicians and patients.
The recurrence of endometriosis is another challenge that is difficult to explain. Chen et al., from China, published a proposal for systematic review entitled "The value of long noncoding RNAs for predicting the recurrence of endometriosis"in the journal named "Medicine (Baltimore)".
The authors sought to assess the expression of long noncoding RNAs in women with endometriosis to predict recurrence. Two independent researchers are planned to perform the literature review and later cross-check the data for confirmation. Appropriate bioinformatic analysis on the data of metaanalysis would reveal important results.
Long noncoding RNAs are a type of RNA, defined as being transcripts with lengths exceeding 200 nucleotides that are not translated into protein. Long noncoding RNAs had important functions to predict endometriosis recurrence, as in many diseases. Long noncoding RNAs could promote the development and recurrence of endometriosis through a variety of mechanisms such as abnormal proliferation, apoptosis, invasion, steroid hormone metabolism and its receptor expression, epithelial-mesenchymal transformation, angiogenesis, and other processes related to endometrial cells.
"Further screening of long non-coding RNAs, with high specificity and sensitivity, has important clinical significance for the diagnosis, treatment, and prognosis of endometriosis." the authors added.
---
---
bioinformatics
endometriosis
long noncoding RNAs
meta-analysis
protocol
recurrence
DISCLAIMER
EndoNews highlights the latest peer-reviewed scientific research and medical literature that focuses on endometriosis. We are unbiased in our summaries of recently-published endometriosis research. EndoNews does not provide medical advice or opinions on the best form of treatment. We highly stress the importance of not using EndoNews as a substitute for seeking an experienced physician.
<< Previous Article

Next Article >>