Endometriosis & adolescents: Overcoming the diagnostic delay via education
Sep 10, 2021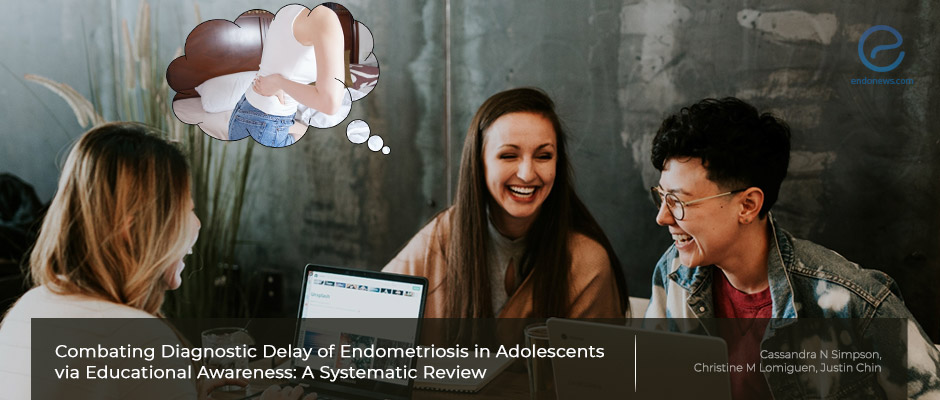 The delay in the diagnosis of endometriosis in adolescents may be prevented with proper education
Key Points
Highlights:
The education of young females about pelvic pain syndromes plays an important role in order to help them get a quicker diagnosis.
The current guidelines when formulating a sexual health curriculum should be broadened to include information about menstrual pain and pelvic pain syndromes.
Normalization of dysmenorrhea and other menstrual pain symptoms caused adolescent women to wait three times longer to seek medical treatment than adults with the same symptom
Importance:
The diagnostic delay of endometriosis in adolescents causes many problems in their daily life such as missing school, decreased socialization, and sexual impairment.
They may present with pain even before menarche, therefore it is important to raise awareness on this issue.
The era of digital education has both advantages and disadvantages, so ultimate education should be given to young individuals about their possible sexual health problems.
Key results:
Adolescents wait three times longer than their adult counterparts to seek medical treatment for pain symptoms.
There are six main reasons for the diagnostic delay in endometriosis, mainly categorized as physician and patient-related reasons.

Physician-related reasons include knowledge gap, normalization, lack of research, and resistance.
Patient-related reasons include knowledge gap and normalization.
What's done here:
This is a review study of the articles that discussed the delay in endometriosis diagnosis in adolescents aiming to find the major reasons and overcome them with education.
A total of 27 studies about the diagnostic delay of endometriosis were evaluated.
Lay Summary
Although the diagnosis of endometriosis is still not timely even in adults, due to its common under- or misdiagnosis in adolescents, the diagnostic delay may further cause the adolescent women to wait to seek medical treatment.
A group of researchers from the USA has published a review article that brings together a total of 27 studies about the diagnostic delay of endometriosis with the aim of finding the major causes of the delay in adolescents. They used the quality assessment tools and classified the studies into 3 categories depending on the risk of bias. The study was published in the May issue of the journal Cureus. The purpose was to analyze current scientific literature for the diagnostic delay of endometriosis and to determine how education regarding endometriosis could be improved.
A total of 32 reasons were identified in these studies and they were subcategorized into 6 categories. Physician knowledge gap, normalization by the physician, lack of research, and physician resistance were classified as physician-related reasons and patient knowledge gap and patient normalization were included as patient-related reasons. When the quality of these studies was evaluated using NIH scales, the overall risk of bias was calculated as 4.92 which was a moderate risk of bias.
The delay in the patient seeking treatment was among the patient-related reasons for the diagnostic delay. The adolescents were found to wait three times longer than adult patients to seek medical treatment for their pain symptoms. The authors then emphasized the importance of sexual education of the individuals, the lack of specific education on endometriosis, and how digital education can be used to educate not just healthcare professionals but also individuals. The disability to recognize pain symptoms as a symptom of endometriosis, the normalization of pain symptoms as menstrual pain, the lack of general knowledge, and the hesitation to perform a laparoscopic diagnostic procedure for the diagnosis were among the physician-related reasons.
The authors also stated the Center for Disease Control Healthy Behavior Outcomes for Students in Pre-Kindergarten through 12th Grade guidelines include a statement to use appropriate health services to promote sexual health and as a result, they recommended that this category should include information about menstrual pain and pelvic pain syndromes. The education of young females is crucial for the ones with endometriosis in order to give them the possibility of normal adolescent life and prevent diagnostic delay and its outcomes.
---
---
endometriosis in adolescents
endometriosis education
menstrual pain
digital education
sexual health education
DISCLAIMER
EndoNews highlights the latest peer-reviewed scientific research and medical literature that focuses on endometriosis. We are unbiased in our summaries of recently-published endometriosis research. EndoNews does not provide medical advice or opinions on the best form of treatment. We highly stress the importance of not using EndoNews as a substitute for seeking an experienced physician.
<< Previous Article

Next Article >>