Chemical Found in Self-Care Products May Be Linked to Endometriosis
Sep 9, 2021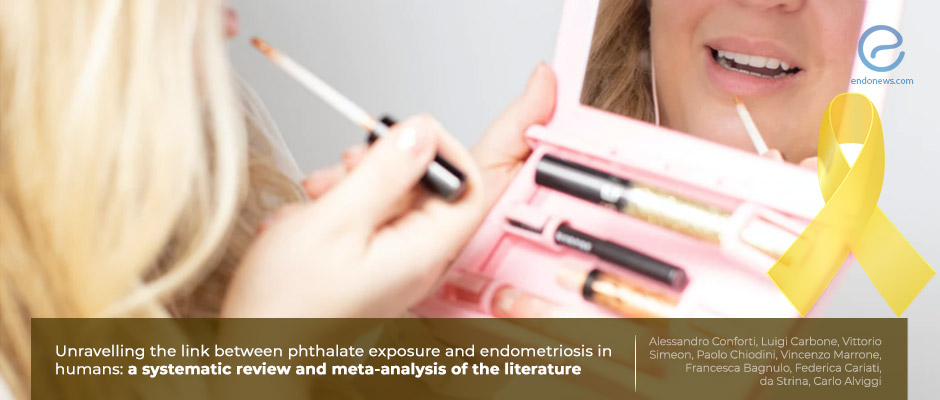 However, more research is needed to unravel the true link between these chemicals and endometriosis.
Key Points
Highlights:
There may be a link between phthalates that are commonly used during manufacturing cosmetics, lotions, and self-care products, and endometriosis.
Importance:
If confirmed, this finding could guide policy around the use of phthalate in personal care and other products.
What's done here:
Researchers conducted a systematic literature review and meta-analysis to unravel the potential link between phthalates exposure and endometriosis.
All eligible relevant studies published prior to November 2020, screened by two reviewers.
Qualitative and quantitative assessments of urinary and blood phthalate compounds such as MBP (mono-n-butyl phthalate) and MiBP (mono-iso-butyl phthalate), and major phthalate metabolites such as MEHHP (mono-[2-ethyl-5-hydroxyhexyl] phthalate) and MEOHP (mono-[2 ethyl-5-oxohexyl] phthalate were performed.
The relationship between phthalate exposure and the development of endometriosis was calculated by appropriate statical analyses.
Key results:
There was an association between increased urine levels of MBP, MEOHP, and MEHHP, and endometriosis.
Based on the blood-derived analysis, there was a statistically significant link between BBP, DEHP, DnBP, and MEHP, and endometriosis.
Limitations:
Most studies included in the analysis were retrospective case-controlled studies and some had very few participants.
The way in which patients were diagnosed with endometriosis was not homogenous.
Phthalates could originate from the tubes used to collect the samples.
Only one urine sample was taken and therefore there is no information about the chronicity of exposure to phthalates.
Samples taken after surgery might be contaminated by intravenous therapies or the procedure itself.
Some patients might have been using mediations containing phthalates but this information was not available.
Lay Summary
There may be a link between exposure to phthalates and endometriosis according to a new study published in the Journal of Assisted Reproduction and Genetics. Although more research is needed, these findings could be translated into clinical practice according to Dr. Alessandro Conforti and the co-authors of the study.
Phthalates often called "plasticizers" are a group of chemicals used to make plastics more durable. They are widely used in many products including vinyl flooring, lubricating oils, and personal-care products such as soaps, shampoos, and hair sprays.
Recent research has shown that chemical agents and endocrine-disrupting chemicals may be linked to endometriosis. In order to unravel the possible link between phthalate exposure and endometriosis, a team of researchers from Naples, Italy conducted a systematic review of the literature and meta-analysis. They included 14 studies in their analysis.
They observed an association between increased levels of mono-n-butyl phthalate (MBP), mono-[2 ethyl-5-oxohexyl] phthalate (MEOHP), and mono-[2-ethyl-5-hydroxyhexyl] phthalate (MEHHP) in the urine and endometriosis. These phthalates can enter the body through ingestion, inhalation, and dermal absorption.
When they conducted blood-derived analyses, the researchers found that there was a statistically significant link between the presence of butyl-benzyl phthalate (BBP), di-[2-ethyl-hexyl] phthalate (DEHP), di-n-butyl phthalate (DnBP), and mono-[2-ethylhexyl] phthalate (MEHP) and endometriosis.
The researchers concluded that they may be an association between exposure to phthalates and endometriosis but said that their results should be taken with caution due to the heterogeneity of the studies that they included in their analysis. They added that more research is needed to unravel the true link between phthalates and endometriosis.
---
---
phthalate
environmental exposure
risk of endometriosis
DISCLAIMER
EndoNews highlights the latest peer-reviewed scientific research and medical literature that focuses on endometriosis. We are unbiased in our summaries of recently-published endometriosis research. EndoNews does not provide medical advice or opinions on the best form of treatment. We highly stress the importance of not using EndoNews as a substitute for seeking an experienced physician.