Laparoscopic surgery of endometriosis through three compartments
By:
Selma Oransay
- Oct 9, 2018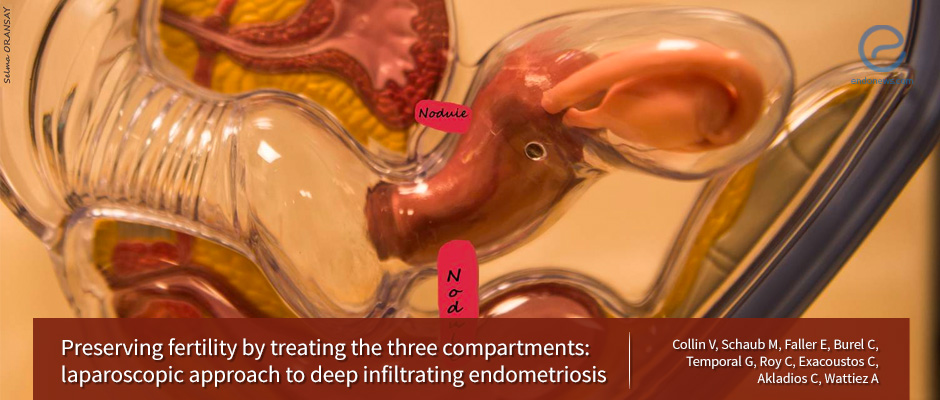 During operations of deep infiltrating endometriosis, to preserve the fertility is important.
Key Points
Highlights:
The authors published the video of their operation in a tertiary hospital, to indicate the feasibility of complete surgery for severe and deep endometriosis with a multicompartmental disease, using a laparoscopic approach aiming to preserve fertility.
İmportance:
It is generally difficult to preserve fertility when deep endometriosis is widespread. When a patient wants to preserve fertility, it may be possible to make a laparoscopic surgery through different compartments.
What's done here:
Laparoscopic removal of adenomyoma, partial cystectomy for bladder, and bowel resection performed and published as a video, in a case of deeply infiltrated endometriosis.
Key results:
While removing the endometriotic nodule situated between the bladder and anterior wall of the uterus, authors used double J probe and bladder catheter to guide.
Ureterolysis and carefully releasing of round ligaments from ovaries lead to open the rectouterine space.
Bilateral pararectal fossas are opened and rectosigmoid resection is performed to remove the endometriosis nodule in the bowel.
After six weeks of operation, hysterosonography demonstrated an adequate uterine patency and no adhesion to the uterus.
Limitation:
The follow-up period up is not enough to manifest the result of the preserved fertility.
Lay Summary
This case study which is published in the J. of Minimally İnvasive Gynecology is the video demonstration of Collin et al who performed the laparoscopic operation of their patient in Gynecologic Surgery Department of Strasburg Hospital University, France.
37 years old nulliparous patient who has dysmenorrhea, dyspareunia, pollakiuria, dyschezia, and macroscopic menstrual hematuria, underwent MRI examination. An endometriotic nodule found in bladder including involving the anterior wall of the womb. There was also infiltration of uterine ligaments, ovaries and bowel wall, with possible invasion of rectal mucosa.
All these findings indicate the diagnosis of deeply infiltrating endometriosis and the need arise to operate the patient in a tertiary hospital. The fertility desire of the patient conduct the authors to operate the patient some rules of preserving fertility. In the end, they share their technique to set light to prospective operations.
Authors performed the operation in three steps as adenomyomectomy, partial cystectomy (bladder removal), and bowel resection for preserving the fertility. During the postoperative consultation after 6 weeks, hystero-sonographic findings showed the benefit of the operation to the patient and clinical improvement observed.
Authors claimed they protected the fertility of patient while performing the complete laparoscopic operation of DIE, although their case couldn't conceive during her short-term follow-up.
---
---
laparoscopic operation
three compartment
case report
deep infiltrating endometriosis
fertility
endometriosis.
DISCLAIMER
Endonews is designed to strictly highlight the most recently published scientific research that focuses on endometriosis. It is not designed to provide medical advice or an opinion on the best form of treatment. We highly stress the importance of not using this site as a substitute for seeking an experienced physician, which is highly recommended if you have any questions or concerns regarding your endometriosis needs. We believe in the consciousness of our reader to discriminate that research is different than "standard of care," and trust that they can keep in mind that here at Endonews, we summarize the newest peer-reviewed scientific medical literature, without bias.
<< Previous Article

Next Article >>