How to preserve fertility in women with "ovarian endometriosis"?
By:
Hale Goksever Celik
- Oct 5, 2018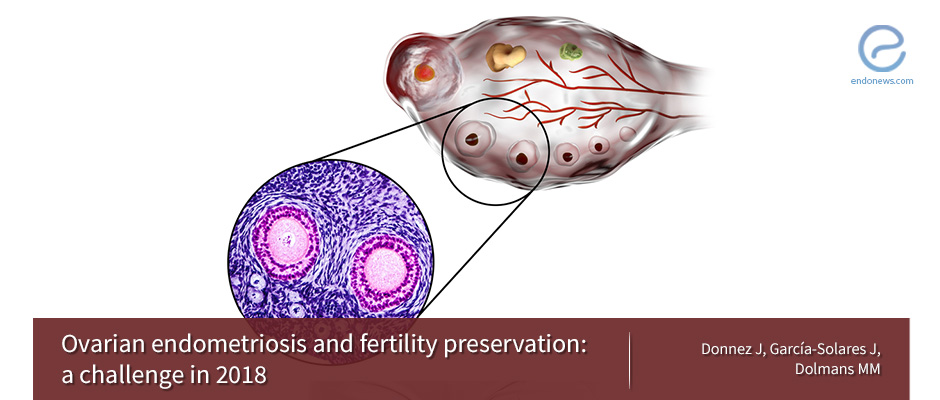 Fertility preservation is an important issue that should be considered in patients with severe endometriosis undergoing ovarian surgery.
Key Points
Highlights:
This review evaluates the importance of fertility preservation in women undergoing endometriosis surgery.
The authors concluded that the surgery for severe endometriosis should be performed carefully in order to both preserve and improve fertility.
Importance:
Reduction of ovarian reserve after endometriosis surgery has been reported by many publications.
The protection of ovarian reserve and minimizing ovarian damage during surgery is very important for the future fertility of the patient with severe endometriosis.
What's done here?
This review is a summary of the preservation techniques of the ovarian reserve during endometriosis surgery.
The combined technique of excisional and ablative surgery is one of the techniques in preserving the ovarian reserve. Cystectomy for removal of the cyst wall and ablative surgery for opening the endometrioma and the destruction of the internal cyst wall are performed together.
Autotransplantation of fresh human ovarian tissue in cases of oophorectomy or in cases with a high risk of recurrence for endometriosis is described.
Another important issue is the increased risk for premature ovarian failure. Cryopreservation of healthy ovarian tissue in women with severe ovarian endometriosis, especially in case of recurrence is an option.
If microscopic endometriotic foci are noticed in cryopreserved ovarian tissue, the authors defined a method, namely "in vitro follicle maturation after follicle isolation" to decrease the recurrence of the disease.
Key results:
Endometriosis surgery is important: excessive surgery may lead to ovarian tissue destruction, while incomplete surgery may result in recurrence.
A technique combining the cystectomy and ablative surgery is described. The first cystectomy is carried out, then residual cyst is vaporized with a CO2 laser to avoid the damage.
Another paper of the authors published recently evaluated this combined technique in 52 patients with ovarian endometriosis.
In the case of oophorectomy and a high risk for recurrence after conservative treatment, autotransplantation of ovarian tissue is an option to preserve ovarian reserve.
If the women are at risk for premature ovarian failure, several options such as embryo cryopreservation, oocyte cryopreservation, and ovarian tissue cryopreservation could preserve fertility.
The use and success of this technique depend on the age due to the decline in fertility with aging.
Ovarian tissue collected from the cortex for cryopreservation is immediately transferred to tissue culture dishes and then reimplanted by two different techniques, here are described.
Lay Summary
Although there are many treatment modalities in endometriosis, optimal treatment has not been developed yet. The aim of the treatment is to reduce pain, to preserve and improve fertility and to delay recurrence.
Ovarian ischemic and perfusion damage during endometriosis surgery is an important concern to be considered by clinicians. Because ovarian reserve has already decreased due to the presence of endometriosis, surgery should be considered even more carefully. Donnez et al, a group of scientists from Belgium, published a prospective study titled as "Ovarian endometriosis and fertility preservation: a challenge in 2018" in the journal named as Minerva Ginecologica.
The authors summarized the techniques which they have developed to protect ovarian reserve and to minimalize ovarian damage during endometriosis surgery. The first technique is the combination of excisional and ablative surgery. In their study including 52 patients with ovarian endometriosis, they found that the ovarian volume and AFC on day 2-5 was similar to that of the contralateral healthy ovary at the 6th week after the operation.
The second technique in which fertility is preserved is autotransplantation of fresh human ovarian tissue in endometriosis patients if oophorectomy is performed or if there is a high risk for recurrence. In this technique, the fresh ovarian tissue may be transplanted into the decorticated medulla of the heterolateral ovary or beneath the healthy contralateral ovarian hilus close to the ovarian blood vessels.
In women having a risk for premature ovarian failure, several options such as embryo cryopreservation, oocyte cryopreservation, and ovarian tissue cryopreservation are available to preserve future fertility. Although embryo cryopreservation has been accepted as the most effective method, the authors propose that the cryopreservation of healthy ovarian tissue is a good choice for patients affected by endometriosis. It is a promising method especially in case of recurrence and in women under the age of 35. The cryopreserved tissue is transplanted into the peritoneal window created beneath the ovarian hilus close to the ovarian vessels and fimbria or onto the remaining ovary after removal of the native cortex. If there are microscopic endometriotic foci in fresh or cryopreserved ovarian tissue, reimplantation of this tissue may result in recurrence despite a very low probability. In vitro follicle maturation after follicle isolation is an option to decrease this risk.
"Ovarian endometriosis is a specific entity and should be treated as such." they added.
---
---
ovarian endometriosis
fertility
fertility preservation
excisional surgery
ablative surgery
cryopreservation
orthotopic transplantation
heterotopic transplantation
DISCLAIMER
Endonews is designed to strictly highlight the most recently published scientific research that focuses on endometriosis. It is not designed to provide medical advice or an opinion on the best form of treatment. We highly stress the importance of not using this site as a substitute for seeking an experienced physician, which is highly recommended if you have any questions or concerns regarding your endometriosis needs. We believe in the consciousness of our reader to discriminate that research is different than "standard of care," and trust that they can keep in mind that here at Endonews, we summarize the newest peer-reviewed scientific medical literature, without bias.