Is oocyte cryopreservation useful for fertility preservation in ovarian endometriosis?
Jun 10, 2020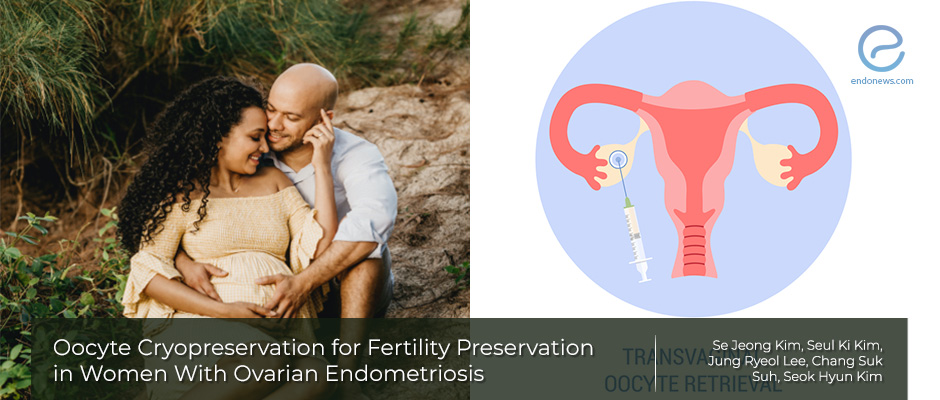 Repeated oocyte retrieval can provide the optimal number of oocytes for cryopreservation
Key Points
Highlights:
Importance:
What's done here?:
Key Results:
Limitations:
Lay Summary
Women with endometriosis tend to have lower fecundity compared to normal couples. Furthermore, endometrioma itself may reduce the ovarian reserve by altering ovarian physiology in the surrounding healthy ovarian tissue.
The treatment for endometrioma is surgical removal in most cases, however, it may ve associated with the risk of premature ovarian failure.
Kim SJ et al., a group of researchers from Korea, analyzed the clinical characteristics and controlled ovarian stimulation outcomes of fertility preservation of women with endometrioma, and sub-analyzed the results according to laterality, with the aim of evaluating clinical characteristics and cycle outcomes of oocyte cryopreservation in these women before ovarian cystectomy.
Their paper has recently been published in the journal "Reproductive BioMedicine Online".
The mean age, serum anti-Mullerian hormone levels, and the number of oocytes cryopreserved were 30.7 years, 1.85 ng/ml, and 4.8, respectively.
The mean diameter of the largest endometrioma at the time of diagnosis was 5.7cm. The number of oocytes retrieved was significantly lower in the fertility patients with endometrioma compared to that in infertile patients without endometrioma. Patients with bilateral endometrioma had a lower number of mature oocytes compared to those with unilateral endometrioma, despite the serum anti-Mullerian hormone levels are similar in the two groups. In total, 38.2% of patients with endometrioma underwent repeated ovarian stimulation. The median number of retrieved oocytes at the first, the second, and the third cycle were 3.0, 5.0, and 3.0, respectively.
The authors concluded that women with ovarian endometriosis should be counseled about oocyte cryopreservation to preserve fertility before surgery since ovarian cystectomy decreases the ovarian reserve. Repeated controlled ovarian stimulation may provide an optimal number of oocytes for cryopreservation, they added.
---
---
endometriosis
endometrioma
fertility preservation
oocyte cryopreservation
ovarian reserve
vitrification
DISCLAIMER
EndoNews highlights the latest peer-reviewed scientific research and medical literature that focuses on endometriosis. We are unbiased in our summaries of recently-published endometriosis research. EndoNews does not provide medical advice or opinions on the best form of treatment. We highly stress the importance of not using EndoNews as a substitute for seeking an experienced physician.
<< Previous Article

Next Article >>