Inflammatory molecules promote the migration and invasion of endometriosis cells
Jul 3, 2018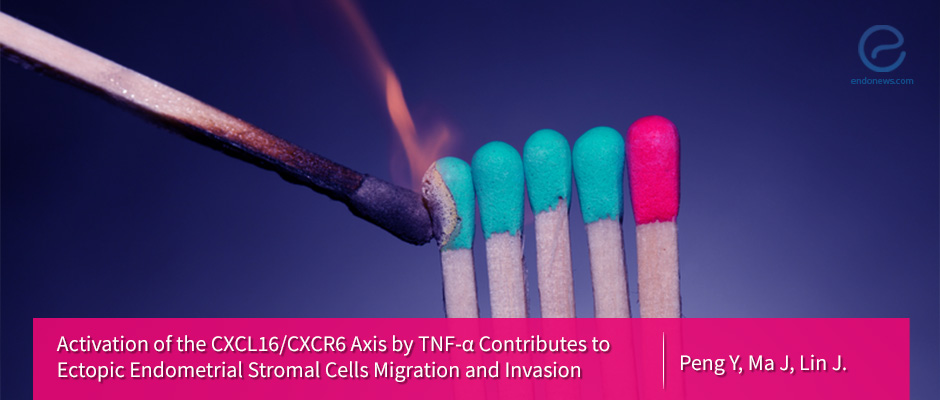 The role of inflammatory chemokine in endometriosis progression
Key Points
Highlight:
A model of endometriosis progression that involves activation of systemic and local inflammation is becoming increasingly recognized.
This article examined the level of chemokines (CXCL16/CXCR6) which are signaling proteins secreted by cells, in the serum and endometriotic tissues from women with endometriosis.
Importance:
While endometriosis etiology remains debatable, the large number of evidence showed that the body's immune and inflammatory mechanisms have a central role.
Peng et al. reported the involvement of CXC chemokine 16 (CXCL16) and its receptor, CXC chemokine receptor 6 (CXCR6) in the pathophysiology of endometriosis.
What's done here:
Endometriotic samples were obtained from 10 patients diagnosed at stage III to IV endometriosis. Control endometrial tissues were collected from 10 women without endometriosis.
Expression of CXCL16/CXCR6 and tumor necrosis factor-α (TNF-α) in ovarian endometriotic and control endometrium were determined at the mRNA and protein levels using reverse transcriptase quantitative real-time polymerase chain reaction and Western blot, respectively. Soluble CXCL16 level was determined in serum by ELISA.
To test the effect of CXCR6 in mediating ectopic endometrial stromal cells (EESCs) migration and invasion, its level was knockdown using small interfering RNA in transwell migration/invasion assays.
Data:
Expression of CXCL16, but not CXCR6, was upregulated in endometriotic lesions
Serum CXCL16 was elevated in women with endometriosis
CXCR6 knockdown reduced the migration and invasion of EESCs.
TNF-α treatment induced the expression of CXCL16 in EESCs.
Limitation:
The study only examined stage III to IV endometriosis samples. The inclusion of early stages, peritoneal and deep infiltrating endometriosis would better help to improve understanding of the role of the CXCL16/CXCR6 axis in endometriosis progression.
The study used relatively small sample size.
Lay Summary
Increasing scientific evidence has shown that the immune and inflammatory mechanisms play a central role in the progression of endometriosis by allowing a permissive environment that allows migration, adhesion, proliferation, and invasion of endometrial cells in ectopic regions of the body. This article by Peng et al. from Department of Gynecology and Obstetrics, Women's Hospital, Zhejiang University Medical College, China published in Reproductive Sciences journal aimed to investigate the expression level of chemokine CXCL16/CXCR6 in endometriosis and explore its potential role in the molecular mechanisms of endometriosis progression.
Human chemokines are small molecules produced during the inflammatory process to induce migration of leukocytes. There are more than 50 chemokines and 20 chemokines receptors discovered to date. Chemokine/receptor system can mediate a series of physiological and pathological events including regulation of tumor-associated immunity, new blood vessel formation, tumor growth, and metastatic spread. Due to the chronic inflammatory process in endometriosis, it is hypothesized that chemokines may have a role in the pathogenesis. Indeed, a number of chemokines CCL2, CCL5, CXCL1, CXCL8, and CXCL12 have been indicated in the endometriosis development, with CCL2 and CCL5 positively correlated with disease stage.
This study examined CXCL16, a unique chemokine that is in a soluble form and binds to the receptor CXCR6, which has been shown to be upregulated in many types of tumors including prostate, breast, lung, and gastrointestinal cancers. The function of the CXCL16/CXCR6 axis is still unclear in endometriosis. Using endometriotic samples collected from 10 patients diagnosed with stage III to IV endometriosis and 10 control endometrial tissues from women without endometriosis, this study examined the expression of CXCL16/CXCR6 and tumor necrosis factor-α (TNF-α) in ovarian endometriotic tissue; and the effect of CXCR6 in mediating ectopic endometrial stromal cells (EESCs) migration and invasion.
The present study demonstrated that the expression of CXCL16, but not CXCR6, in ectopic endometriotic lesions is higher than the control endometrium. Serum CXCL16 concentration in endometriosis women was also higher than the non-endometriosis group. EESCs migratory and invasive ability was significantly decreased through blocking of CXCL16–CXCR6 interaction using CXCR6 small interfering RNA. Tumor necrosis factor-α (TNF-α), a pro-inflammatory cytokine elevated in endometriosis peritoneal fluid, was able to upregulate of CXCL16 expression levels in the EESCs. Thus, the upregulation of CXCL16 may be related to intraperitoneal inflammation as a result of elevated TNF-α.
In conclusion, these results suggest the role of the CXCL16/CXCR6 axis in endometriosis through promoting increased motility and invasiveness of EESCs, indicating that it may be a potential target for future treatment. Additionally, serum CXCL16 may be useful to diagnose endometriosis.
---
---
inflammation
immune
chemocines
CXCL16
CCL2
CCL5
stroma
endometriosis
DISCLAIMER
EndoNews highlights the latest peer-reviewed scientific research and medical literature that focuses on endometriosis. We are unbiased in our summaries of recently-published endometriosis research. EndoNews does not provide medical advice or opinions on the best form of treatment. We highly stress the importance of not using EndoNews as a substitute for seeking an experienced physician.
<< Previous Article

Next Article >>