What is being done to help surgeons detect endometriosis during laparoscopy
Jul 2, 2018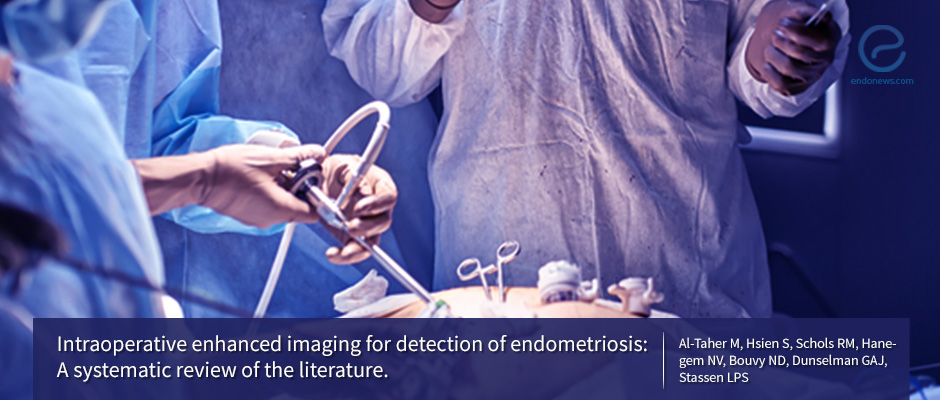 Contrast agents for the visualization of subtle endometriosis
Key Points
Highlights: Surgeons may use contrast agents to better visualize subtle endometriotic lesions during laparoscopy.
Key Results:
Contrast agents such as 5-ALA and methylene blue hold promise in the visualization of peritoneal endometriosis.
The detection of peritoneal endometriosis (especially subtle lesions) is user dependent but may be enhanced with the use of contrast agents.
What's done here?
This is a review of the contrast agents currently being investigated for the visualization of endometriotic lesions in the peritoneum.
Limitations:
Some studies did not characterize which kind of endometriotic lesions were better visualized using contrast agents while others did not histologically prove the presence of endometriosis.
Lay Summary
The gold standard for the diagnosis of endometriosis is diagnostic laparoscopy and histologic confirmation. During laparoscopy, visualization of as many lesions as possible may hold better long-term clinical outcomes. Peritoneal endometriosis is difficult to diagnose intraoperatively due to the heterogeneity of the endometriotic lesions (lesions are currently grouped as either non-pigmented, red, white, or black based on gross findings). Thus, enhanced imaging techniques such as contrast agents may have the potential to aid surgeons in locating these lesions and providing a better surgical outcome for women with an extensive disease requiring surgery.
This article titled, "Intraoperative enhanced imaging for detection of endometriosis" by Al-Taher et. al and other researchers from Maastricht University Medical Center in The Netherlands aim to elucidate contrast agents as a technique for imaging and subsequently diagnosing peritoneal endometriosis during laparoscopy. Nine human studies that used contrast agents and reported visual findings during laparoscopy were included in the study. These contrast agents include 5-ALA, Indigo carmine, methylene blue, and indocyanine green (information on each agent discussed in the original article).
4 out of 9 articles included in the review researched the use of 5-ALA as a contrast agent for the detection of endometriotic lesions. One study found that 5-ALA in either its oral or topical form detected all red and white lesions but none of the black/brown lesions. Additionally, the oral form was 100% sensitive and 75% specific when detecting endometriosis. However, topical 5-ALA is associated with some adverse reactions such as swelling and erythema upon sun exposure, so oral 5-ALA and sunlight restriction were advised. The other studies concerning this agent found that an oral dosage of 10-30 mg/kg is optimal for detection of lesions and that administering this between 1.5 and 24hr before surgery is adequate. In summary, 5-ALA is useful or the detection of non-pigmented and occult lesions.
Methylene blue was studied in two studies that were included; one that sprayed the contrast agent into the pelvic surface which found that this agent can detect any loss of peritoneal integrity from endometriosis that can be visualized. Using this technique, they found that resection of the stained areas provided pain relief in 80% (32/40) of patients with previous chronic pelvic pain. Thus, endometriosis staining with methylene blue is feasible for the detection of subtle peritoneal lesions.
The other dyes included in the review analysis included indigo carmine, indocyanine green, and blood as visual agents. The results concerning these agents are preliminary but suggested that indocyanine green fluorescence can be used to highlight visible areas of endometriosis in conventional laparoscopy. Painting the peritoneal surface with bloody peritoneal fluid was also reported to help detect one lesion and can assist the surgeon in the identification of subtle endometriosis.
---
---
contrast agents
surgery
laparoscopy
endometriosis
DISCLAIMER
EndoNews highlights the latest peer-reviewed scientific research and medical literature that focuses on endometriosis. We are unbiased in our summaries of recently-published endometriosis research. EndoNews does not provide medical advice or opinions on the best form of treatment. We highly stress the importance of not using EndoNews as a substitute for seeking an experienced physician.
<< Previous Article

Next Article >>