How to design patient-centered interventions to meet the needs of endometriosis patients
By:
Selma Oransay
- Jan 13, 2020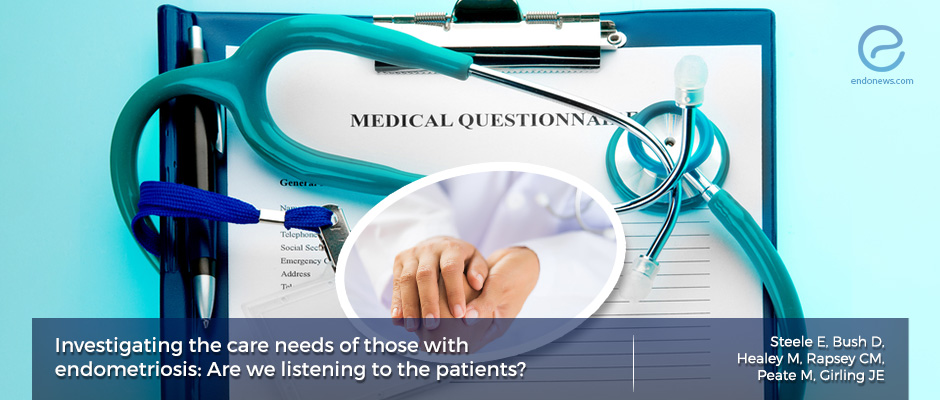 To improve the quality of life of women with endometriosis is essential.
Key Points
Importance:
Most of the research related to endometriosis measure the impacts of various aspects of lives rather than the individual needs of the patients.
Highlights:
To answer the questions related to the unmet needs of endometriosis patients and to clarify the gaps to improve their quality of life, an appropriate survey to design a patient-centered intervention is necessary.
What's done here:
This is an opinion paper where the authors aimed to underline the reasons for the development of a survey dealing with the unmet needs for women with endometriosis.
It is urgent to prepare a patient-centered intervention for ultimately improving their quality of life.
Data:
The estimated prevalence of endometriosis is one in nine (11%) among Australian women born between1973-1978.
There is a negative impact of the disease on population health due to pelvic pain, fatigue, cyclic leg pain, back pain, pain during intercourse, gastrointestinal complaints, migraine headache, and also fertility issues.
Furthermore, transgender men and other non-binary individuals could also be affected which makes the issue more complicated and matters for everyone.
A number of surgical and medical options are available for reducing the pelvic pain and improving the fertility of this society but results are variable and recurrence is common.
There is a need to apply a survey to identify the needs, specifically addressing the unmet needs of the patients from all different cultures, ages, the severity of symptoms and access to health-care to be able to manage future patient-centered therapies.
Lay Summary
The treatment of endometriosis is not perfect and necessitates the development of patient-oriented care initiatives. On this basis, patient-related transparent information should be the priority for researchers to find out a way for targeted interventions.
Steele et al. from Australia and New Zeland, wrote an opinion paper to explain what is necessary to find an answer to the needs of patients with endometriosis. The paper is recently published in the journal "Australian and New Zeland Obstetrics and Gynecology".
When the progression of the disease, the diagnostic process, and the treatment phases are taken under consideration, it is obvious that endometriosis negatively affects the physiological and social wellbeing of these women. Moreover, the pelvic pain which is the major complaint of this disease can interfere with the patient by slowing-down working, schooling, study, exercise, socializing and sexual relations.
The financial burden of endometriosis was reported in Australia for the 2018 financial year was AUD 7.4 billion. Regarding all these negative impacts on population health and the budget, the effort to reduce the undesired outcomes of endometriosis becomes a priority.
There is a need for an appropriate survey to design a patient-centered intervention, specifically designed to clarify the unfulfilled needs and it should encompass different cultures, ages, the severity of symptoms and access to health-care. This research will guide future therapies.
Authors aimed to draw attention to declining political and public consciousness about endometriosis in recent years and put forth the need for awareness, understanding, and research of this chronic disease at least in Australia.
---
---
health quality
questionnaire
patient-care
QoL measures
Short-form 36
Endometriosis health profile-30
sexual difficulties
treatment satisfaction
endometriosis.
DISCLAIMER
Endonews is designed to strictly highlight the most recently published scientific research that focuses on endometriosis. It is not designed to provide medical advice or an opinion on the best form of treatment. We highly stress the importance of not using this site as a substitute for seeking an experienced physician, which is highly recommended if you have any questions or concerns regarding your endometriosis needs. We believe in the consciousness of our reader to discriminate that research is different than "standard of care," and trust that they can keep in mind that here at Endonews, we summarize the newest peer-reviewed scientific medical literature, without bias.
<< Previous Article