Extragenital endometriosis and ultrasound
Jan 16, 2019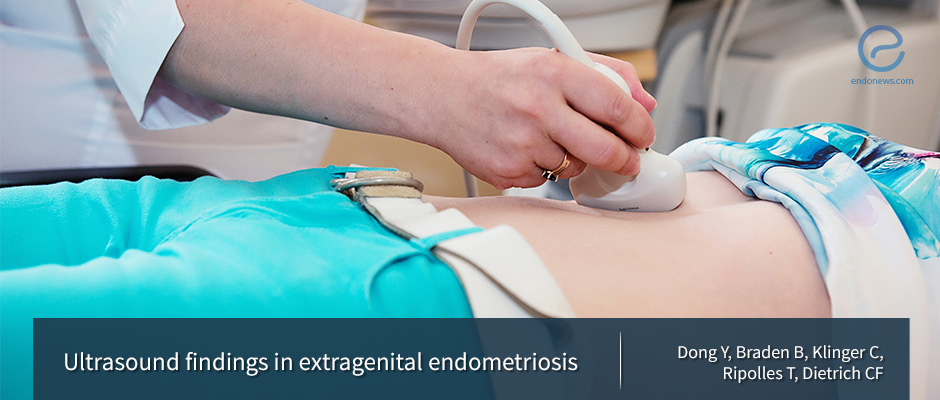 Contrast-enhanced ultrasound is an efficient non-invasive imaging technique that is helpful in the early diagnosis of intestinal endometriosis.
Key Points
Highlights:
Contrast-enhanced ultrasound (CEUS) does not cause any radiation exposure and allows the assessment of endometriotic lesions within the distinct layers of the intestinal wall.
What's done here:
Authors presented 3 cases of extragenital (sigmoid colon, pancreas, posterior bladder wall) endometriosis and reviewed the related literature.
Key Results:
Extragenital endometriosis is rare (8-12% of women with endometriosis) and can involve all organs, most often the gastrointestinal and urinary tract.
The most common area affected within the gastrointestinal tract is the rectosigmoid junction, followed by the ileum and the appendix.
In patients who present with a variety of gastrointestinal symptoms, including constipation, gastrointestinal bleeding, nausea, vomiting, cramp-like abdominal pain, diarrhea, and pelvic pain, intestinal endometriosis should be considered.
The majority of patients with intestinal endometriosis are diagnosed at laparoscopy or laparotomy.
It is very difficult to diagnose intestinal endometriosis by conventional imaging methods since endoscopic and imaging findings may mimic other diseases. Ultrasound, computed tomography, magnetic resonance imaging, and colonoscopy may be useful to locate the pathology.
Little is known about CEUS and endometriosis.
Transvaginal ultrasound findings in intestinal endometriosis have been described as hypoechoic masses with irregular and sometimes hyperechoic margins; a fibrotic intestinal segment may show a characteristic C-shape appearance with the convergence of both edges.
Asymptomatic bowel endometriosis patients whose lesions were diagnosed incidentally on radiologic imaging do not generally require surgery.
Limitations:
The number of extragenital endometriosis cases that are examined with CEUS is low.
Lay Summary
Contrast-enhanced ultrasound (CEUS) is a non-invasive imaging method with no exposure to radiation. There are a few reports on the use of CEUS in the assessment of endometriosis in the literature.
Dong et al. reported 3 histopathologically proven cases of extragenital (sigmoid colon, pancreas, posterior bladder wall) endometriosis and reviewed the relevant literature. Their paper has recently been published in the Journal of Ultrasonography.
The patient with intestinal endometriosis showed a rapidly and heterogeneously enhancing lesion during the arterial and venous phases by CEUS and contrast-enhanced color Doppler ultrasound. Endorectal endoscopic ultrasound showed a transmural extension of the mass. Magnetic resonance imaging did not add any additional information.
In the case of pancreatic endometriosis, ultrasound and computed tomography revealed multiple confluent cystic lesions with a thick cystic wall in the left abdomen with contact to the pancreatic tail. Neither ultrasound nor computed tomography revealed abnormalities of the pancreatic parenchyma or the pancreatic duct.
The third patient, the patient with bladder endometriosis had a hypoechogenic nodule attached to the posterior bladder wall infiltrating the muscle layer that was revealed by transvaginal ultrasound. Magnetic resonance imaging showed hypointense nodular lesion with characteristic intralesional 1-4 mm high-signal intensity foci that represent ectopic endometrial glands.
There is still ongoing debate which imaging technique is the most proper technique for pre-surgical evaluation. Since the differential diagnosis of endometriosis includes malignant diseases, the diagnosis cannot be achieved by imaging alone.
Clinical suspicion, appropriate imaging, and biopsy with histopathological examination might avoid extensive surgery with higher mortality. CEUS supports the early diagnosis of intestinal endometriosis.
---
---
extragenital endometriosis
intestinal endometriosis
ultrasound
contrast-enhanced ultrasound
pancreatic
bladder
hypoechogenic
intensity
CEUS
DISCLAIMER
EndoNews highlights the latest peer-reviewed scientific research and medical literature that focuses on endometriosis. We are unbiased in our summaries of recently-published endometriosis research. EndoNews does not provide medical advice or opinions on the best form of treatment. We highly stress the importance of not using EndoNews as a substitute for seeking an experienced physician.
<< Previous Article

Next Article >>