Exploring tissue origins and age characteristics in endometriosis
By:
Eylül GÜN
- May 31, 2023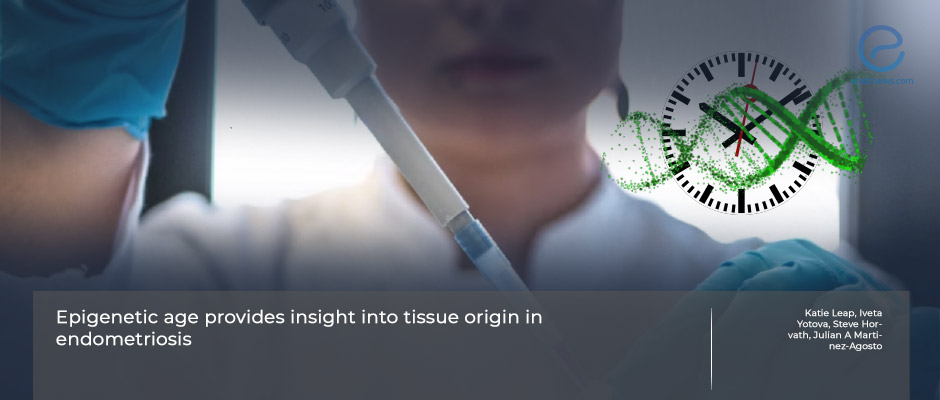 New study reveals younger epigenetic age in endometriosis lesions
Key Points
Highlight
Importance
What is done here
Key results
Limitations
Lay Summary
Despite its widespread occurrence, the precise factors leading to endometriosis and the nature of its symptoms remain uncertain. To better understand the disease and improve treatment, Leap et al. from the US and Austria explored the use of DNA methylation age to predict tissue origin and aimed to understand the age characteristics and potential tissue origins of endometriosis. The study was published in the December 2022 issue of the journal Scientific Reports.
DNA methylation is involved in gene regulation and changes predictably with age. The "pan tissue clock", a method based on DNA methylation patterns, can estimate a person's age. The authors state that by applying this clock to endometriotic tissue, it was seen to exhibit a younger DNA methylation age than expected. This suggests that the cells within the lesions may have aged slowly or experienced a deceleration of DNA methylation age as part of the disease process.
Publicly available data from the Gene Expression Omnibus was utilized to investigate endometriosis and tissue origin. The researchers selected methylation datasets related to endometriosis and used a biologically relevant metric called "Horvath's pan-tissue clock" to analyze DNA methylation age. They compared the age estimates of different tissue types and employed regression models to assess the effects of various covariates. Statistical analyses were conducted to determine the significance.
It was found that the DNA methylation age of the eutopic endometrium was not affected by endometriosis status, however, the menstrual phase had a small effect. Ectopic endometriotic lesions were found to be epigenetically younger than eutopic tissue, showing a significant age deceleration (-16.88 years). Contamination from adjacent ovarian tissue as a cause for this age difference was ruled out. They also examined stromal cells and found that they exhibited age acceleration compared to the whole tissue, possibly due to passaging effects, but this did not explain the age deceleration in the ectopic tissue. Furthermore, they explored the effect of cell migration by analyzing metastatic cancer datasets and found that migration alone did not affect DNA methylation age. Lastly, the age patterns of teratomas with ectopic endometriotic tissue were compared and there were similarities in their age deceleration patterns, suggesting a possible developmental origin for ectopic tissue in endometriosis.
By using the epigenetic age estimators to investigate endometriosis, the findings suggest that ectopic tissue in endometriosis is younger than normal tissue according to the epigenetic clock. The study also shows that tissue migration through metastasis does not affect epigenetic age, and ectopic endometriotic lesions share age deceleration patterns with teratomas. The authors conclude by emphasizing the potential of epigenetic clocks as prognostic indicators and suggest that understanding the age-related processes in endometriosis could lead to improved diagnostics and treatments. Further investigations are needed to explore the variation in DNA methylation age between lesions within the same individual.
---
---
endometriosis
DNA methylation
epigenetics
DISCLAIMER
EndoNews highlights the latest peer-reviewed scientific research and medical literature that focuses on endometriosis. We are unbiased in our summaries of recently-published endometriosis research. EndoNews does not provide medical advice or opinions on the best form of treatment. We highly stress the importance of not using EndoNews as a substitute for seeking an experienced physician.
<< Previous Article