Exploring endometriosis symptoms and their effects on women's lives
Sep 22, 2023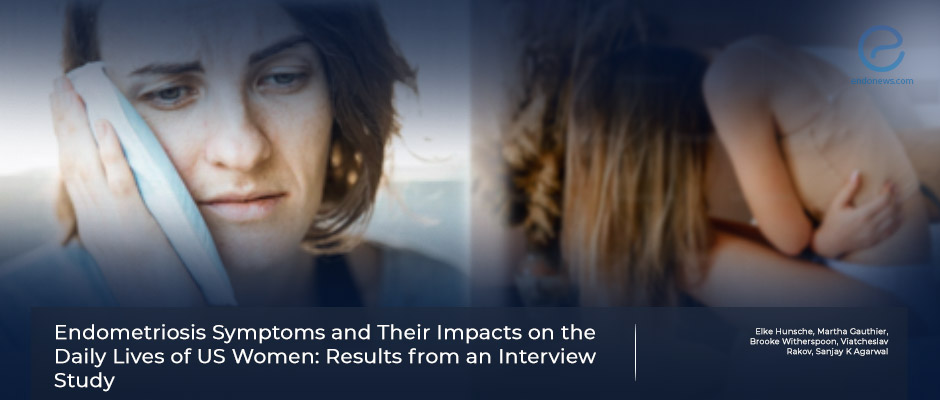 Interview-based study sheds light on the diversity of endometriosis symptoms and their distinct effects
Key Points
Highlight
Considering the breadth of endometriosis symptoms and their diverse impacts on patients' lives and addressing them accordingly can result in improved patient management.
Importance
Enabling patients to express their symptoms in their own words is crucial for comprehending how these symptoms impact their lives.
What's done here
This is an interview study conducted with 40 US women suffering from endometriosis.
The aim was to investigate the different symptoms and their impacts on these patients' lives.
A concept-elicitation method with open-ended questions and probing was used to better understand the patients' perspectives.
Key results
A total of 18 symptoms associated with endometriosis were reported.
The most common ones included pelvic pain, dyspareunia, and heavy bleeding.
Two-thirds experienced pain on both menstrual and non-menstrual days and experienced impacts on physical well-being.
More than 90% had difficulties with daily leisure activities and socializing.
Nearly all patients reported sleep issues.
Additional impacts on emotional well-being, body image, financial situation, romantic relationship, ability to attend work or school, productivity, and fertility were documented.
Limitations
Exclusion of women with mild pain symptoms due to the study's inclusion criteria (SPIRIT study)
Restriction of participation to English-speaking US women
Lack of probing on pain in relation to menstruation
Lay Summary
Endometriosis symptoms, their severity, and the way they affect patients' lives may vary. With the aim of investigating different personal experiences and perceptions of endometriosis symptoms and the way they impact women's daily lives, Hunsche and colleagues from Switzerland and the US conducted an interview-based study involving 40 American women afflicted with endometriosis-associated pain to explore diverse personal experiences and perspectives regarding the symptoms and their effects on women's everyday lives. The study was published in the June 2023 issue of the International Journal of Women's Health.
The interview format employed a concept-elicitation method and was crafted with open-ended questions to prompt participants to provide spontaneous responses in their own words, while probes were used as necessary to gather additional information. In total, 18 symptoms associated with endometriosis were documented. Among these, the most common were pelvic pain (>90%), dyspareunia (80%), and heavy bleeding (75%). Other symptoms included bloating, back pain, nausea, abdominal pain, etc. The authors stated that these results were consistent with the findings of previous studies. The menstrual status of the patients was also investigated, and it was seen that most women (67%) experienced pain on both menstrual and non-menstrual days.
The unique impacts of endometriosis symptoms were categorized as physical, activities of daily living, social, sleep, emotional, appearance, financial, sex-related, work/school-related, fertility, and cognitive. Over 70% of the respondents encountered detrimental effects on their physical well-being. More than 90% of the women reported they had difficulties in their daily leisure activities and had trouble socializing. Almost all women stated they had sleep issues. They also reported other adverse effects on their emotional well-being, body image, financial situation, romantic relationships, ability to attend work or school, productivity, and, lastly, their fertility.
The authors argue that the utilization of open-ended questions yielded comprehensive data concerning symptom descriptions by patients. Additionally, probing assisted in uncovering various impact categories that are typically overlooked in clinical settings.
It is concluded that this study shows how broad the endometriosis symptoms can be, potentially enabling healthcare professionals to adopt a broader perspective on the disease's impacts and enhance patient care.
---
---
endometriosis
pain
pelvic pain
symptom
dyspareunia
sleep
well-being
emotional
productivity
DISCLAIMER
EndoNews highlights the latest peer-reviewed scientific research and medical literature that focuses on endometriosis. We are unbiased in our summaries of recently-published endometriosis research. EndoNews does not provide medical advice or opinions on the best form of treatment. We highly stress the importance of not using EndoNews as a substitute for seeking an experienced physician.