Endometriosis of the skeletal muscular system
By:
Eylül GÜN
- Aug 10, 2023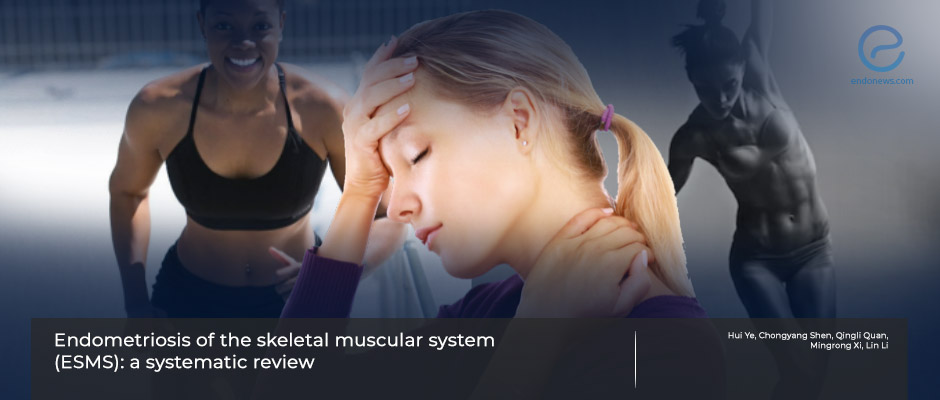 A multidisciplinary approach is crucial in correctly diagnosing skeletal and muscular system endometriosis, review shows
Key Points
Highlight
Endometriosis of the skeletal muscular system (ESMS) is the atypical presence of endometrial cells in muscles and joints, causing diagnostic challenges.
Importance
ESMS is rare and often misdiagnosed due to its unique symptoms and location.
What is done here
A systematic review was conducted following PRISMA guidelines aiming to comprehensively analyze ESMS cases to improve understanding and diagnosis.
78 ESMS cases were analyzed from 62 studies, focusing on location, symptoms, diagnosis, treatment, and outcomes.
Key Results
ESMS lesions occur in various muscle and joint sites.
The average onset age is 34, often with a history of pelvic surgeries.
Symptoms include pain, lumps, and swelling, frequently related to the menstrual cycle.
Surgical resection is the primary treatment, sometimes combined with hormone therapy.
Most patients show positive responses, but recurrence and impairment are also observed.
Strengths and Limitations
The strengths are being the first systematic review on ESMS and a comprehensive analysis of clinical indicators and treatment outcomes.
The limitations include the possible bias by reliance on case reports and observational studies and exclusion of non-English literature, some data gaps from the literature affecting the completeness of findings.
Lay Summary
Endometriosis of the skeletal muscular system (ESMS) is characterized by the presence of endometrial cells in skeletal muscles, bones, or joints. Despite its rare occurrence, ESMS has been reported in various muscle and joint locations, leading to atypical symptoms and potential misdiagnosis.
Ye et al. from China conducted a systematic review to comprehensively analyze and understand ESMS, its manifestations, diagnostic challenges, and treatment outcomes. The article was published in the January 2023 issue of the journal BMC Women's Health.
The systematic review followed PRISMA guidelines and collected data from published articles up to March 2022. A total of 78 cases of ESMS from 62 valid studies were identified. ESMS lesions were found across various muscle and joint locations, including the abdominal, pelvic floor, lower limb, hip, lumbar, upper limb, and shoulder-neck muscles. The average age of onset was 34 years, and patients with ESMS often had a history of previous pelvic surgeries. Common symptoms included local pain, painful lumps, painless lumps, and local swelling, with 76.8% of symptoms correlating with the menstrual cycle. The diagnostic journey often involved various medical specialties, and multidisciplinary collaboration was necessary for accurate diagnosis. Imaging modalities such as ultrasound, MRI, and CT were essential in assessing lesion locations and extent.
The authors state that ESMS is a rare condition in skeletal muscles and joints adding that diverse manifestations and atypical symptoms often lead to misdiagnosis or delayed diagnosis. They highlight the importance of considering ESMS in the differential diagnosis of patients with musculoskeletal pain and masses, particularly in women of reproductive age, and suggest that multidisciplinary collaboration among medical specialists is crucial for accurate diagnosis and comprehensive treatment with surgical resection with negative margins being the primary approach, while hormone therapy can be considered adjunctively. The need for increased awareness, timely diagnosis, and effective treatment strategies for ESMS to improve patient outcomes is underscored.
---
---
endometriosis
muscle
skeletal muscular system
diagnostic challenges
DISCLAIMER
EndoNews highlights the latest peer-reviewed scientific research and medical literature that focuses on endometriosis. We are unbiased in our summaries of recently-published endometriosis research. EndoNews does not provide medical advice or opinions on the best form of treatment. We highly stress the importance of not using EndoNews as a substitute for seeking an experienced physician.
<< Previous Article