New SMS Program Available for Endometriosis Patients
By:
Özge Özkaya
- Aug 9, 2023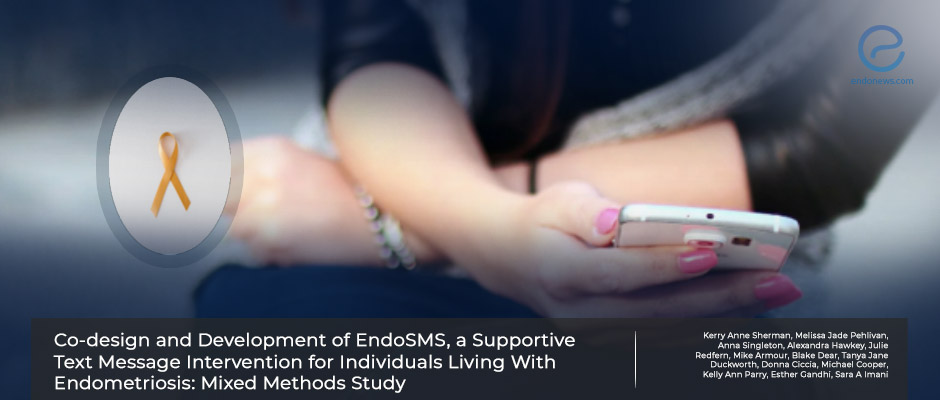 The new SMS program could help endometriosis patients better manage their condition.
Key Points
Highlights:
Researchers developed a text message service to support endometriosis patients.
Importance:
The program helps endometriosis patients manage their disease in an accessible and cost-effective way.
What's done here:
17 endometriosis patients participated in focus group meetings to develop the program.
Then, 14 patients and nine healthcare professionals rated the program.
Key results:
The focus groups agreed that four one-directional messages including personal names should be delivered four times a week at random.
Seven main areas of unmet need were identified including emotional and physical health, social support, looking after and caring for one's body, patient empowerment, interpersonal issues, and general information about endometriosis.
The users found the messages clear, sound, and appropriate for endometriosis patients.
Limitations:
The program was designed for Australians and must be piloted to see whether it is internationally suitable.
Many of the users participated in the development of the messages, which could be one of the reasons for the favorable rating of the accessibility of the program.
Lay Summary
Researchers from Australia developed a supportive short message service (SMS) program for endometriosis patients. The program aims to support women living with endometriosis to manage their condition.
The program called 'EndoSMS" was designed based on the needs and preferences of a diverse consumer representative group. It was then evaluated by endometriosis patients and healthcare professionals. The evaluation suggested that the program was highly acceptable and suitable for endometriosis patients.
"Future studies should further evaluate the acceptability and effectiveness of EndoSMS in a broader population of individuals with endometriosis," the researchers wrote in a report that they published in JMIR Formative Research, a peer-reviewed open-access medical journal.
For the design of the program, 17 patients with endometriosis participated in three web-based focus group meetings. Each session lasted three hours. The meetings were transcribed and analyzed by theme. Then, 14 patients and 9 healthcare professionals rated the acceptability, readability, and appropriateness of the program through a web-based survey.
Participants agreed that four SMSs should be delivered to users every week. These should be delivered randomly throughout the week and should be one-directional, i.e. not require (or allow) any response. They should be customized for the time of day and include personal names.
The focus groups identified seven main areas of unmet need. These were emotional health, social support, looking after and caring for one's body, patient empowerment, interpersonal issues, general information about the disease, and physical health. The users rated a total of 371 SMSs and said that they were "clear, useful, and appropriate for individuals with endometriosis".
Readability indices showed that the SMSs were accessible to users who had a minimum of a 7th-grade high school education.
---
---
endometriosis care
patient support
DISCLAIMER
EndoNews highlights the latest peer-reviewed scientific research and medical literature that focuses on endometriosis. We are unbiased in our summaries of recently-published endometriosis research. EndoNews does not provide medical advice or opinions on the best form of treatment. We highly stress the importance of not using EndoNews as a substitute for seeking an experienced physician.
<< Previous Article