Endometriosis-related obstetrical complications and their outcome
By:
Selma Oransay
- Sep 25, 2020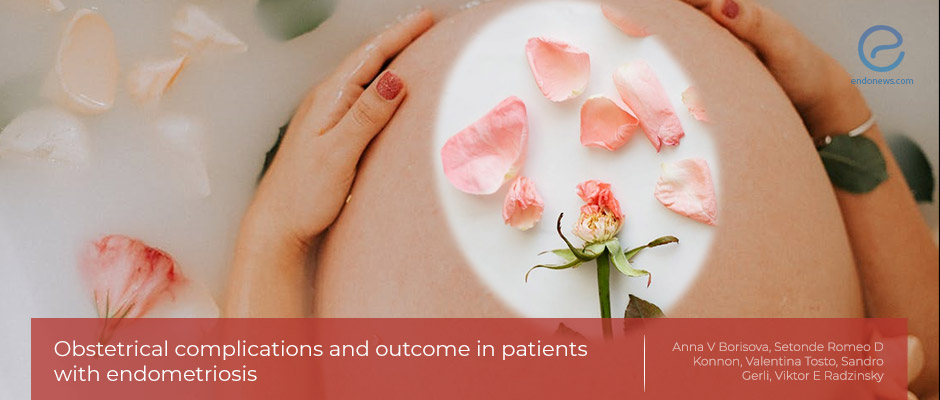 Pregnancies in women with endometriosis should be considered "high-risk"
Key Points
Importance:
Thirty to 40% of women with endometriosis have infertility problems.
When these women achieve to conceive, they often face additional undesired gestational and perinatal outcomes.
Highlights:
The pregnancies of patients with endometriosis history should be evaluated as high-risk pregnancies.
Conceiving by assisted reproductive techniques aggravates the risk, necessitating close follow-up to prevent complications.
What's done here:
This review article is penned by Borisova and co-authors from RUDN University-Russia, and Perugia University-Italy to clarify the mechanism of observed complications in pregnant women with endometriosis.
Ninety-eight related articles were selected from the literature, and the related key factors, the pathophysiology, the incidence of obstetrical complications were reviewed.
The authors studied the effect of endometriosis on pregnancy outcomes taking into account the methods of conception (ART or spontaneous), stage and localization, treatment methods, risk factors, etc.
They finally discussed possible ways to prevent obstetrical complications in women with a history of endometriosis.
Key results:
Studies in the literature showed the association of endometriosis with adverse pregnancy outcomes such as miscarriage, preterm birth, preeclampsia, placental abnormalities, intrapartum hemorrhage, fetal malposition, dystocia, cesarean section, the birth of a small baby for gestational age, and stillbirths.
According to the literature, miscarriages, preterm birth, placental abnormalities, and preeclampsia can develop due to immuno-endocrine disorders in the endometrium or pelvic environment which increases the formation of cytokines, vascular endothelial growth factors, and prostaglandins to lead impaired endometrial receptivity.
Additional risks may be derived from ART pregnancies or previous hormonal treatments and resulted in worsening the obstetrical outcomes, such as fetal malposition, dystocia, stillbirths, intrahepatic cholestasis, abnormal fetal growths, P-PROM, pre-eclampsia, abruption, placenta previa, abnormal invasive placenta, antenatal and intrapartum hemorrhage, even uterine rupture or bowel perforation.
During the pregnancy period of these high-risk patients, whenever acute abdominal pain occurs or abnormal maternal hemodynamics exists, clinicians should highly suspect uterine rupture or hemoperitoneum; early diagnosis and timely operation are life-saving.
Lay Summary
Borisova et al. from the Department of Gynecology and Obstetrics of Peoples' Friendship University, Moskow, Russia, and her colleagues from the Center of Perinatal and Reproductive Medicine of University Perugia, Italy, recently published a review of the literature data about obstetrical outcomes of pregnant women with a history of endometriosis in the "Journal of Maternal-Fetal & Neonatal Medicine".
The aim of the study is to call attention to the importance of adverse obstetrical outcomes during the pregnancy follow-up of the endometriotic women who already had fertility problems.
The most important complications for the pregnant women affected by endometriosis are miscarriages, preterm birth, placental abnormalities, and preeclampsia, according to the literature. Meta-analyses and reviews indicated an association between endometriosis and higher cesarean section rate. Fetal malpresentation and reduced uterine contractability are the main reasons to increase the Cesarean section indication.
Life-threatening pregnancy complications mostly occur in the third trimester, and they probably develop as a result of an enlarged uterus. Bleeding from endometrial foci, and rupture of the uterus, broad ligaments, or utero-ovarian vessels are the likely causes of hemoperitoneum.
In conclusion, pregnancies with a history of endometriosis should be considered as high-risk pregnancies and special attention must be paid to their third trimester to avoid life-threatening complications.
---
---
pregnancy management
obstetrical complications
preterm birth
small for gestational age
placental abnormalities
preeclampsia
intrapartum hemorrhage
stillbirth
endometriosis.
DISCLAIMER
EndoNews highlights the latest peer-reviewed scientific research and medical literature that focuses on endometriosis. We are unbiased in our summaries of recently-published endometriosis research. EndoNews does not provide medical advice or opinions on the best form of treatment. We highly stress the importance of not using EndoNews as a substitute for seeking an experienced physician.
<< Previous Article

Next Article >>