Time for reassessment : Laparoscopic surgery and bowel endometriosis
By:
Nasuhi Engin Aydin
- Sep 22, 2020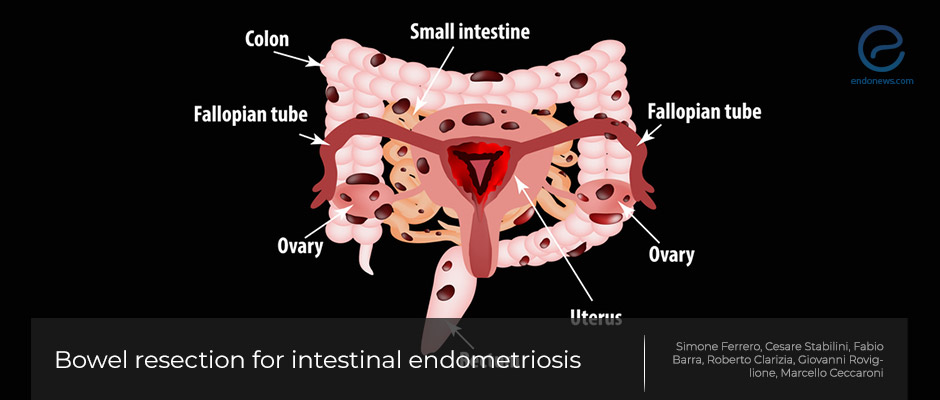 Multi-institutional research and guidelines are under consideration.
Key Points
Highlights:
The presence of functioning ectopic endometrial glands and stroma outside the uterus, i.e., endometriosis may also affect the gastrointestinal tract.
Though not frequent, the available literature shows that resection of gastrointestinal endometriosis is quite common.
Laparoscopic surgery is a well established, safe procedure in bowel endometriosis for segmental resection however it is to consider further multi-institutional research and establish guidelines.
Importance:
If non-surgical management is inadequate in gastrointestinal endometriosis, segmental intestinal resection may be performed but some patients may experience persistent or recurrent symptoms.
Currently, segmental intestinal resection is generally done by laparoscopy due to its various advantages, such as less pain, shorter hospital stays, quicker recovery, and better cosmesis compared to open surgery.
What is done here?
The authors made a comprehensive review of segmental intestinal resection of gastrointestinal endometriosis comparing the various aspects of the subject including the surgical techniques of past and present laparoscopic modalities.
Key results :
Segmental intestinal resection for gastrointestinal endometriotic lesions may be done with a low risk of functional consequences.
Clinical studies show that this procedure improves pain and intestinal symptoms
Nerve-sparing surgery may further improve functional results. It is time to consider multi-institutional studies besides establishing guidelines.
Limitations of the study:
Being a retrospective review is a major drawback since the rates of endometriosis recurrence following the surgery vary among the studies due to the different definitions of recurrence among research groups.
The authors also included surgical technical methods in the manuscript which could have well been the subject of another paper for convenience.
Lay Summary
Ferrero and associates from medical centers of Verona and Genoa, Italy, made a comprehensive review covering all aspects of the surgical approach to bowel endometriosis, published their results in "Best Practice & Research Clinical Obstetrics and Gynaecology".
Bowel endometriosis is the presence of endometriotic glands and stroma infiltrating at least the main muscle layer of the intestinal wall and causing symptoms like dyschezia, abdominal bloating, constipation, or diarrhea worsening during the menstrual cycle, the passage of mucus in the stools, rectal bleeding, defecation urgency, and feeling of incomplete evacuation.
Surgery is required for occlusive or subocclusive symptoms, in those who do not have improvement despite medical treatments, in those with contraindications to the use of drug therapies, and in patients desiring to become pregnant since hormonal therapies are contraceptive or, at least, they interfere with pregnancy.
Currently, segmental intestinal resection is commonly performed by laparoscopic surgery due to advantages like less pain, shorter hospital stays quicker recovery and better cosmesis. However, this procedure should be combined with the complete removal of pelvic endometriosis to obtain a desirable improvement in overall symptoms. Various well-known studies show the feasibility and safety of this excision both by laparoscopy and also robotic-assisted laparoscopy. There is ample evidence that nerve-sparing surgery is improving the functional outcomes of patients treated by segmental resections.
The major complications of segmental resections are rectovaginal fistula and anastomotic leakage besides minor ones like a pelvic abscess, postoperative bleeding, ureteral damage, and anastomotic leakage. The authors conclude that multi-institutional studies with adequate sample size should compare the complications and long-term follow-up besides prospective studies investigating the long-term risk of recurrence of patients.
There is certainly a need for guidelines that define the criteria for performing segmental resection vs conservative surgery (i.e. shaving vs disc excision) in patients with bowel endometriosis.
---
---
bowel endometriosis
laparoscopic surgery
segmental intestinal resection
DISCLAIMER
EndoNews highlights the latest peer-reviewed scientific research and medical literature that focuses on endometriosis. We are unbiased in our summaries of recently-published endometriosis research. EndoNews does not provide medical advice or opinions on the best form of treatment. We highly stress the importance of not using EndoNews as a substitute for seeking an experienced physician.
<< Previous Article

Next Article >>