Endometriosis diagnosis and management based on the best available evidence from published literature
May 11, 2022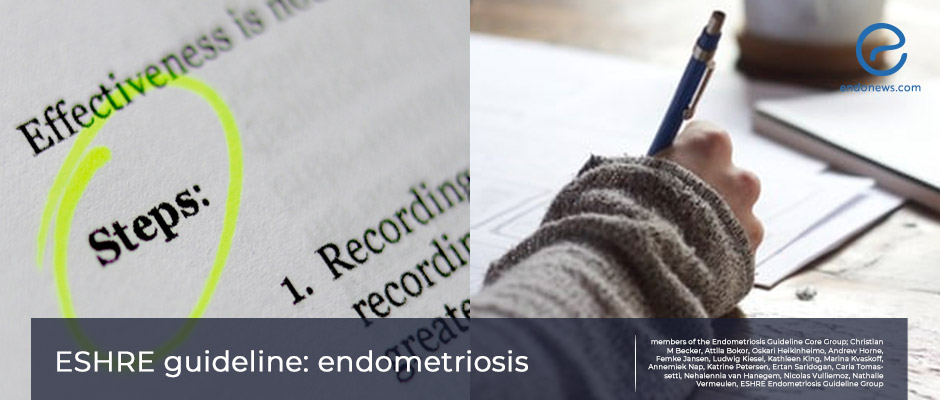 This new guideline provides evidence-based recommendations on the diagnosis and management of endometriosis.
Key Points
Importance:
Although studies for endometriosis mostly focus on women of reproductive age, this guideline also addresses endometriosis in adolescents and postmenopausal women.
Highlights:
New ESHRE guidelines summarise the recommendations on the diagnosis and effective treatment for pelvic pain and infertility.
These were modified in the context of recently published research and subgroups' work, along with adolescent endometriosis and postmenopausal endometriosis.
What's done here:
The aim of the study is to prepare a new guideline based on the previous ESHRE methodology to help clinicians to apply the best care for women with endometriosis.
A core guideline development group, working with the support of subgroups that applied the call among other European experts.
Before the final version, the collected documents, suggested interpretations, and recommendations by patients, clinicians, and health care policymakers were discussed to reach a common consensus.
Key Results:
The recommended diagnostic processes for endometriosis that was created by the core guideline development group, supported by 79 research data and 30 GPPs based primarily on clinical expertise.
This 2022 ESHRE Guideline addresses highly important previous gaps in clinical management with additional chapters on

Adolescent endometriosis,
Information on pregnancy and fertility preservation,
Extended information about postmenopausal endometriosis,
The link between cancer and endometriosis.
Lay Summary
ESHRE, "European Society of Human Reproduction and Embryology" published a Guideline for the diagnosis and treatment of endometriosis in 2005 and then revised it in 2013. Based on new research and development there was a need to renew the last version of the ESHRE Guideline.
A core guideline development group was formed that included former members of the ESHRE guideline group and a subgroup of European experts who evaluate data coming from two patient representatives and five patient organizations. This group formulated 42 more questions in addition to 35 "Patient - Intervention - Comparison -Outcome (PICA)" questions. For each PICA question, a database was searched from Pubmed/Medline written in English throughout December 2020.
Proposed recommendations by subgroups later were evaluated in face-to-face or online sessions and were labeled as strong and weak. Good practice points based on clinical expertise and "Research only" recommendations have also been added with appropriate precautions and ethics.
The guideline draft was published on the ESHRE website to open the comments of stakeholders between 24 June to 15 August 2021. After processing all commands by the core guideline development group, the adapted guidelines were published on the ESHRE website and in the journal Human Reproduction Open in 2022 again.
The final guideline is considered to update 4 years after publication.
---
---
guideline
fertility
adolescent
surgery
pelvic pain
assisted reproduction
ESHRE
endometriosis.
DISCLAIMER
EndoNews highlights the latest peer-reviewed scientific research and medical literature that focuses on endometriosis. We are unbiased in our summaries of recently-published endometriosis research. EndoNews does not provide medical advice or opinions on the best form of treatment. We highly stress the importance of not using EndoNews as a substitute for seeking an experienced physician.
<< Previous Article

Next Article >>