Endometriosis and Progesterone Resistance
By:
Selma Oransay
- Jun 23, 2023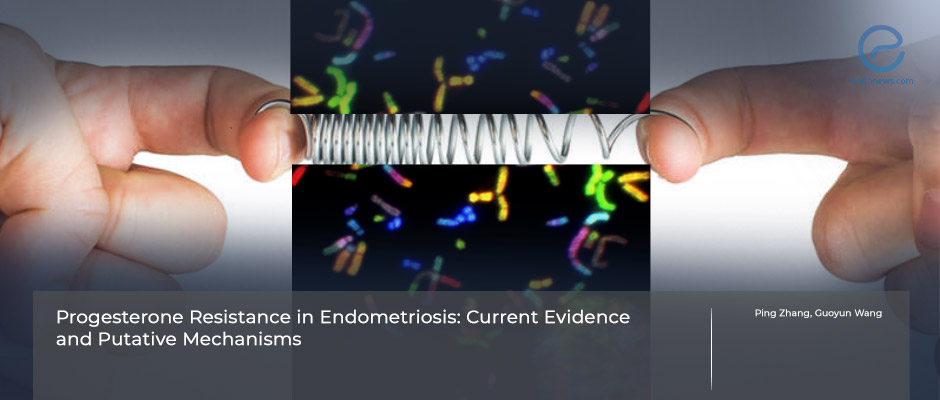 Understanding the mechanisms of progesterone resistance in endometriotic patients will help develop a novel therapeutic regime.
Key Points
Importance:
Progestins are the most frequently used medical treatment for endometriosis because of their excellent therapeutic effect and tolerable side effects.
Highlights:
The multifactorial causes of progesterone resistance in ectopic endometrial tissues are primarily related to altered functions of progesterone receptors and factors affecting the pathways.
What's done here?
This summary describes evidence supporting progesterone resistance in endometriosis including the currently proposed mechanisms.
Basic outlines:
Both natural and synthetic progestins are mediated by progesterone receptors (PGR), including PR-A and PR-B. The same gene encodes these two receptors that has opposite functions for target cells to control progesterone responsiveness.
Current literature indicated progesterone resistance in endometriosis depends on lower PR-B levels. Their observation strongly suggests an intrinsic abnormality in the progesterone signaling pathway in endometriosis.
PGR can be suppressed at several levels in endometriosis causing progesterone resistance. This could be due to estrogens, DNA hypermethylation, inflammatory response, environmental toxins, progesterone gene polymorphism, micro RNAs, and epithelial-mesenchymal transition.
Several proinflammatory cytokines also play vital roles in progesterone resistance by interfering with steroid receptor chaperone proteins o receptor coactivators.
Epigenetic alterations such as DNA and histone methylation and acetylation and modification of coregulators are suspected to be the causes of progesterone resistance as well.
Lay Summary
Progesterone resistance is the unresponsiveness of endometrium with subsequent dysregulation of the progesterone signaling pathway, and endometrial gene works. Progestins, on the other hand, are the first-line treatment choice, especially for long-term treatment of endometriosis. In the clinics, one-third of the patients with endometriosis do not respond to progesterone appropriately, which means they suffer from progesterone resistance.
To summarize the evidence and mechanism of progesterone resistance, Dr. Ping Zhang and Dr. Guoyun Wang from the Cheelo College of Medicine and the Shandon Provincial Hospital, Shandon University, China, penned this paper which was recently published in the International Journal of Molecular Sciences.
The authors expressed that the loss of progesterone signaling in eutopic and ectopic endometrial tissues is multifactorial, such as deficiency of progesterone receptors, chronic inflammation, aberrant gene expression, epigenetic alterations, and environmental toxins.
After explaining possible mechanisms and pathways of progesterone resistance in ectopic lesions, the authors suggested novel therapeutic regimes for women with endometriosis. As hypermethylation contributes to progesterone resistance, one choice could be demethylation agents. Another promising agent is "metformin," which can reverse progestin resistance by regulating the expression of dysregulated genes and mRNAs.
The authors conclude that more research is needed to explore the mechanisms of progesterone resistance in endometriotic women to give way to novel therapy regimes to fix what is going wrong.
---
---
progesterone
progesterone receptor
progesterone resistance
anti-estrogen
anti-inflammation
apoptosis
oxidative stress
endometriosis.
DISCLAIMER
EndoNews highlights the latest peer-reviewed scientific research and medical literature that focuses on endometriosis. We are unbiased in our summaries of recently-published endometriosis research. EndoNews does not provide medical advice or opinions on the best form of treatment. We highly stress the importance of not using EndoNews as a substitute for seeking an experienced physician.
<< Previous Article