Endometriosis and chronic opioid use
Nov 20, 2020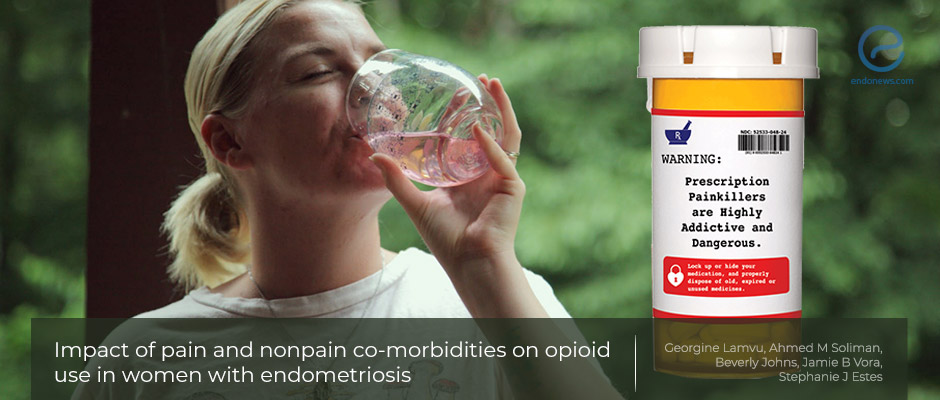 Weighing the risks and benefits of opioid therapy for individual patients and setting realistic pain management is crucial.
Key Points
Importance:
Endometriosis-related pain, such as pelvic pain, dysmenorrhea, dyspareunia, painful ovulation, dysuria, dyschezia,.. creates a negative impact on women's social life and mental health that may lead to the use of opioids for pain relief in their routine life.
Highlights:
The risk for opioid use among women with endometriosis is higher when they have other co-morbidities such as irritable bowel syndrome, interstitial cystitis, fibromyalgia, anxiety, depression.
What's done here:
This is a retrospective study, from the USA, data obtained from the Symphony Health claims database that contains 79,947 endometriotic women.
The relative risk during 1-year post-endometriosis diagnosis period, opioid use, and duration along with base-line co-morbidities collected and evaluated between 2006 and 2018.
Women aged 18-49 who had a continuous pharmacy and medical enrollment for >1 year before and after endometriosis diagnosis were included.
Key results:
The baseline opioid prescription rate was 39.5 % and raised to 57% after the diagnosis of endometriosis.
When pain and psychiatric comorbidities were taken into account, during the baseline period, 63.9% had at least one co-morbidity, and 21.2% had three or more co-morbidities.
The most common pain co-morbidities were bone/joint pain (34.2%), back/neck pain (24.2%), and migraine/headache (12.0%). Anxiety (21.8%) and depression (18.6%) were also present.
The increase in the number of comorbidities increased the relative risk for receiving opioids after the endometriosis diagnosis.
The greatest risk factor for opioid use after endometriosis diagnosis was "opioid use before diagnosis": women 61% more likely prescribed opioids if they had used it before endometriosis diagnosis.
The most important risk factor for prolonged (>3months) opioid use after endometriosis diagnosis was "prolonged opioid use before diagnosis" and the presence of psychiatric co-morbidities before endometriosis diagnosis was associated with a 7% greater risk of prolonged opioid supply.
Limitations:
Women with endometriosis were identified based on diagnostic codes, the method of diagnosis is not known.
The first occurrence of an endometriosis diagnosis in the database (with an absence of endometriosis diagnostic code) was accepted as the first diagnosis, may not necessarily reflect the first-ever endometriosis diagnosis.
The analysis relied on the completeness of administrative claims, however as pharmacy claims are not associated with a diagnosis code, opioid use could not be fully attributed to endometriosis pain.
Claims for opioid prescriptions merely indicate that a prescription was filled but can not confirm whether prescribed opioids were used compliantly.
Lay Summary
The members of the American College of Obstetricians and Gynecologists have declared that gynecologists prescribe opioids after laparoscopic hysterectomy, or for relieving endometriosis pain, although guidelines are not available for when or how to use opioids for the treatment of endometriosis-associated pain, and the data on the potential negative consequences of opioid use in the general population is rising.
To identify the potential risk factors for opioid use and long-term addiction, Dr. Lamvu et al., from Orlando Veterans Affairs Medical Center, USA, conducted a retrospective study, and the results were recently published in the "Journal of Comparative Effectiveness Research".
The study includes almost eighty-thousand endometriotic women that were obtained from screening the Symphony Health claims database from 2006 to 2018, and study groups were designed according to their pre and post endometriosis diagnosis opioid supply, pain comorbidities, and psychiatric co-morbidities to examine the relations with each other.
At baseline, before endometriosis diagnosis, 63.9% of women in this analysis had a co-morbidity, almost half had a co-morbid pain, and a third had a co-morbid psychiatric condition.
Analyzing the risk factors for opioid use in this group of patients, the authors found that the greatest factor for an opioid prescription after the diagnosis of endometriosis is using opioids before the diagnosis. These patients are 61% more likely to have opioids prescribed after the diagnosis of endometriosis. Similarly, the greatest risk factor for long term opioid supply after endometriosis diagnosis was prolonged opioid usage before the diagnosis. The presence and increased number of co-morbidities in the baseline period, either pain or psychiatric comorbidities such as anxiety or depression, also increase the risk of opioid use when compared with no baseline co-morbidities.
The observation from this retrospective analysis may contribute to improved management strategies for endometriosis-related pain and associated co-morbidities for optimization of opioid prescription practice. For optimal endometriosis treatment and to improve the health-related quality of life, clinicians need a comprehensive co-morbidity screening in patients with endometriosis. The use of opioids should be carefully considered and weighed against potential harms.
---
---
diagnosis
opioid use
chronic pain
pelvic pain
co-morbidity
narcotic
addiction
endometriosis
anxiety
depression
spoonie
DISCLAIMER
EndoNews highlights the latest peer-reviewed scientific research and medical literature that focuses on endometriosis. We are unbiased in our summaries of recently-published endometriosis research. EndoNews does not provide medical advice or opinions on the best form of treatment. We highly stress the importance of not using EndoNews as a substitute for seeking an experienced physician.
<< Previous Article

Next Article >>