Endometrial polyps of patients with and without endometriosis
Sep 1, 2020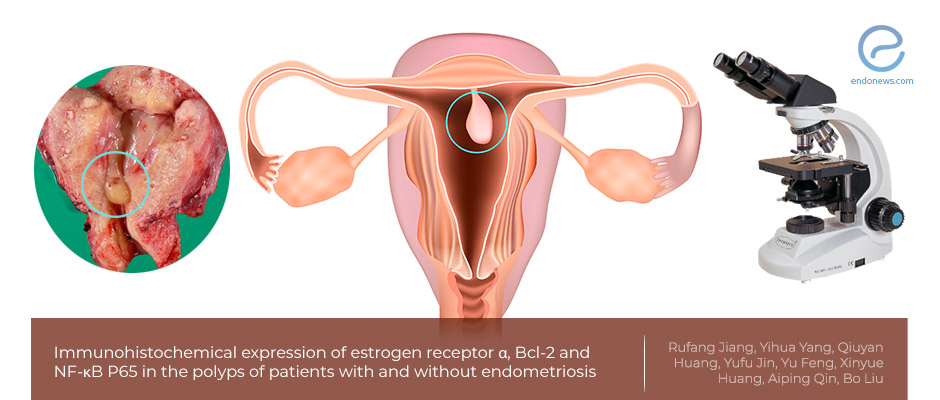 Clues found in endometrial polyp pathogenesis via microscopy utilizing immunohistochemistry
Key Points
Highlights:
Endometrial polyps are common, benign overgrowths, and are closely related to endometriosis.
Endometrial polyps from endometriosis patients yielded different features from patients without endometriosis.
Importance:
The knowledge of endometrial polyps and their relationship with the pathogenesis of endometriosis would allow diagnostic and therapeutic directions.
What is done here?
Endometrial polyps from 72 infertile patients with (n=32) and without (n=40) endometriosis examined in this retrospective study.
Immunohistochemical staining of Bcl-2, NF-κB P65, and ERα expression evaluated.
Apoptosis also quantified by the dUTP nick-end labeling (TUNEL) technique.
Key results:
Immunohistochemical expression levels of Bcl-2 and ERα were significantly increased in the polyps of endometriosis patients.
Imbalanced apoptosis secondary to abnormally high ERα expression may explain the high prevalence of polyps in endometriosis.
Limitations of the study:
All polyps under this study were obtained from infertile women, which may cast doubt on generalization to the whole patient populations.
Lay Summary
Endometrial polyps are benign local overgrowths comprising both glands and the stroma, and are quite common in gynecological practice. Endometriosis patients also commonly have polyps, which have yielded different features than those from patients without endometriosis.
Dr. Jiangand and associates from the Center of Reproductive Medicine, The First Affiliated Hospital of Guangxi Medical University, China, have made recent research on polyps from endometriosis patients comparing with those from non-endometriosis. The results have been published in a recent issue of "The Journal of Obstetrics and Gynecology".
A total of 72 infertile patients having endometrial polyps following postoperative histopathologic verification after hysteroscopy and laparoscopic surgery, out of which 32 with endometriosis and 40 without endometriosis were included in this study.
Immunohistochemical staining of Bcl-2, NF-κB P65, and ERα in endometrial polyps was evaluated, in addition, apoptosis was quantified by DNA fragments by the dUTP nick-end labeling (TUNEL).
The expression of Bcl-2 and ERα in the polyps of the endometriosis patients was significantly higher compared to that in the polyps of the non-endometriosis. The expression of NF-κB P65 was not significantly different between the two groups. Estrogen Receptor-α scores were correlated to Bcl-2. The ratio of apoptosis in the endometriotic group was significantly less than that of the non-endometriosis group.
The popular treatment modality for endometrial polyps is hysteroscopic resection whereas drug therapy is currently used mostly to prevent recurrence after polypectomy. Progesterone can inhibit the estrogen-induced proliferation of the endometrium, thus inhibit the progression of endometrial polyps.
This current research complements the causes of endometrial polyps in endometriosis and may provide an experimental basis for new options in the treatment of such polyps.
---
---
Bcl-2
endometrial polyp
endometriosis
ERα
immunohistochemistry
DISCLAIMER
EndoNews highlights the latest peer-reviewed scientific research and medical literature that focuses on endometriosis. We are unbiased in our summaries of recently-published endometriosis research. EndoNews does not provide medical advice or opinions on the best form of treatment. We highly stress the importance of not using EndoNews as a substitute for seeking an experienced physician.
<< Previous Article

Next Article >>