Dyspareunia and Endometriosis
Oct 23, 2020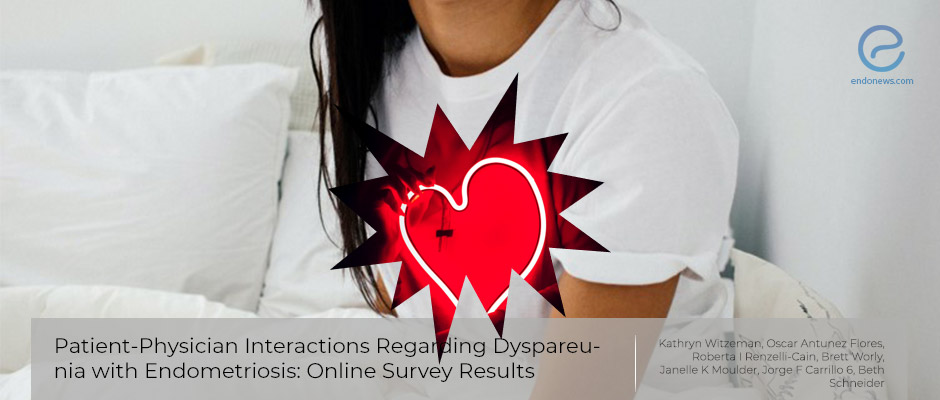 The communication between endometriosis patients and their practitioners regarding dyspareunia is suboptimal
Key Points
Highlights:
Dyspareunia related to endometriosis negatively affects patients' lives.
Importance:
The current study underlines the need for wider medical education about dyspareunia in endometriosis patients and the choices of treatment.
What's done here:
A multicountry cross-sectional study is carried out to evaluate the effect of endometriosis-related dyspareunia on women's lives and perceptions of interactions with their practitioners.
This study included 638 women who completed an anonymous online survey developed based on online communications between members of MyEndometroisisTeam.
Key Results:
Most of the women with endometriosis-related dyspareunia reported "always" or "usually" experience pain.
Seventy percent of women found sexual intercourse unpleasant due to the high levels of pain.
Nearly half of the women had pain lasting 24 hours or more after sex.
Most of the women are comfortable communicating with practitioners about their symptoms, however, many women had a difficulty in receiving enough information and effective treatments. Of women who approached practitioners, 36% did not receive effective treatments.
There was not a significant difference among participants that lived both inside and outside the United States for most questions.
Limitations:
The demographics of participants may not represent the general population.
The study did not have a control group and did not report comorbidities that could cause dyspareunia in the participants.
Although the platform enabled a large sample size from multiple countries, these patient-centered groups may be more likely to draw.
The study may include women who join the network for support. This may bring bias into the study.
Lay Summary
Women experience severe pain during intercourse related to endometriosis and this has a significant negative impact on the lives of women. This is according to an American study published in the "Journal of Pain Research".
The study included 638 endometriosis patients between 19–55 years old and had painful sexual intercourse within the past 2 years. The participants completed an anonymous 24-question online survey regarding experiences with dyspareunia-related pain, the effect of dyspareunia on life, and interactions with health-care practitioners. Survey questions were provided through the social media network, MyEndometriosisTeam.com.
Of all participants, 81% was younger than 39 years. Twenty-two percent self-reported having stage 4 disease. Women reported living with endometriosis-related pain for 2 to 38 years. Of the 638 women, 504 (79%) reported they usually or always experienced pain during intercourse. Dyspareunia caused feelings of depression and anxiety and poor self-esteem.
Thirteen percent of women did not receive a pelvic examination which is an important step to identify the source of women's pain during sexual intercourse.
The research team led by Dr. Witzeman concluded that there is a lack of communication between the patients and health care practitioners on dyspareunia which leads to suboptimal treatment approach and management. Hence, ¨more education regarding dyspareunia to evaluate and treat patients' sexual pain caused by endometriosis is needed¨ they added.
---
---
dyspareunia
endometriosis
patient satisfaction
spoonie
DISCLAIMER
EndoNews highlights the latest peer-reviewed scientific research and medical literature that focuses on endometriosis. We are unbiased in our summaries of recently-published endometriosis research. EndoNews does not provide medical advice or opinions on the best form of treatment. We highly stress the importance of not using EndoNews as a substitute for seeking an experienced physician.
<< Previous Article