Does the presence of endometriosis increase the risk of gynecologic malignancies?
Jan 17, 2019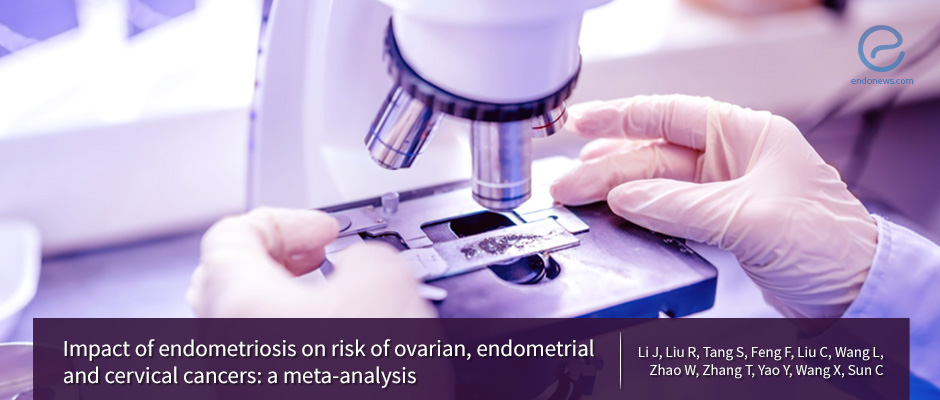 Endometriosis and risk of ovarian, endometrial, and cervical cancers
Key Points
Highlight:
Patients with endometriosis have an increased risk of ovarian cancer. The risk is not increased for endometrium and cervix cancer.
Background:
There are studies showing that gynecological cancers are increased in the presence of endometriosis. In this study, a meta-analysis is performed to clarify the increased cancer risk.
What's Done Here
8538 articles from PubMed, Embase, and the Cochrane Library are reviewed.
25 studies (16 cohorts, 9 case-control) were qualified enough to be included.
Pooled Risk Ratio was calculated from the information presented in the papers.
Key Results:
Patients with endometriosis have 1.964 times risk for ovarian cancer (95% CI:1.685-2.290)
The risk is found to be increased for clear cell and endometrioid subtypes.
Endometrial cancer risk is not necessarily higher. Risk ratio is 1.176 (95% CI:0.878-1.575)
Cervical cancer risk is not increased. Risk ratio is 0.670 (95% CI:0.537-0.838)
Lay Summary
Endometriosis shares common risk factors with endometrial carcinoma and ovarian carcinomas such as obesity, type 2 diabetes, hyperestrogenism, and reproductive characteristics.
Endometriosis is also known to be a risk factor for gynecologic malignant tumors.
In this study, Li et.al. have reviewed the literature to clarify the association between gynecological cancer and endometriosis. This study is from Weifang Medical University, China, and will be published in Archives of Gynecology and Obstetrics.
The authors, led by Dr. Sun, have reviewed the major literature databases (PubMed, Embase and the Cochrane Library). They selected 25 studies out of 8538 articles.
They used advanced statistical methods in this meta-analysis. They calculated a risk ratio for each tumor from these previously published studies.

They identified that ovarian cancer risk is nearly 2 times increased when endometriosis is present. But endometrium and cervix cancer risk are not increased.
Authors suggest that patients with endometriosis need a close follow-up.
---
---
endometriosis
ovarian carcinoma
endometrium carcinoma
cervix carcinoma
risk factors
meta analysis
DISCLAIMER
EndoNews highlights the latest peer-reviewed scientific research and medical literature that focuses on endometriosis. We are unbiased in our summaries of recently-published endometriosis research. EndoNews does not provide medical advice or opinions on the best form of treatment. We highly stress the importance of not using EndoNews as a substitute for seeking an experienced physician.
<< Previous Article

Next Article >>