Does exercise have an effect on pain perception in women with endometriosis?
Aug 4, 2021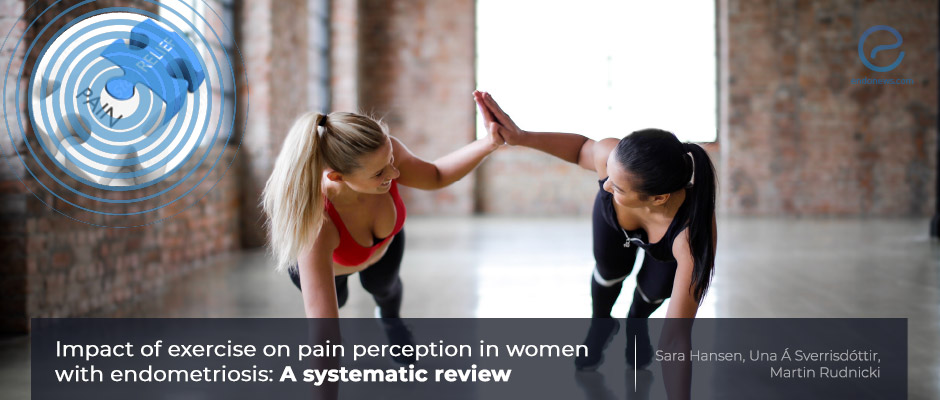 Exercise: any beneficial effect on pain perception in women having endometriosis?
Key Points
Highlights:
Regular exercise can be effective by increasing anti-inflammatory cytokines to relieve pain in women with endometriosis..
Importance:
As with several inflammatory diseases, exercise can be beneficial in endometriosis, which is an inflammatory disease that negatively affects women's quality of life.
What's done here?
This review was conducted to evaluate whether exercise may have an utility for pain perception in women with endometriosis.
Six randomized controlled studies and observational studies included that met the criteria - women with laparoscopically confirmed endometriosis, and intervention of exercise.
Only studies published within the last 25 years written in English were included.
Independent literature review was performed by two authors screening of all titles and abstracts.
Key results:
Only six articles met the inclusion criteria after the systematic database search.
Carpenter et al. found no significant difference between women allocated to danazol/exercise or danazol only.
Goncalves et al. proved beneficial effect for to improve quality of life and to reduce pain.
Pain scores and quality of life did not differ significantly when regular exercise was performed in the study by Koppan et al.
There was no significant change of pain scores by using combined physical and psychotherapy treatment in Friggi et al's study.
Awad et al. observed a significant decrease in the intensity of endometriosis-associated pain.
In contrast, Armouret al. found that exercise increased the severity of pain in women with endometriosis.
Limitations
Different methodology and designs of the studies and lack of adequate number of randomized controlled trials is the main weakness of this review.
Small sample sizes, varying follow-up periods; implementation of different types of exercise programs (regular exercise, yoga, stretching, aerobic, low impact exercise, ...) are other limitations.
Unstandardized outcome measurements, lack of information about adherence to exercise, and pain being a subjective and complex condition result in difficulty to measure accurately.
However, inclusion of only studies evaluating women with laparoscopically confirmed endometriosis and independent literature screen by two reviewers in accordance with the PRISMA guidelines are strengths.
Lay Summary
Endometriosis is an inflammatory disease causing pain symptoms such as dysmenorrhea, dyspareunia, chronic pelvic pain, and also infertility.
Several medical and surgical treatment options have been developed to improve quality of life of these women. Despite extensive research, the optimal management of endometriosis still remains unclear. Hansen et al., from Denmark, published a systematic review entitled "Impact of exercise on pain perception in women with endometriosis: A systematic review" in the journal named "Acta Obstetricia et Gynecologica Scandinavica".
The authors sought to evaluate whether exercise has a beneficial effect on pain perception in women with endometriosis. It is supposed that exercise may have an effect to relieve pain in endometriosis, like other inflammatory diseases.
After a meticulous review of the literature by two independent reviewers, only 6 publications met the inclusion criteria.
Significant decrease in pain scores by exercise was observed in two studies while the remaining studies showed either negative or no impact on pain perception.
Despite limited evidence in literature, authors concluded their review that exercise has no proven role in the management of pain in women with endometriosis. Further randomized controlled studies should be planned taking into account all the limitations to fully understand the importance of exercise in pain management.
"The present review does not suggest any beneficial effect of exercise on pain perception in women with endometriosis." the authors added.
---
---
endometriosis
exercise
pain
physical activity
systematic review
yoga
stretching
aerobic
low impact
score
DISCLAIMER
EndoNews highlights the latest peer-reviewed scientific research and medical literature that focuses on endometriosis. We are unbiased in our summaries of recently-published endometriosis research. EndoNews does not provide medical advice or opinions on the best form of treatment. We highly stress the importance of not using EndoNews as a substitute for seeking an experienced physician.