MicroRNAs in the pathogenesis of endometriosis and infertility
By:
Eylül GÜN
- Aug 3, 2021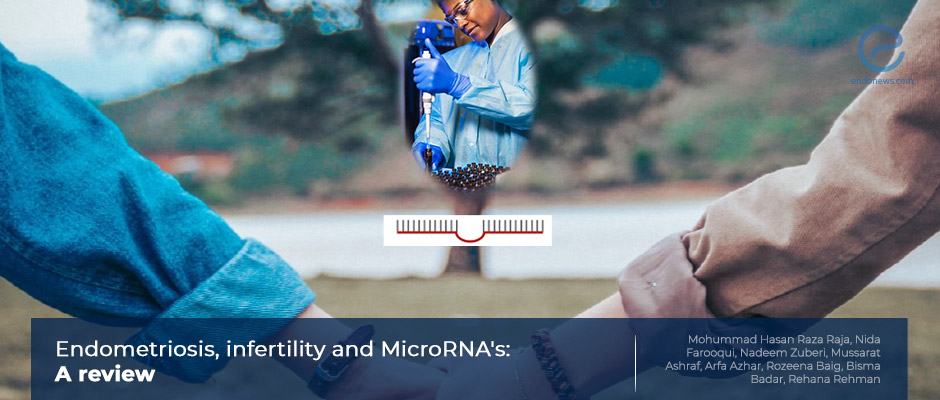 Several MicroRNAs are responsible for the pathogenesis in endometriosis and infertility study discusses
Key Points
Highlight:
Even though the gold standard in the diagnosis of endometriosis is still laparoscopy, circulating miRNAs may be a diagnostic tool in endometriosis.
Importance:
MicroRNAs play a role in the pathogenesis of endometriosis through different pathways such as promoting inflammation, cell proliferation, angiogenesis, and tissue remodeling.
MiRNAs are known to cause infertility by hormonal disturbance.
Oxidative stress caused by the inflammatory state of endometriosis also causes infertility by damaging DNA.
Key results:
Certain miRNAs are responsible for different alterations in different phases of endometriosis pathogenesis making them candidates as biomarkers.
Several miRNAs are found to be involved in the upregulation of inflammation and cell proliferation in endometriotic tissues.
By causing hormonal imbalances miRNAs are also found to be involved in infertility pathogenesis in endometriotic patients.
Physical activity, lower body mass index, and caffeine intake may be helpful in reversing the negative effects of some pathways in the pathogenesis of endometriosis. Tobacco smoking is found to promote inflammation in endometriosis whereas the role of alcohol intake has not been proven.
What's done here?
This is a review article discussing the role of miRNAs on the pathogenesis of endometriosis and infertility, and their potential to be used as diagnostic biomarkers.
Lay Summary
The gold standard in the diagnosis of endometriosis is laparoscopy and histopathological diagnosis, however search for a non-invasive method has been ongoing. Some biomarkers such as Cancer Antigen 125 have been thought to be useful, but because of their low specificity and sensitivity, they cannot aid as a definitive biomarker.
In their review study, researchers from Karachi, Pakistan have discussed the role of MicroRNAs as a potential biomarker in endometriosis diagnosis and their role in various mechanisms in the pathogenesis of the disease which was published in the "Journal of Gynecology Obstetrics and Human Reproduction".
In studies that evaluated miRNAs' role in the ectopic endometrial tissue of endometriosis patients, some miRNAs were found to be expressed differently which play a role in different phases of endometriosis pathogenesis. Upregulation of miR-21 has been discussed as a potential biomarker of severe endometriosis.
The role of oxidative stress in infertility in endometriosis patients is also discussed thoroughly. The inflammatory state causes the Reactive Oxygen Species (ROS) production which then accumulates in the peritoneal fluid and fallopian tubes. This collection damages the DNA of oocytes, sperm, and embryos which presents as infertility in affected individuals.
The authors also state that certain miRNAs were found to be responsible for the upregulation of some inflammatory mediators and vice versa proving the role of miRNAs' in promoting inflammation and cell proliferation in endometriotic lesions. Some miRNAs contribute to angiogenesis by upregulating Vascular Endothelial Growth Factor which provides more blood flow to ectopic tissues and increases growth. Moreover, the macrophages were found to be involved in altering the immune system in endometriotic patients which then causes the inflammation to continue and the lesions to proliferate.
The hormonal imbalance, particularly dysregulation of progesterone levels, caused by miRNAs in endometriotic patients was also found to be associated with infertility.
In the last section of the review, the researchers stated they were not able to find a link between the effect of miRNAs and the lifestyle of endometriosis patients and discussed the roles of physical activity, body mass index, caffeine intake, tobacco smoking, and alcohol consumption. They conclude by stating that more studies on circulating miRNAs on large, independent cohorts of women are needed to understand the exact role of miRNAs in the pathogenesis of endometriosis and use them as definitive diagnostic biomarkers.
---
---
endometriosis
infertility
microRNA
ribonucleic acid
physical activity
BMA
caffeine
tobacco
smoking
alcohol
lifestyle
DISCLAIMER
EndoNews highlights the latest peer-reviewed scientific research and medical literature that focuses on endometriosis. We are unbiased in our summaries of recently-published endometriosis research. EndoNews does not provide medical advice or opinions on the best form of treatment. We highly stress the importance of not using EndoNews as a substitute for seeking an experienced physician.
<< Previous Article

Next Article >>