Dienogest versus combined oral contraceptives treatment in postoperative endometriosis care
By:
Selma Oransay
- Aug 11, 2023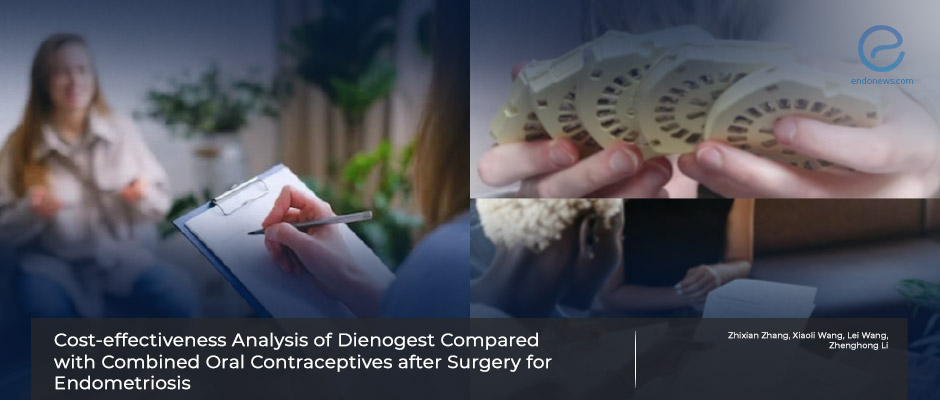 Dienogest might not be a cost-effective strategy to prevent recurrence after surgery for endometriosis in China.
Key Points
Importance:
The two options for postoperative long-term prevention of the recurrence of endometriosis in women who underwent laparoscopic surgery are dienogest and combined oral contraceptive treatments.
Highlights:
The present study indicated dienogest therapy is not a cost-effective strategy for preventing recurrence after surgery compared to COC therapy in endometriosis patients in China.
What's done here:
A Chinese author team aimed to analyze the cost-effectiveness of dienogest compared to combined oral contraceptives to prevent endometriosis recurrence in the first two years after surgery.
A comparison of two hormone therapies associated with preventing recurrence was made by using statistical analyses regarding clinical outcomes, the total cost, incremental cost-effectiveness, net monetary benefit, and incremental net monetary benefit analyses.
Key Results:
The analysis showed that hormone suppression via dienogest was 0.7493 quality-adjusted life years with a cost of $1625.49; while combined oral contraceptives were 0.7346 QALYs at a cost of $343.61.
Probabilistic sensitivity analysis indicated that dienogest is not cost-effective in most cases at a threshold consistent with World Health Organisation recommendations.
The cost-effectiveness acceptability curve indicated only 12.5% of the cases that received dienogest located below the "willingness to pay" threshold.
The above parameters suggested that the dienogest strategy to prevent recurrence after endometriosis surgery is not cost-effective in the Chinese population.
Limitations:
The clinical parameters used in this study were collected from different published literature.
No information was provided about the stage and type of endometriosis and the surgeries performed on the women in these studies.
Only the first two years were of interest to compare the efficacy of dienogest versus COC on the recurrence of the disease after the surgery, so the long-term effects remain unknown.
Lay Summary
Dienogest is a synthetic progestin derivative, like oral contraceptives, used to prevent endometriosis recurrence after surgery. Randomized clinical trials verified a significantly higher reduction in endometriotic lesions, clinical symptoms, and improved quality of life obtained when dienogest was given to the patients instead of combined oral contraceptives. For this reason, the Chinese Medical Association Guidelines recommend using dienogest as a drug of choice to treat endometriosis.
Zhang et al. from the Department of Pharmacology, China, compared the cost-effectiveness of dienogest therapy to combined oral contraceptive therapy in a retrospective statistical study. The endpoints were incremental cost-effectiveness ratio, net monetary benefit, and incremental net monetary benefit values to compare the two types of postoperative long-term medical therapy.
The result of the analysis suggests that the Dienogest might not be cost-effective for the prevention of endometriosis recurrence after surgery in China.
The authors believed their research could be helpful for clinicians to consider whether dienogest is the first-line choice for preventing the recurrence of endometriosis after surgery.
The paper was published in the April 2023 issue of the Journal of Minimally Invasive Gynecology.
---
---
oral contraceptives
dienogest
decision analyses
hormone suppression
recurrence rate
cost-effectiveness
net monetary benefit
endometriosis.
DISCLAIMER
EndoNews highlights the latest peer-reviewed scientific research and medical literature that focuses on endometriosis. We are unbiased in our summaries of recently-published endometriosis research. EndoNews does not provide medical advice or opinions on the best form of treatment. We highly stress the importance of not using EndoNews as a substitute for seeking an experienced physician.
<< Previous Article