Diagnosis and treatment of endometriosis in adolescents
By:
Irem Onur
- Aug 21, 2020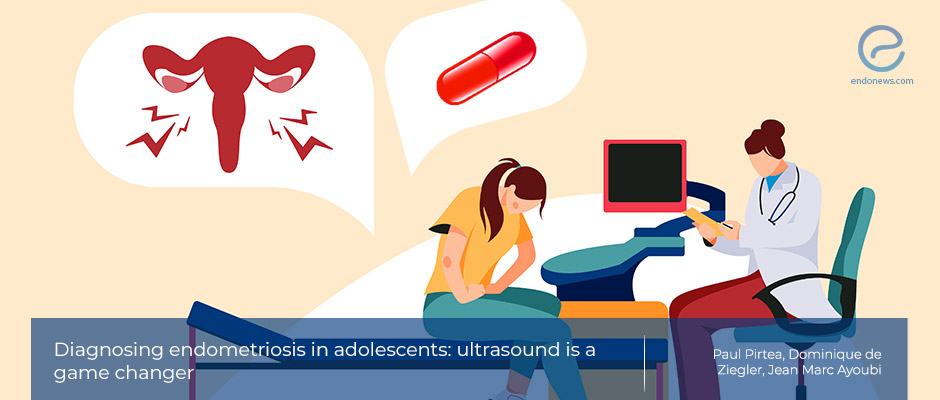 The diagnostic success of endometriomas and deep infiltrating endometriosis is related to USG and MRI
Key Points
Highlights:
Dysmenorrhea in adolescents must be considered as a warning sign that requires further investigation by systematic ultrasound evaluation.
Importance:
First, an oral contraceptive or progestin-only pill should be used in adolescents with endometriosis.
The surgical examination should be reserved for only adolescents whose endometriosis is resistant to medical treatment.
What's done here:
Researchers conducted a short review on the diagnosis and treatment of endometriosis in adolescents.
Key results
Questioning adolescents may reveal the presence of dysmenorrhea which may be a sign of endometriosis.
The treatment choice of endometriosis in adolescents is still debatable. Hormonal treatment is observed to be a more preferred treatment choice than surgery.
Fertility preservation measures are needed to be considered in adolescent patients with ovarian endometriosis.
The need for prevention of the progression of the adolescent endometriosis by early diagnosis and surgical treatment is still a question since the disease may resolve naturally according to some researchers, while it is a progressive disease requiring early surgical management according to others.
Lay Summary
The belief that dysmenorrhea, the primary symptom of endometriosis, in adolescents is an inevitable condition seen in menstruation as well as unwillingness to perform diagnostic laparoscopy may cause the delay of diagnosis of endometriosis. This is according to a recent paper, written by Pirtea P. et al., and published in the journal "Fertility and Sterility".
Authors state that noninvasive markers of endometriosis at the target of research are not clinically usable yet. Ovarian endometriomas and deep infiltrating endometriosis can be better diagnosed by the use of ultrasound and magnetic resonance imaging.
In a study led by Martire et al., it is found that in only 10.4% of 270 adolescents girls ultrasound is indicated for dysmenorrhea. After taking medical histories, it was seen that in 54.4% of all cases dysmenorrhea was present. This shows that patients may not appropriately tell their dysmenorrhea symptoms.
Natural resolution of endometriosis may occur in some cases, or it may progress to more severe forms, which requires early surgical management.
Authors believe that adolescents with endometriosis should be first treated with an oral contraceptive or progestin-only pill. They recommend surgical exploration for adolescents with endometriosis refractory to medical treatment.
---
---
endometriosis
ultrasound
endometriosis diagnosis
endometriosis treatment
endometriosis symptoms
dysmenorrhea
DISCLAIMER
EndoNews highlights the latest peer-reviewed scientific research and medical literature that focuses on endometriosis. We are unbiased in our summaries of recently-published endometriosis research. EndoNews does not provide medical advice or opinions on the best form of treatment. We highly stress the importance of not using EndoNews as a substitute for seeking an experienced physician.
<< Previous Article

Next Article >>