Endometriotic mesenchymal stem cells may promote endometriosis
By:
Yu Yu
- Aug 20, 2020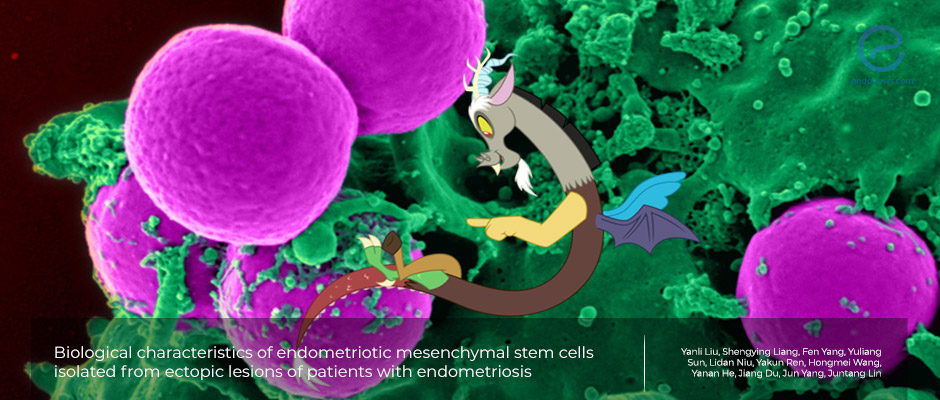 Stem cells are not always the "good guys"
Key Points
Highlight:
This study determines the differences between endometrial stem cells isolated from ectopic endometriotic lesions, and the eutopic endometrium control group.
Importance:
Accumulating pieces of evidence have suggested that endometrial stem cells on the bottom layer of the endometrium may be responsible for the progression of endometriotic lesions.
What has been done:
Ectopic lesions from endometriosis patients (n = 12) and eutopic endometrium from uterine fibroid patients without endometriosis (n = 13) were collected at the First Affiliated Hospital in Xinxiang Medical University, China.
Endometrial stem cells were isolated from these tissue samples and subjected to assays to determine the proliferation, migration and angiogenic capacity.
Angiogenesis factors, cytokines, and adhesion molecules expression were determined, together with gene expression profiles.
Data were compared between endometrial stem cells isolated from endometriosis versus the control group.
Results:
In comparison to endometrial stem cells from control endometrium, the endometrial stem cells from endometriosis showed:
Prolonged mitosis
Increased migratory capacity
Increased angiogenic potential
Higher expression of angiogenic factors secretion
Furthermore, a total of 523 genes were found to be differentially expressed including signaling pathways.
Limitation:
The study sample size is small and data may not be generalizable to a larger population. The comparative analyses may not be totally accurate as the authors could not collect eutopic endometrium from the matched endometriosis samples for their experiments.
Lay Summary
The cause of endometriosis is still debatable. Many researchers have accepted that retrograde menstruation, where the endometrial fragments released during menstruation attach and colonize the ectopic locations, is the most plausible reason. However, the numbers just do not add up. Many women experience retrograde menstruation, but approximately only 10% of women develop endometriosis during reproductive age. Therefore, there must be other contributing factors. Cumulative evidence suggested that genetic, endocrine, immunological, and environmental factors are likely other culprits.
In the past years, many researchers have also turned their attention to endometrial mesenchymal stem cells. Several reports were able to confirm their existence and broadly accepted that they may be important regulators, allowing the endometrium to carry out its functions. The endometrial mesenchymal stem cells exist on the bottom layer of the endometrium, and during the menstrual period, can also be present within menstrual debris. Importantly, studies have confirmed the occurrence of endometrial mesenchymal stem cells in ectopic lesions of endometriosis patients. Therefore, several investigators have hypothesized that endometrial mesenchymal stem cells may have roles in establishing ectopic lesion, and thus serve to promote endometriosis progression.
This study by Liu et al. from the Stem Cell and Biotherapy Technology Research Center, Xinxiang Medical University, Xinxiang, China aimed to determine the biological differences between endometrial mesenchymal stem cells isolated from ectopic lesions of endometriosis patients and those isolated from eutopic endometrium from control individuals. The article was published in "Stem Cell Research & Therapy".
Study participants were recruited from the First Affiliated Hospital of Xinxiang Medical University and consisted of 12 samples from ectopic endometrium from endometriosis samples and 13 eutopic endometria. Control participants had uterine fibroid without endometriosis provided only eutopic endometria. The endometrial mesenchymal stem cells were successfully isolated from these samples. The proliferative capacity, migratory capacity, and angiogenic potential of these cells were evaluated. The authors also determined the expression of angiogenesis factors, cytokines secretion, and adhesion molecules expressed by these cells. Lastly, differential gene expression between endometrial stem cells from endometriosis and control were evaluated by RNA-sequence.
In comparison to the endometrial stem cells isolated from the control group, the endometrial stem cells from endometriosis patients displayed reduced metabolic activity and a prolonged mitotic phase; increased migration capacity, and angiogenic potential, altered cell cycle with a dysregulation in PI3K-Akt signaling pathway.
The data revealed that the dysfunction of endometrial stem cells plays a critical role in promoting endometriosis onset and progression. The endometrial stem cells isolated from ectopic lesions of endometriosis patients may be a useful tool for future drug testing.
Although the small study sample size might affect the interpretation of this study, data suggest that endometrial stem cells may provide new insights into future studies for biomarkers or therapeutic targets.
---
---
retrograde menstruation
chronic disease
stem cells
migration
menstrual
angiogenic potential
cell cycle
biomarker
drug testing
therapeutic target
DISCLAIMER
EndoNews highlights the latest peer-reviewed scientific research and medical literature that focuses on endometriosis. We are unbiased in our summaries of recently-published endometriosis research. EndoNews does not provide medical advice or opinions on the best form of treatment. We highly stress the importance of not using EndoNews as a substitute for seeking an experienced physician.
<< Previous Article

Next Article >>