Chronic Fatigue Syndrome and Endometriosis: Comorbid Conditions
By:
Irem Onur
- Jul 10, 2019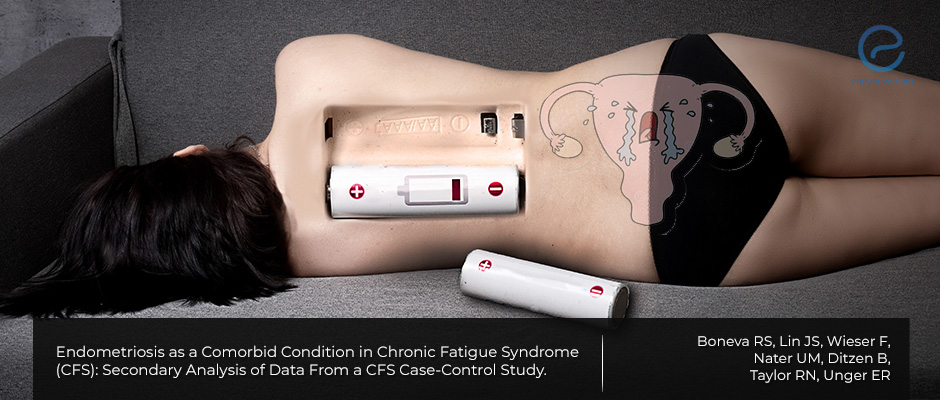 Women with Chronic Fatigue Syndrome have a higher prevalence of endometriosis.
Key Points
Highlights:
Importance:
What's done here?
Key results:
Limitations of the study:
Lay Summary
In the study of Dr. Boneva et al., from Atlanta, GA, the United States which has recently been published in the journal Frontiers in Pediatrics evaluated the impact of endometriosis on the health of women with chronic fatigue syndrome (CFS). The authors compared selected health characteristics and laboratory parameters in women with CFS with and without endometriosis.
Thirty-six women with CFS from a cross-sectional study of CFS conducted between 2002 and 2003 were included in the study. The health characteristics and laboratory parameters of interest of these women including functioning, fatigue, CFS-related symptoms, gynecologic history, routine laboratory parameters, inflammatory markers, cortisol levels, allostatic load, and sleep were analyzed and compared to the control group.
The mean age of the women was 50.9 years. Ninety-four percent were white, 72.6% were employed, 55.9% had a household income of over $40,000 and over two-thirds had more than high school education. Of women with CFS, 36.1% had endometriosis while endometriosis prevalence was 17% in the group without CFS. No difference was found between CFS with or without endometriosis groups in terms of age and body mass index. Compared to women with CFS-only, women with both CFS and EM were more likely to report chronic pelvic pain and hysterectomy, had more CFS symptoms, younger mean age at menopause onset, a higher mean number of obstructive apnea episodes and reported more negative life events. Other parameters did not differ significantly between the two groups.
To conclude, the authors found more than a third of women with CFS had endometriosis as a comorbid condition. The endometriosis comorbidity was associated with chronic pelvic pain, earlier menopause, hysterectomy, and more CFS-related symptoms. But, endometriosis in women with CFS did not appear to have an impact on functioning, fatigue, inflammatory markers, or other laboratory parameters. Since the proportion of women younger than 40 years in the current study was small, further investigations including younger women are warranted.
---
---
endometriosis
chronic fatigue syndrome
chronic pelvic pain
menopause
hysterectomy
sleep
cortisol
inflammatory markers
DISCLAIMER
EndoNews highlights the latest peer-reviewed scientific research and medical literature that focuses on endometriosis. We are unbiased in our summaries of recently-published endometriosis research. EndoNews does not provide medical advice or opinions on the best form of treatment. We highly stress the importance of not using EndoNews as a substitute for seeking an experienced physician.
<< Previous Article

Next Article >>