A study about adnexial torsion doubts in patients with endometriosis.
By:
Selma Oransay
- Jul 9, 2019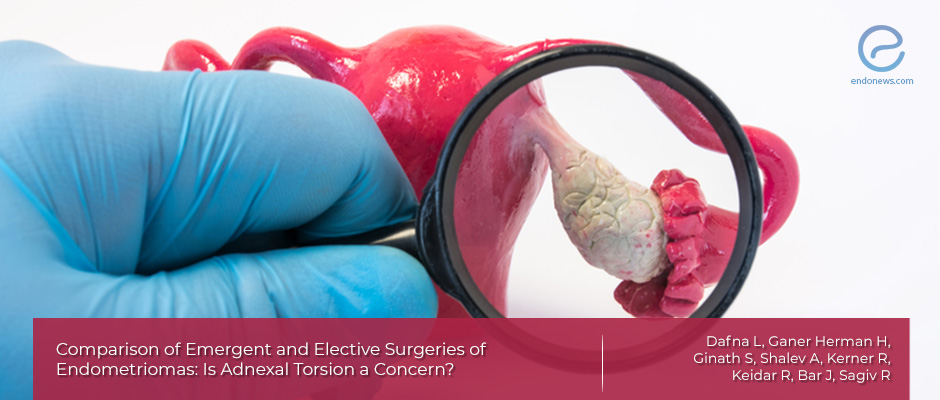 Acute abdominal pain in women with suspected endometrioma does not always indicate the presence of ovarian torsion.
Key Points
Highlights:
The clinical data to determine the rate and probability of ovarian torsion in women with endometriomas is lacking.
Pelvic or abdominal pain is the common symptom of both endometriosis and ovarian torsion, hence do not help for the decision of emergency surgery.
Importance:
By comparing the clinical presentation, laboratory and imaging results, and intra-operative findings of operated endometrioma patients according to emergent versus elective management, it may be possible to determine the rate of adnexal torsion in emergency surgery cases to reach a conclusion regarding the optimal management of acute symptoms for a suspected endometrioma.
What's done here:
A retrospective cohort study was performed to assess the rate of ovarian torsion in women with endometriosis who underwent elective and emergency surgeries during 25 years period.
Key Results:
Overall 225 surgeries were performed in which an endometrioma was confirmed; 174 performed electively.
Acute abdominal pain was the main complaint in emergency surgery patients for suspected torsion. Only 21% of elective laparoscopy patients had chronic abdominal pain as a leading symptom.
In both group ultrasonographic findings are similar and the abdominal pain localization was mainly at the right side of the pelvis.
Bilateral ovarian endometrioma percentage was not different for emergency and elective surgery groups, both being around 11%.
The rate of intrapelvic adhesion formation was also the same for both groups, around 60%.
The white blood cell count and the and serum Ca 125 values were higher in patients of the emergency surgery group.
Ovarian torsion was not detected in any emergency or elective surgeries.
Lay Summary
Endometrioma is the presence of endometriosis cysts in the ovary, and is one of the most common forms of endometriosis, with unknown pathophysiology.
Adnexal torsion results in twisting ovarian tissues resulting in a decreased blood flow. The causes for adnexal torsion due endometrioma is not clear yet.
Dr. Dafna and colleagues from the Department of Obstetrics and Gynecology of Tel Aviv University, Israel, recently published a retrospective cohort study in Israel Medical Association Journal, where they retrospectively examined the data of surgically treated patients to find out the rate and the predictors of ovarian torsion among women diagnosed as endometrioma for a period of 25 years.
Two hundred and twenty-five patients underwent surgery for histologically confirmed endometrioma, 51 cases had a clinical suspicion for adnexal torsion diagnosis to result in emergency surgery, whereas 174 endometrioma patients underwent an elective operation.
The authors evaluated and compared the clinical presentation, laboratory findings, imaging results, operative data to compare and to find out the predictors of adnexal torsion of endometrioma in this verified endometrioma patient pool.
There was no difference in ultrasonographic appearances in terms of morphology, size, bilaterality and the spillage of the cyst between the emergency or elective surgery groups. Although all the patients had acute abdominal pain in the emergency surgery group, only 21 patients had a similar complaint. White blood cell count and Ca125 levels were high in emergency surgery patients compared to others.
Interestingly, there were no cases of ovarian torsion in either group. The rate of pelvic adhesions, the presence of endometriotic foci in the abdomen or the type of operation performed were not different between the two groups.
According to these results, it seems that the risk of adnexal torsion in endometriomas is low, and the presence of acute abdominal pain does not always predict endometrioma torsion. The authors advice to perform a medical symptomatic relief with proper preoperative evaluation for suspected endometrioma patients.
---
---
elective surgery
emergency
laparoscopy
Ca 125
acute pain
cyst
torsion
endometrosis
DISCLAIMER
EndoNews highlights the latest peer-reviewed scientific research and medical literature that focuses on endometriosis. We are unbiased in our summaries of recently-published endometriosis research. EndoNews does not provide medical advice or opinions on the best form of treatment. We highly stress the importance of not using EndoNews as a substitute for seeking an experienced physician.
<< Previous Article

Next Article >>