CA125 do not correlate with pain and its severity among adolescents
Oct 26, 2020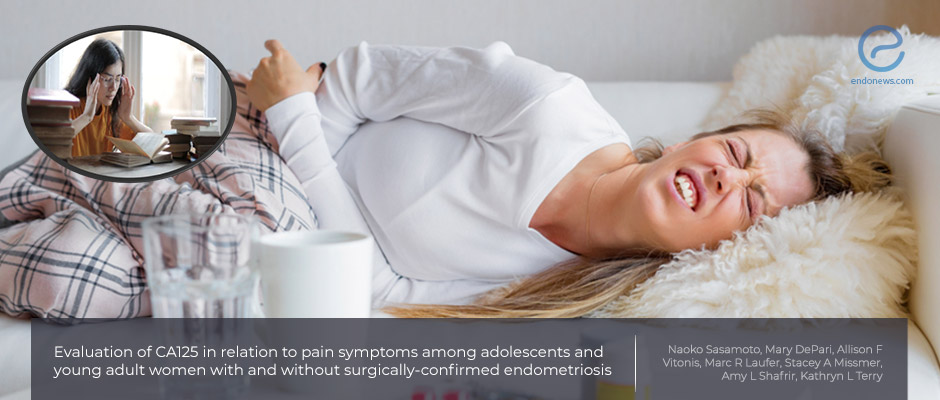 Young women with endometriosis have low CA125 levels
Key Points
Highlights:
Cancer antigen 125 (CA125) biomarker is not able to discriminate or correlate to types of pain, severity, or frequency among adolescents and young adult women with endometriosis.
Importance:
Understanding the performance of the CA125 as a biomarker is important for understanding endometriosis.
What is done here?
Reproductive-aged women with laparoscopically confirmed endometriosis (n=282) and controls (n=293) who participated in The Women's health study: from Adolescent to Adulthood (A2A) from 2012 to 2018 were included in this cross-sectoral analysis.
Detailed information on the type, severity, and frequency of symptoms of pain was gathered through a REDCap survey answered by the participants.
Blood samples were collected using the WERF EPHect fluids standard operating protocol.
CA125 was measured using the Food and Drug Administration (FDA)-approved clinical Chemiluminescent immunoassay (CA125 II).
Key results:
CA125 values do not correlate with types of pain (i.e. dysmenorrhea, acyclic pain, and dyspareunia), or its severity or frequency among adolescents and young adult women.
CA125 as a biomarker does not efficiently discriminate endometriosis cases from controls using the clinical cut-points of 35U/mL or 30U/ml.
Average blood CA125 values were low in adolescents and young women in both endometriosis cases and controls.
Limitation of the study:
The failure to do the stratification of samples of the population in the use of hormonal medication that limited the ability to detect the association between symptoms of pain and CA125.
The participants are composed of a white population coming from a specific region of the United States may limit the generalizability of the results.
Lay Summary
Cancer antigen 125 (CA125) is a high molecular weight glycoprotein expressed in tissue derived from the coelomic and Mullerian epithelia including the uterus endometrium. Previous studies reported that CA125 is the most studied endometriosis marker. Women with endometriosis experienced different levels of dysmenorrhea, non-cyclic/general pelvic pain, and dyspareunia. A few studies have tried to correlate the pain symptoms with biomarker levels. However, none of these studies examined the correlation between pain with biomarker levels in the adolescent population.
The endometriosis diagnosed in adolescent age is common, pain symptoms are frequent, and superficial peritoneal lesions are also common to allow imaging clues. This study entitled "Evaluation of CA125 in relation to pain symptoms among adolescents with and without surgically-confirmed endometriosis" that was recently published in "PlosOne", aimed to understand the performance of the biomarker CA125 in the young patient population with endometriosis.
The result of the study showed that circulating CA125 levels were NOT correlated with different pain types and severity in both laparoscopically confirmed endometriosis cases and controls. It also showed that CA125 did not perform well in discriminating endometriosis cases from controls in young women. Furthermore, the results did not show improved discriminatory performance in CA125 after considering the severity of dysmenorrhea.
The authors mention that the inconsistent observation gathered may be in part due to more than 80% of endometriosis participants were using hormonal medication at blood draw. The differences in age groups, clinical presentation, and differences in the definition of pain severity contributed to the inconsistent observation. Emerging evidence suggests pain is a heterogeneous multifaceted condition thus molecular features may differ from different pain presentations.
The authors of the paper suggested being careful in the interpretation of the CA125 levels in adolescents and young women.
---
---
CA125
chemiluminescent immunoassay
dysmenorrhea
acyclic pain
dyspareunia
biomarker
DISCLAIMER
EndoNews highlights the latest peer-reviewed scientific research and medical literature that focuses on endometriosis. We are unbiased in our summaries of recently-published endometriosis research. EndoNews does not provide medical advice or opinions on the best form of treatment. We highly stress the importance of not using EndoNews as a substitute for seeking an experienced physician.
<< Previous Article

Next Article >>