Antibiotic therapy for endometriosis
By:
Yu Yu
- May 6, 2019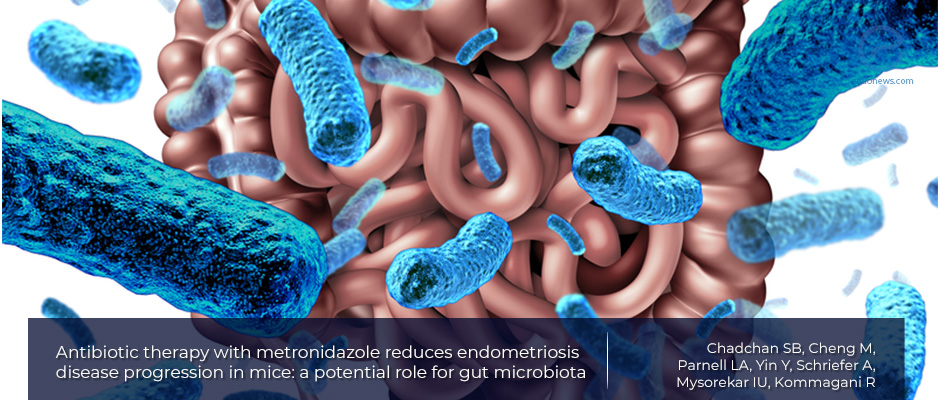 Gut microbiota influences endometriosis progression
Key Points
Highlight:
This research article examined the role of gut bacteria in endometriosis progression and the preclinical efficacy of antibiotic therapy.
Importance:
Antibiotic (metronidazole) therapy reduces the progression of endometriosis in mice by influencing the gut microbiota.
What's done here:
Treatment of mice with broad-spectrum antibiotics (vancomycin, neomycin, metronidazole, and ampicillin) or metronidazole, followed by surgical-induction of endometriosis.
Mice endometriotic lesions were collected after 21 days, for volumes and weights determinations, and histological analyses.
Proliferation and inflammation within lesions were measured using the markers Ki-67 and Iba1, respectively.
Mice fecal bacterial composition was also assessed.
Data:
Endometriotic lesions were (~ 5-fold) and had fewer proliferating cells in mice treated with broad-spectrum antibiotics than in mice treated with vehicle.
Inflammatory responses in lesions (Iba1 positive cells) and peritoneal fluid (IL-1β, TNF-α, IL-6, and TGF-β1 levels) were reduced in mice treated with broad-spectrum antibiotics.
Metronidazole alone (not neomycin) treated mice showed smaller endometriotic lesions than vehicle-treated mice. These lesions can regrow when metronidazole-treated mice were given the feces from mice with endometriosis, and not the feces from mice without endometriosis.
Limitation:
A mouse model with surgically-induced endometriosis may not fully reflect endometriosis in women.
While the possible involvement of gut microbiome was proposed, the mechanism by which the gut bacteria promoted endometriosis inflammation has not been studied in detail.
Lay Summary
Current treatments for endometriosis are surgery and hormone therapy; however, these approaches may have significant side effects and do not prevent a recurrence. Therefore, alternative treatment modalities for endometriosis is needed.
Recently, the idea that endometriosis may be influenced by the microbiome is developing. The women's reproductive tracts are colonized by distinct microbial communities, which appear to correlate with conditions such as preterm birth and infertility. One study has also identified differences between the microbiome in the cervix and uterus of women with and without endometriosis.
Chadchan et al. from the Department of Obstetrics and Gynecology, Washington University School of Medicine, MO, USA investigated the hypothesis that the gut microbiome may influence endometriosis disease progression.
The research was recently published in the "Human Reproduction" journal. In this study, mice treated with broad-spectrum antibiotics or metronidazole were surgically-induced to develop endometriosis. After 21 days, the endometriotic lesions were harvested to measure the volumes/weights and the extent of proliferation/inflammation. The study also assessed the differences between fecal bacterial composition in mice with and without endometriosis.
The results of the study showed that (i) treating mice with broad-spectrum antibiotics significantly reduce the early growth and progression of endometriotic lesions; (ii) the gut microbiota composition is altered in mice with endometriosis; and (iii) metronidazole treatment reduced endometriotic lesion growth, but feces from mice with endometriosis promoted the regrowth of the treated lesion.
Overall, this study suggests that gut bacteria can promote endometriosis. Thus, antibiotic therapy can be applied to limit endometriosis progression. However, the study findings are limited to mice model, which may not fully reflect the condition in humans. Future studies in humans will be required to understand the importance of the gut microbiome in promoting endometriosis and the efficacy of antibiotics.
The study was supported by the Endometriosis Foundation of America.
---
---
treatment
microbiome
inflammation
gut bacteria
endometriosis
mice
antibiotic
metranidazole
IL-1β
TNF-α
IL-6 and TGF-β1
DISCLAIMER
EndoNews highlights the latest peer-reviewed scientific research and medical literature that focuses on endometriosis. We are unbiased in our summaries of recently-published endometriosis research. EndoNews does not provide medical advice or opinions on the best form of treatment. We highly stress the importance of not using EndoNews as a substitute for seeking an experienced physician.
<< Previous Article

Next Article >>