The postoperative functional outcomes of deep infiltrating endometriosis
By:
Hale Goksever Celik
- May 3, 2019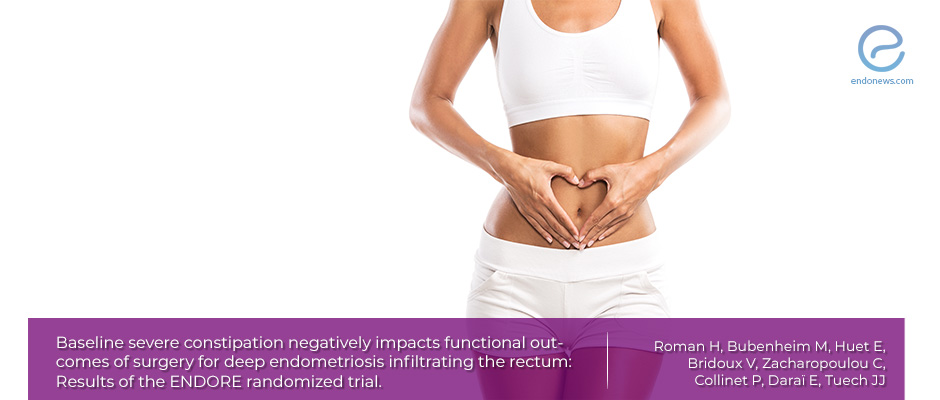 The achievement of normal bowel movements after deep infiltrating endometriosis surgery is less likely for women with severe preoperative constipation,
Key Points
Highlights:
Importance:
What's done here?
Key results:
Strengths and Limitations
Lay Summary
Rectosigmoid endometriosis is defined as the infiltration of the bowel wall with the endometrial-like glands and stroma, reaching at least the muscular layer. The most commonly involved sites are the rectum and sigmoid colon. For the management of deep infiltrating endometriosis, conservative rectal surgery by shaving or disc excision, or radical rectal surgery by segmental resection should be performed. However, there is no study identifying the predictive factors of postoperative functional outcomes in these patients.
Roman et al, a group of scientists from France, published a study titled as "Baseline severe constipation negatively impacts functional outcomes of surgery for deep endometriosis infiltrating the rectum: Results of the ENDORE randomized trial" in the journal named "Journal of Gynecology Obstetrics and Human Reproduction".
The authors aimed to evaluate the functional outcomes in patients managed by conservative or radical rectal surgery for deep infiltrating rectal endometriosis.
They found that patients with severe preoperative constipation are less likely to achieve normal bowel functions postoperatively. Rectal surgery provides significant improvement in pelvic pain, gastrointestinal complaints, and discomfort related to subjective bladder voiding, except constipation. This improvement remained stable up to 24 months postoperatively.
"Symptomatic patients may benefit from laparoscopic surgery for deep endometriosis infiltrating the rectum with favorable functional outcomes," they added.
---
---
endometriosis
deep infiltrating endometriosis
bladder dysfunction
colorectal resection
constipation
conservative rectal surgery
shaving
disc excision
radical rectal surgery
segmental rectal resection
Knowles-Eccersley-Scott-Symptom Questionnaire
the Gastrointestinal Quality of Life Index
GIQLI
the Wexner scale
the Urinary Symptom Profile
USP
SF36
DISCLAIMER
EndoNews highlights the latest peer-reviewed scientific research and medical literature that focuses on endometriosis. We are unbiased in our summaries of recently-published endometriosis research. EndoNews does not provide medical advice or opinions on the best form of treatment. We highly stress the importance of not using EndoNews as a substitute for seeking an experienced physician.