Adverse pregnancy outcomes and endometriosis.
By:
Selma Oransay
- Jan 12, 2023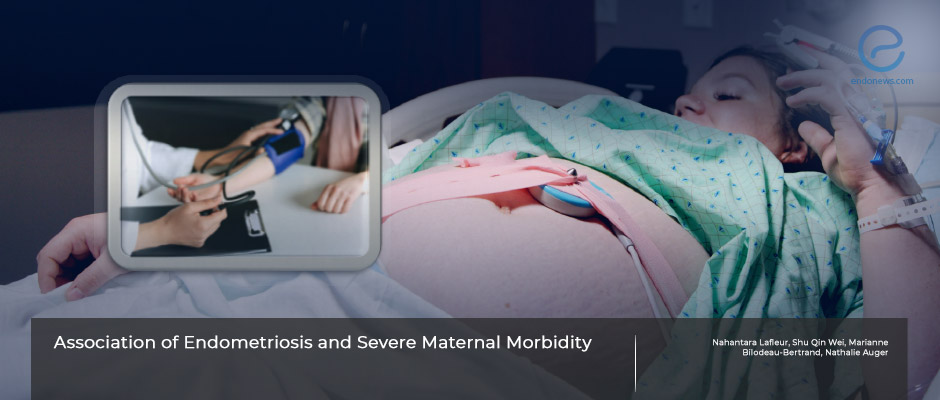 Severe maternal morbidity caused by endometriosis is life-threatening and requires careful follow-up.
Key Points
Importance:
Current data suggest endometriosis may be associated with severe pregnancy-related hypertension and severe preeclampsia that can cause severe maternal morbidity and adverse pregnancy outcomes.
Highlights:
Pregnant patients with endometriosis may have a greater risk of severe maternal morbidity.
They need a closer clinical follow-up to prevent severe pregnancy and delivery outcomes.
What's done here:
A population-based retrospective cohort study was conducted by Lafleur et al., at the Montreal Hospital research center, on 2,412,823 deliveries.
The study aimed to compute the rates of severe maternal morbidity and assess the association with endometriosis.
More than 33 thousand deliveries were histologically confirmed endometriosis.
Appropriate statistical analyses were used to assess the relation between endometriosis and adjusted with maternal characteristics.
Key Results:
Patients with active endometriosis during their pregnancy had a greater risk of severe maternal morbidity.
Severe maternal morbidity occurred in %4.6 endometriotic patients, while only %3.1 non-endometriotic patients had severe maternal morbidity:

Severe hemorrhage, cardiac complications, embolism, shock, sepsis, and hysterectomy exemplify the complications.
Active endometriosis was associated with 1,4 times the risk of severe maternal morbidities.
However inactive endometriosis was less strongly associated with these outcomes.
Lay Summary
Inflammation plays a big role in the pathogenesis of endometriosis with the release of inflammatory cytokines, angiogenic imbalance, and oxidative stress. These pathways are also common features of severe maternal morbidity. Severe maternal morbidity is life-threatening, causing cardiac and renal failure, eclampsia, severe hemorrhage, uterine rupture, and assisted ventilation requiring intensive-care conditions. There is an elevated risk of adverse defects, even death.
To evaluate the association between endometriosis and the risk of severe maternal morbidity, Dr. Lafleur et al. from the University of Montreal Hospital Research Center, Montreal, Quebec, Canada, carried out a retrospective population-based study, on 2,412,823 pregnancies between 1989 and 2019 in Quebec. The authors selected 33,623 patients identified surgically histopathologically confirmed as having endometriosis as the "pregnant with endometriosis" cohort. Among them, 6,981 patients had active endometriosis during their pregnancy, which required clinical management for pelvic pain or other related symptoms. On the other hand, more than 22 thousand patients who did not require clinical follow-up during and after pregnancy and were diagnosed with endometriosis before pregnancy composed "the inactive endometriosis" group. The third group, named "postpregnancy endometriosis", was composed of 4023 patients diagnosed with endometriosis at any time within two years after delivery. In the control group, there were 2,379,200 expectant who did not have endometriosis.
The main outcome measure was "severe maternal morbidity" which compromised life-threatening conditions during pregnancy and up to 42 days postpartum. A total of 74,587 deliveries were associated with severe maternal morbidity during the study period. The prevalence was higher for patients with endometriosis when compared to others. The most common morbidities among patients with active endometriosis were sepsis, severe preeclampsia, eclampsia, and severe hemorrhage. To prevent all these pregnancy outcomes, a close follow-up of endometriotic patients during their pregnancy was essential.
The authors mentioned the requirement for further research to understand the relationship between endometriosis and the risk of miscarriage and preterm birth. The study was recently published in the medical journal named "Obstetrics and Gynecology".
---
---
maternal morbidity
pregnancy
eclampsia
preeclampsia
hemorraghia
embolism
shock
sepsis
endometriosis.
DISCLAIMER
EndoNews highlights the latest peer-reviewed scientific research and medical literature that focuses on endometriosis. We are unbiased in our summaries of recently-published endometriosis research. EndoNews does not provide medical advice or opinions on the best form of treatment. We highly stress the importance of not using EndoNews as a substitute for seeking an experienced physician.