Adolescent endometriosis
Jul 17, 2020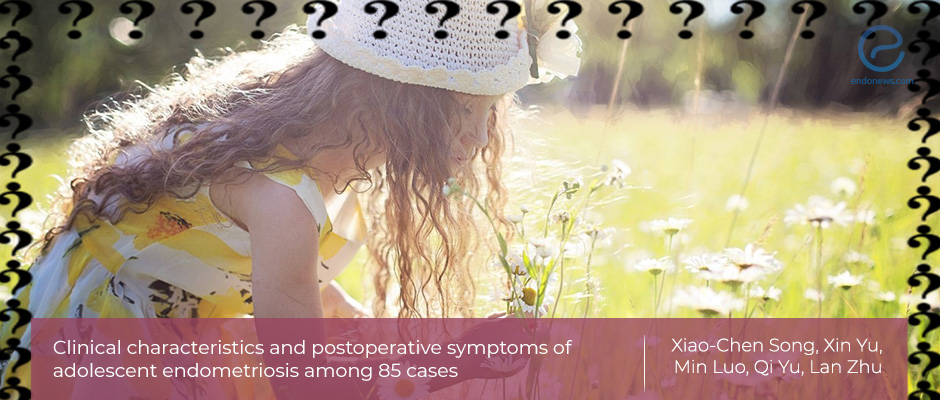 The main symptom in adolescent endometriosis is pelvic pain.
Key Points
Highlights:
Pelvic pain is improved in most of the adolescents with endometriosis, after surgery.
Importance:
This information is helpful for the counseling of patients with adolescent endometriosis.
What's done here:
A retrospective cohort study analyzing the clinical characteristics of 85 adolescents with histologically confirmed endometriosis, age less than 19 years is carried out.
Key Results:
After surgery, pelvic pain had disappeared in 41.7% of patients and improved in 38.3% of patients.
Gastrointestinal dysfunction (14.1%) was the second most common symptom.
In more than half of the patients, an adnexal mass was detected preoperatively by ultrasound.
A genital malformation may be an important factor in younger adolescent endometriosis.
Limitations:
The study is of a retrospective nature.
Since the hospital in this study is a center for the diagnosis and treatment of female genital abnormalities, there may be a selection bias.
The pain recurrence of endometriosis was not included, the only recurrence based on the development of endometrioma was defined.
Lay Summary
A recent article, led by experts from Peking Medical Union College, describes the clinical characteristics and postoperative symptoms of adolescent endometriosis.
The authors inform that their report, which is published in the "Journal of Pediatric and Adolescent Gynecology", can provide new insight for physicians when they are performing the counseling for the adolescent endometriosis patients.
The study describes the clinical characteristics of 85 adolescents with histologically confirmed endometriosis, age less than 19 years.
The study team, led by Song XC et al., analyzed clinical characteristics of the participants including demographic factors, pelvic symptoms, and changes of pelvic pain after surgery.
The authors found that the common symptom in adolescent endometriosis is pelvic pain (85.9%), and the pain could be alleviated after surgery in 80% of the patients.
According to the literature, 7.3-24% of the adolescent endometriosis patients have genital tract anomalies. In the current study, most of the genital malformations (97.7%) were found to be obstructive. This shows that outflow obstruction is an important contributing factor to the development of endometriosis.
In addition, the mean age at surgery in genital malformation patients was noted to be much younger than that in patients without genital malformation. Based on this finding, the authors find evaluating genital tract malformations in younger adolescent patients with pelvic pain necessary.
---
---
endometriosis
adolescents
clinical characteristics
spoonie
endometrioma
go away
DISCLAIMER
EndoNews highlights the latest peer-reviewed scientific research and medical literature that focuses on endometriosis. We are unbiased in our summaries of recently-published endometriosis research. EndoNews does not provide medical advice or opinions on the best form of treatment. We highly stress the importance of not using EndoNews as a substitute for seeking an experienced physician.
<< Previous Article

Next Article >>