A Way to Better Diagnose Colorectal Endometriosis
May 29, 2018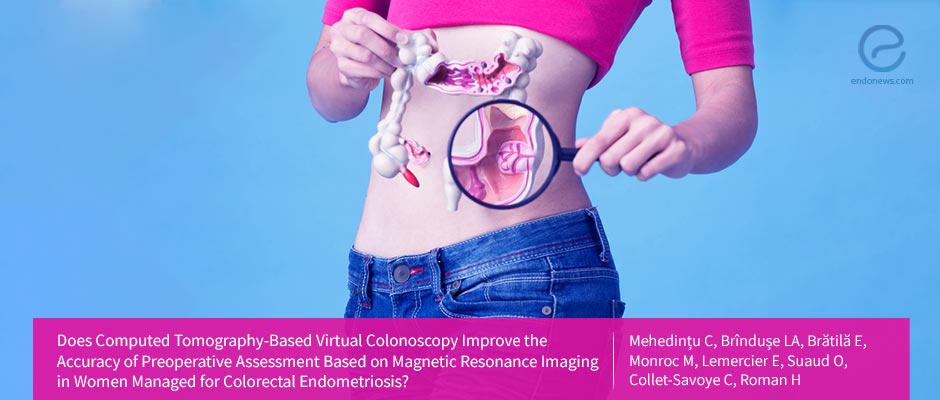 Combining two imaging techniques could increase diagnostic accuracy
Key Points
Highlights:
Combining two imaging techniques (magnetic resonance imaging - MRI and computed tomography-based virtual colonoscopy -CTC) could increase the accuracy of the diagnosis of colorectal endometriosis.
Importance:
Knowing in advance to what extent endometriosis affects the digestive tract, can help doctors better assess their patients need for surgery and its extent, and better inform them prior to surgery.
What's done here:
Researchers analyzed 71 women who underwent colorectal surgery to treat their endometriosis. They calculated the concordance between the use of each technique and the extent of endometriosis before and during surgery.
Key results:
The concordance between the findings during and before surgery regarding the presence of rectal nodules was high when MRI and CTC were used together compared to when each imaging technique was used on its own.
Limitations:
The study only included 71 patients, which could have a negative impact on the statistical power of the results.
The imaging was done by a single expert radiologist and there may be variability if the assessment was repeated by more than one specialist.
Lay Summary
Combining magnetic resonance imaging (MRI) with computed tomography-based virtual colonoscopy (CTC) can make the assessment of colorectal endometriosis more accurate. This is important because it can help doctors plan the surgery better and inform their patients.
In order to evaluate whether combining the two techniques can improve assessment of colorectal endometriosis before surgery, a team of researchers led by Dr. Horace Roman at Rouen University Hospital in France conducted a retrospective study using prospectively recorded data.
They analyzed a total of 71 women treated for colorectal endometriosis between June 2015 and May 2016. All women underwent colorectal surgery to remove a total of 105 endometriotic intestinal lesions. A total of 57 women (80.3 percent) underwent planned surgery based on findings before the surgery using imaging techniques while for the rest of the women (14 out of 71) the colorectal involvement only became apparent during the surgery.
The researchers found that the concordance between the findings before and during surgery was higher when both imaging techniques were used (MRI and CTC) compared to each technique on its own. They concluded that using both imaging techniques could add to the diagnostic power of each individual one.
"(…) the current study suggests that combining MRI and CTC leads to greater accuracy in preoperative assessment of colorectal endometriosis," the researchers wrote. They added: "This combination provides useful information for planning surgery and for pre-operative informing of patients."
There are several imaging techniques that can help doctors diagnose endometriosis. Ultrasonography is relatively cheap and easy to perform but not as accurate as MRI, which is particularly helpful in diagnosing endometriosis of the ureters, bladder, and rectosigmoid, the area between the colon and the rectum. Combining MRI with CTC can increase the accuracy of the diagnosis even further. The authors of the present study stress that "it would be premature" to suggest CTC could replace MRI in assessing patients before surgery.
The study was published in the Journal of Minimally Invasive Gynecology.
---
---
Colorectal endometriosis
magnetic resonance imaging
MRI
computed tomography-based virtual colonoscopy
CTC
diagnosis
surgery
DISCLAIMER
EndoNews highlights the latest peer-reviewed scientific research and medical literature that focuses on endometriosis. We are unbiased in our summaries of recently-published endometriosis research. EndoNews does not provide medical advice or opinions on the best form of treatment. We highly stress the importance of not using EndoNews as a substitute for seeking an experienced physician.
<< Previous Article

Next Article >>