A new ultrasound subgrouping reveals good clinical correlations in adenomyosis
By:
Engin Aydin
- Dec 18, 2019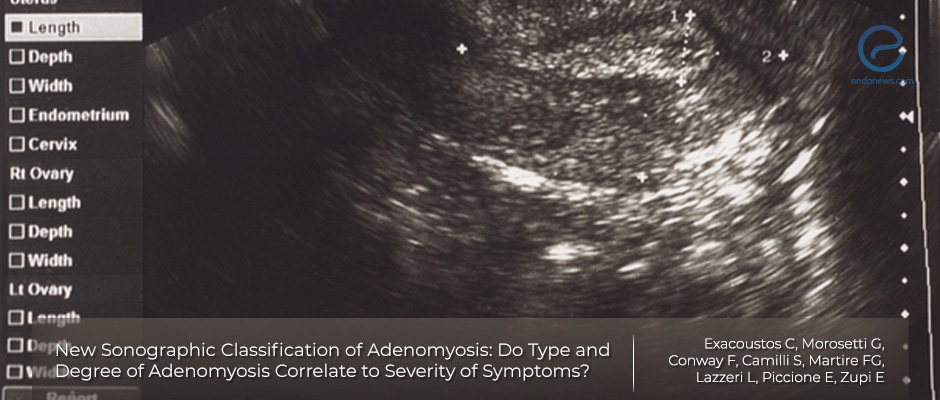 New ultrasound assessment scheme of adenomyosis (endometriosis interna) seems to be rewarding in patient care
Key Points
Highlights:
Importance:
What's done here:
Key Results:
Lay Summary
Exacoustos and colleagues from two endometriosis tertiary referral centers in Rome, Italy published their observational, prospective study of the recently proposed transvaginal ultrasonographic scoring system in the "Journal of Minimally Invasive Gynecology".
Adenomyosis or "endometriosis interna" is defined as the presence of endometrial glands and stroma within the myometrium along with the hypertrophy of the muscle tissue. This condition is also be associated with pelvic endometriosis and both conditions share similar pathogenesis and symptoms. The ultrasonographic scoring systems are designed to assess the severity and the extent of uterine adenomyosis is crucial in this regard. There is a recently proposed ultrasonographic scoring system for adenomyosis.
This observational, prospective study conducted in two endometriosis tertiary referral centers designed to correlate the type and degree of adenomyosis, scored through this new proposed system based on transvaginal sonography, to patients' symptoms and fertility.
A total of 108 patients with ultrasonographic signs of adenomyosis were assessed using this scoring system. Heavier menstrual bleeding was found for severe diffuse adenomyosis and adenomyomas whereas focal disease was associated with a higher percentage of infertility than in those with diffuse disease.
This new transvaginal ultrasonographic evaluation system provides good clinical correlation with the type and extension of adenomyosis to the severity of symptoms and infertility.
The authors conclude that studies larger populations could be useful in confirming their findings and to determine if this new transvaginal ultrasound assessment scheme may be helpful in the clinical management of adenomyosis.
---
---
adenomyosis
transvaginal ultrasound
endometriosis interna
DISCLAIMER
EndoNews highlights the latest peer-reviewed scientific research and medical literature that focuses on endometriosis. We are unbiased in our summaries of recently-published endometriosis research. EndoNews does not provide medical advice or opinions on the best form of treatment. We highly stress the importance of not using EndoNews as a substitute for seeking an experienced physician.
<< Previous Article

Next Article >>