A new "nonhormonal" treatment target in endometriosis
By:
Eylül GÜN
- Oct 1, 2021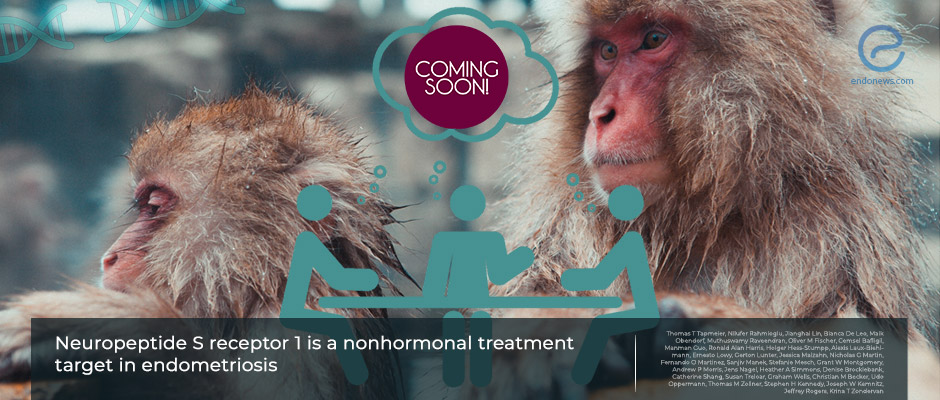 Neuropeptide S receptor 1 was identified in endometriosis cases and its inhibition provided good results
Key Points
Highlight
Neuropeptide S receptor 1 is a genetically validated, nonhormonal target in the treatment of endometriosis and is predominantly seen in Stage III and IV disease.
Importance
Endometriosis is a very common condition in women which has a health care cost similar to type 2 diabetes.
The limited treatment options in endometriosis have side effects and alternative treatment methods with fewer side effects are required.
Key results
Low-frequency, missense coding variants of the NPSR1 gene was found to be associated with Stage III and IV endometriosis.
Genome-wide evaluation of these cases also showed the common noncoding variants of the gene were also associated with Stage III and IV endometriosis.
NPSR1 was found to be expressed in eutopic and ectopic endometriotic glandular epithelium and in the monocytes in pleural fluid.
Inhibition of NPSR1 showed to reduce inflammation and pain in endometriotic mouse models.
What's done here?
This study represents the first example of an investigation that is performed both in humans and nonhuman primates to identify a treatment target.
Fine-mapping, haplotyping, and next-generation sequencing techniques were used to identify the target gene.
With the aim of finding a new treatment target, 52 families with multiple endometriosis cases and 849 rhesus macaques with spontaneous endometriosis were genetically tested.
Strength and Limitations
The performed in vitro studies had a relatively small number of patients and did not include investigations of the functional effects of the NPSR1 variants.
The anxiety-related effects of the NPSR1/NPS system were not investigated.
Mouse models are not able to feature the full disease spectrum such as the differences in different stages of the disease.
Lay Summary
Endometriosis is a chronic inflammatory condition that affects millions of women globally. With pelvic pain being its most common symptom, the cost of the treatment of disease-associated symptoms has been found to be almost as high as type 2 diabetes. The severity of the pain does not correlate well with the surgical stage because of neural sensitization and all available treatment options are limited.
With the aim of finding a new treatment target, researchers from various countries including the UK, Australia, the USA, and China have performed a comprehensive genetic study. Their candidate gene Neuropeptide S receptor 1 (NPSR1); a G-protein coupled cell surface receptor was derived from the analysis of a total of 52 families with multiple endometriosis patients as well as 849 rhesus macaques with spontaneous endometriosis and evaluated. The study is published in the August 2021 issue of Science Translational Medicine.
In a brief highlight by the same researchers in the September 2021 issue of Nature Reviews Endocrinology, chromosome 7p 13-15 is reported to be linked to endometriosis in 32 families that each have three or more women with endometriosis. The DNA sequencing of these families showed an overrepresentation of low-frequency coding variants of the NPSR1 gene. The cases that showed these variants were predominantly advanced stage endometriosis. After that, a genome-wide association dataset from endometriosis patients was used to investigate the common variants of the NPSR1 gene and their relation to endometriosis. As a result, an insertion/deletion variant of the NPSR1 gene was proven to be associated with Stage III and IV disease. The same chromosome was also altered in the rhesus macaques and the variants of the NPSR1 gene in question were identified as well.
Immunohistochemical analysis of the NPSR1 gene and its ligand NPS revealed that NPSR1 was strongly expressed in the glandular epithelium of both eutopic and ectopic endometrium, but not the stroma, and also in the monocytes in peritoneal fluid whereas NPS was expressed only in endometrial stroma. Findings supported by other techniques such as Polymerase chain reaction and flow cytometry. With this knowledge, NPSR1 inhibitor was used and shown to decrease the amount of TNF-a, a cytokine that is primarily involved in the inflammation process. When the effects of NPSR1 inhibition were tested in endometriosis mouse models, the abdominal pain-related spontaneous behaviors were found to be reduced and anti-inflammatory effects were proven.
The researchers conclude by saying that the current hormonal treatments of endometriosis have a lot of side effects whereas the NPSR1/NPS system is a nonhormonal therapeutic target that is also genetically validated by these studies, especially in advanced stage endometriosis.
---
---
endometriosis
treatment
target gene
NPSR1
NPS
advanced stages
stage III
stage IV
PCR
flow-cutometry
DISCLAIMER
EndoNews highlights the latest peer-reviewed scientific research and medical literature that focuses on endometriosis. We are unbiased in our summaries of recently-published endometriosis research. EndoNews does not provide medical advice or opinions on the best form of treatment. We highly stress the importance of not using EndoNews as a substitute for seeking an experienced physician.
<< Previous Article

Next Article >>