Using social media to raise awareness for endometriosis
By:
Demet Candaş Green
- Sep 24, 2019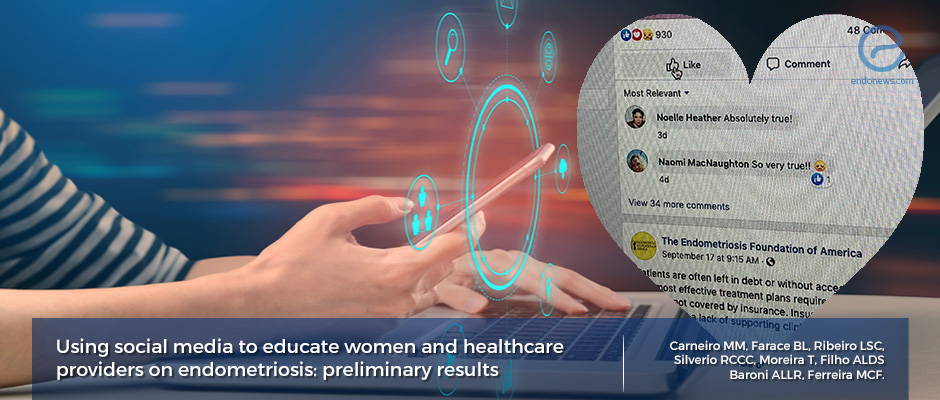 Can Facebook fan pages be useful tools to educate women and healthcare providers on endometriosis?
Key Points
Highlights:
The majority of the page followers were women, however, decent amount of men also visited the Facebook fan page maintained by the Endometriosis Multidisciplinary Team of the Federal University of Minas Gerais
The authors found 399 Facebook pages on endometriosis that were active from 44 different countries, but most posts were written in English
20% of the pages claimed they were based on science
Importance:
Developing social networking pages with accurate information is an important step toward educating individuals about endometriosis and helping them make informed decisions on available treatments
What's done here?
The authors evaluated the performance of their Facebook fan page and compare it to similar pages
They reviewed page-specific metrics including number of fans, their age and sex, and country of origin; number of views, likes, and shares tied to their posts
Key results:
The fans of the Facebook page were 89% women and 11% men. Women fans were primarily aged 25-34 (39%) and 35-44 (30%) years
The most viewed posts were on thrombosis and oral contraceptives, deep endometriosis, intrauterine levonorgestrel system, IVF, and cancer
Limitations of the study:
There are no outcome measures to actually determine whether visiting the fan pages or engaging with the pages in any way positively contributes to one's knowledge and help them make more informed decisions about their condition or available treatments
Lay Summary
Raise your hand if you have used internet or social media to search for information today. We all do, every single day. Whether it is a recipe, biography of a favorite singer, reviews of a new restaurant, or today's weather, we increasingly rely on the internet and social media for information and support. Literature shows that 80% of internet users search for health-related information such as physicians, healthcare providers, and symptoms and treatment options for diseases. In 2016, Facebook reported that approximately one billion people used their app to search for health-related information!
Undeniably, social media provides patients access to healthcare information. Most patients search the Internet not as a substitute for advice from a physician, but as an attempt to become more knowledgeable of their condition and to perhaps find people in similar situations like themselves to receive and to give support. Access to social media allows patients to play a more active role in their therapy and in some cases improve communications with their physicians. However, little information is available on the uses, risks, and benefits of social media to educate the public, patients, and healthcare professionals.
This study by Carneiro et al. aimed to evaluate the performance of a Facebook fan page developed by the Endometriosis Multidisciplinary Team of the Federal University of Minas Gerais in Brazil. This page was designed to communicate reliable information on endometriosis, infertility, and pelvic pain. The posts to the Facebook page were kept short and simple. Topics were selected based on the most frequent questions and misconceptions presented by women during a consultation or based on news stories featuring issues related to endometriosis. All content was checked for scientific and medical accuracy. For evaluation, page-specific metrics provided by Facebook included the number of fans, their age and sex, and country of origin; the number of views, likes, and shares of each post.
The fan page went online on April 21, 2016, and 127 posts had been published up to December 2017. Most of its 1746 fans (89% women; 11% men) were Brazilians from the state of Minas Gerais, although individuals from other Brazilian states, the United States, and Europe have also visited the page. The most popular posts were on the following topics: thrombosis and oral contraceptives, continuous use of hormonal contraceptives, deep infiltrating endometriosis, use of the intrauterine levonorgestrel system, IVF and endometriosis, endometriosis and cancer, endometriosis and infertility, and how to schedule an appointment.
Social media is a two-edged sword. It can be a golden opportunity to educate the public, dissipate myths, and provide patients with sound information to influence their decisions. Unfortunately, misinformation spreads easily across social media, therefore, it is critical that information provided online should have clear standards and be monitored for quality and reliability. "Developing pages with sound information is an important step toward educating men and women about endometriosis and helping them make informed choices on fertility and available treatments. Physicians and healthcare professionals should seize the opportunity and use social media to promote patient healthcare and education." concluded the authors.
---
---
endometriosis
social media
patient education
Facebook
DISCLAIMER
Endonews is designed to strictly highlight the most recently published scientific research that focuses on endometriosis. It is not designed to provide medical advice or an opinion on the best form of treatment. We highly stress the importance of not using this site as a substitute for seeking an experienced physician, which is highly recommended if you have any questions or concerns regarding your endometriosis needs. We believe in the consciousness of our reader to discriminate that research is different than "standard of care," and trust that they can keep in mind that here at Endonews, we summarize the newest peer-reviewed scientific medical literature, without bias.
<< Previous Article

Next Article >>