Urinary Function Alterations after Surgery for Deep Endometriosis.
Nov 19, 2021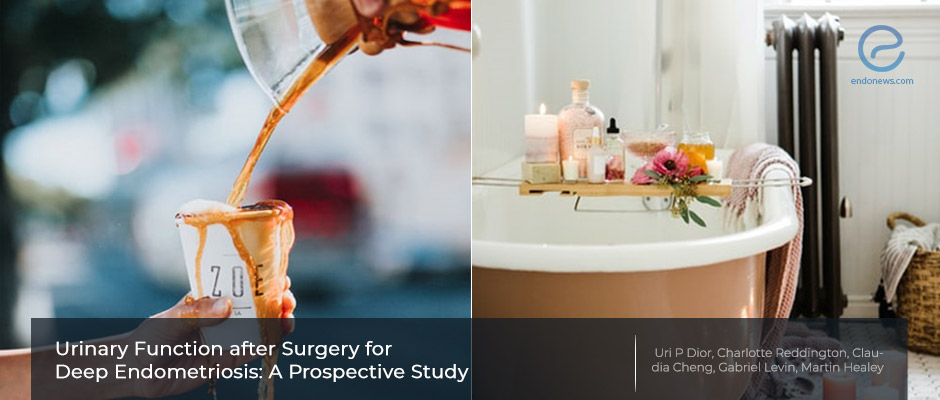 The greatest improvement of urinary function especially occurs in patients with worse preoperative function after laparoscopy for deep endometriosis.
Key Points
Highlights:
After the deep endometriosis laparoscopic surgery, the urinary function improves in patients with a worse preoperative function.
However, surgery for deep endometriosis may cause urinary function deterioration in women with a normal preoperative urinary function.
Importance:
Deep infiltrating endometriosis surgery may requıre extensive pelvic dissection including the bowel, bladder, or parametrial invasions.
What's done here:
A prospective questionnaire-based observational cohort study aiming to compare urinary function before and after surgery on 149 deep infiltrating endometriosis patients.
This study is in fact a part of a larger project assessing the overall quality of life including bowel and sexual function in women having surgery for deep infiltrating endometriosis.
International "female lower urinary tract symptoms long-form questionnaire" results, before surgery, and 6w, 6m, and 12m after surgery were evaluated.
Bladder filling, voiding, and urinary incontinence summary scores were compared
Key Results:
All cases underwent laparoscopy, total laparoscopic hysterectomy (n=14), ovarian cystectomy (n=86), salpingo-oophorectomy(n=14), and cystoscopy (n = 46) were carried out when necessary.
Full infiltration into the bladder wall was observed in 2 cases. More than two-thirds of the patients had stage 4 disease.
Urinary function improved after surgery, improvement in filling score occurred throughout the study time frame, voiding score did not change, and incontinence score improved at 6 weeks.
Strength and Limitations:
The prospective design and the use of a detailed validated questionnaire are the strengths of the study.
The absence of pelvic floor hypertonicity, late follow-ups are the limitations.
Lay Summary
Laparoscopic surgery is a mainstay therapy for symptomatic patients with DE. Although our findings of improvement in many domains of urinary function are encouraging, postoperative deterioration in urinary function was found for patients with initial normal function. More research is needed to better identify the subpopulations in which surgical intervention provides symptomatic benefit or deterioration.
Urinary incontinence significantly affects women's quality of life, and the data on urinary incontinence in patients with deep endometriosis is limited in the literature.
Dior et al. from Melbourne, Australia designed a prospective study to evaluate urinary function before and after the laparoscopic operation for deep endometriosis. All surgeries were performed in one single tertiary university-affiliated hospital with highly-skilled surgeons. All patients underwent laparoscopy, and further total laparoscopic hysterectomy, ovarian cystectomy, salpingo-oophorectomy, and cystoscopy were carried out when necessary. One-third of cases underwent bowel surgery.
Urinary functions of the patients were evaluated before and after the surgery by a detailed validated questionnaire that evaluates the filling score, voiding score, and incontinence score.
Statistical analyses showed that the greatest improvement of urinary functions occurred in patients who had a worse preoperative function. On the other hand, some patients preoperatively with normal urinary function showed urinary function deterioration after the operation.
This article was recently published in the "Journal of Minimally Invasive Gynecology".
---
---
deep endometriosis
laparoscopy
hysterectomy
myomectomy
salpingo-oopherectomy
cystoscopy
urinary function
endometriosis.
DISCLAIMER
EndoNews highlights the latest peer-reviewed scientific research and medical literature that focuses on endometriosis. We are unbiased in our summaries of recently-published endometriosis research. EndoNews does not provide medical advice or opinions on the best form of treatment. We highly stress the importance of not using EndoNews as a substitute for seeking an experienced physician.
<< Previous Article

Next Article >>