Ureteral endometriosis and its management
Aug 10, 2021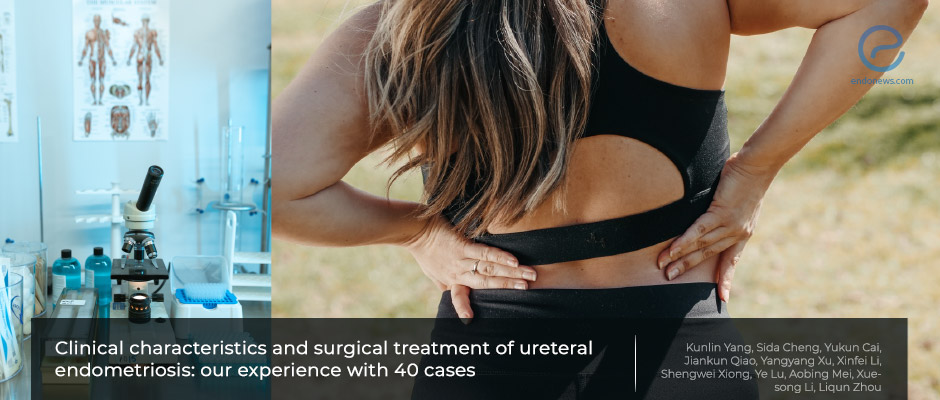 Ureteral endometriosis should be managed surgically in the setting of ureteral obstruction
Key Points
Highlights:
Although rare and mostly asymptomatic, ureteral endometriosis constitutes an important cause of ureteral stenosis, or may cause silent hydronephrosis and loss of renal function.
Clinicians should always consider it when ureteral stenosis is suspected or when a patient has endometriotic lesions elsewhere.
Importance:
Surgical treatment is essential in relieving the ureteral obstruction and protecting renal function.
What's done here?
This is a retrospectively designed, original research article.
Forty patients with ureteral endometriosis, along with their demographic and clinical findings, and the performed surgical procedures were analyzed.
Key points:
Magnetic resonance imaging is more helpful in identifying the lesions compared to transvaginal ultrasonography.
Ureterolysis, ureteroureterostomy, ureteroneocystostomy, and excision of all other endometrial lesions are the performed surgical procedures.
One of the patients included in the study was 72 years old therefore it should be kept in mind that ureteral endometriosis may also be seen in older women.
Robotic surgical techniques should be used more frequently in appropriate conditions.
Limitations:
It is a retrospective study with a small study sample that only included patients operated in a single center.
Most of the patients underwent open surgery.
Lay Summary
Urinary tract endometriosis prevalence is hard to determine since almost half of the women with this condition appear asymptomatic. The most common form is bladder endometriosis followed by ureteral endometriosis which is seen more rarely. Ureteral endometriosis is usually located in the distal ureter and may go unnoticed for a long time which may cause the loss of renal function.
Dr. Kunlin Yang and colleagues from Peking University First Hospital in Beijing, China have shared their experience on ureteral endometriosis; its clinical characteristics, and surgical procedures on the latest issue of BMC Women's Health. They included a total of 40 patients operated on in their center with a diagnosis of ureteral endometriosis which all showed histopathological evidence of endometriosis.
The majority of the patients were asymptomatic, the most common symptom was flank pain. All patients had hydronephrosis. The patients were either treated by ureteroureterostomy or ureteroneocystostomy. Nephroureterectomy was performed in a total of 5 patients, 3 of which had an ipsilateral functioning kidney. Among the 24 patients who underwent a kidney-sparing surgery, the success rate was 87.5%. The success rate for ureteroneocystostomy and ureteroureterostomy operations were 93.8% and 71.4% respectively.
The authors discuss that "retrograde menstruation" which is the most popular theory for endometriosis does not explain isolated ureteral endometriosis cases, however they are usually associated with other endometriotic lesions. The patients who have a lesion larger than 3 cm usually develop hydronephrosis. Rectovaginal palpation is necessary during the physical examination to be able to detect the ureteral lesions. In the differential diagnosis of ureteral stenosis, transvaginal and abdominal ultrasonography are needed however transvaginal ureteral detection requires very high training therefore magnetic resonance imaging may be more helpful.
The severity and the location of the lesions help determine the surgical procedure. Ureterolysis, ureteroureterostomy, and ureteroneocystostomy are the options. When the renal function is found to be deteriorating, nephrectomy or nephroureterectomy may be performed. The authors then go on by explaining how laparoscopic and robotic techniques were used in the last decade and what their superiorities were comparing to the open techniques. If the lesion is causing ureteral obstruction, it was recommended that it should be treated surgically instead of medically unless there is a severe form of endometriosis which can be handled by neoadjuvant hormonal therapy.
The authors finish by saying that although ureteral endometriosis is rare, it should always be kept in mind because it may cause silent hydronephrosis and loss of renal function.
---
---
endometriosis
ureteral endometriosis
Ureterolysis
ureteroureterostomy
ureteroneocystostomy
advanced endometriosis
DISCLAIMER
EndoNews highlights the latest peer-reviewed scientific research and medical literature that focuses on endometriosis. We are unbiased in our summaries of recently-published endometriosis research. EndoNews does not provide medical advice or opinions on the best form of treatment. We highly stress the importance of not using EndoNews as a substitute for seeking an experienced physician.