Time for noninvasive serum markers for endometriosis diagnosis
Jan 26, 2021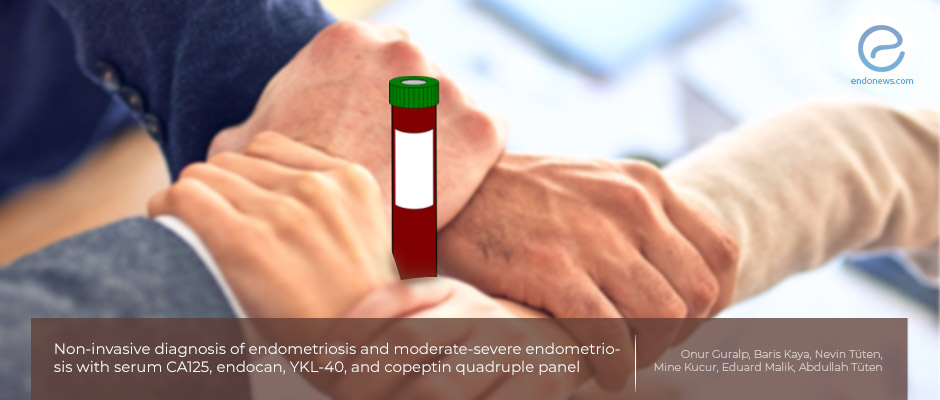 A panel of serum markers (CA125, endocan, copeptin and YKL-40) is found effective in "moderate-severe endometriosis" diagnosis
Key Points
Importance:
Although CA125 and similar serum markers have been examined for endometriosis diagnostic workup as a noninvasive approach, these markers are not sensitive and specific for endometriosis yielding a need for research of novel markers.
Highlights:
A noninvasive approach to women with suspected endometriosis may be important in leading the surgeons' decisions. It is clinically rewarding when a negative test of a specific panel may show high odds against endometriosis which may prevent unnecessary surgery.
What's done here?
Two groups of women with and without a diagnosis of endometriosis were compared with their serum CA125, endocan, copeptin, and YKL-40 combined levels.
The levels of these serum markers were significantly increased in women with endometriosis compared to the women without endometriosis.
Key Results:
Utilizing a quadruple serum marker panel consisting of CA125, endocan, copeptin and YKL-40 had an area-under-curve value of 0.954, with a 96.5% sensitivity and specificity of 84.6% for clinically important endometriotic illness.
Lay Summary
Dr. Onur Guralp and associates from Germany and Turkey published their results on serum markers predicting endometriosis in the "Journal of Obstetrics and Gynaecology".
Still, in 21st-century medicine, doctors can not diagnose endometriosis using biochemical serum markers. Proposed serum markers suggested for this purpose such as CA125 and others have been so far not effective in this regard. In this study researchers aimed to find the diagnostic value of a panel consisting of CA125, endocan, YKL-40, and copeptin for the prediction of endometriosis.
Among 70 women with endometriosis and 70 women without endometriosis in the study, serum CA125, endocan, copeptin, and YKL-40 levels were found to be significantly increased in women with moderate to severe endometriosis. This panel of serum markers had a sensitivity of 96.5% and specificity of 84.6% for this prediction.
Zero or one positive marker had a sensitivity of 91.4% and specificity of 88.57% to rule out endometriosis.
The authors conclude that this four-markers serum panel using CA125, endocan, YKL-40, and copeptin may be beneficial for the diagnosis of endometriosis and especially moderate-severe endometriosis.
It is stressed that the conservative treatment of endometriosis is the initial treatment choice in many cases and so the non-invasive detection of endometriosis in ultrasound-negative patients would be promising in recognizing the possible candidates for the conservative treatment.
One of the strengths of this study is that all serums were taken between five to eight days of the menstrual cycle, enabling a certain standardization of the blood samples regarding the menstrual phase. In addition, it is unique in regard to the serum markers endocan, YKL-40 and copeptin were evaluated in a diagnostic panel for endometriosis for the first time.
---
---
serum panel
endometriosis disgnosis
noninvasive
CA-125
DISCLAIMER
EndoNews highlights the latest peer-reviewed scientific research and medical literature that focuses on endometriosis. We are unbiased in our summaries of recently-published endometriosis research. EndoNews does not provide medical advice or opinions on the best form of treatment. We highly stress the importance of not using EndoNews as a substitute for seeking an experienced physician.