The use of retinoic acid for the treatment of endometriosis
By:
Murat Osman
- May 2, 2018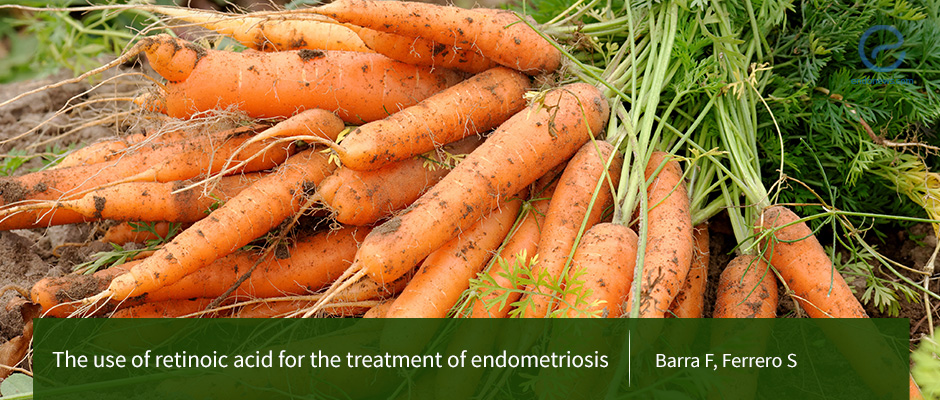 New study reveals vitamin A- induced Beclin 1 expression may help reduce endometriotic burden
Key Points
Highlights: Retinoic acid induces the regulator of autophagy and cell death, Beclin-1 in endometriotic lesions.
Key Results:
Lu et al. demonstrated that retinoic acid treatment caused autophagy (a form of cellular recycling or destruction) through the induction of Beclin 1.
The authors of the correspondence note, however, that the effect of retinoic acid on specific forms of endometriosis is unknown and warrants further research.
What's done here?
This is a short correspondence note written by two researchers in Italy concerning the recent study demonstrating the use of retinoic acid to decrease the volume of endometriotic implants.
Limitations:
Further study is warranted to compare the results found by Lu et al.
Lay Summary
Endometriosis is one of the leading causes of chronic pelvic pain in women during their childbearing years. Several drugs have been researched to either reduce inflammation, decrease growth, or kill endometriotic cells. Retinoic acid (Vitamin A) is one such molecule that has been researched in the treatment of many conditions. Lu et al. from the Clinical Medical College of Dali University recently published a study titled, "Retinoic acid regulates endometriotic stromal cell growth through upregulation of Beclin 1". Lu et al. demonstrated that retinoic acid treatment caused autophagy (a form of cellular recycling or destruction) through the induction of Beclin1, a protein found to be involved in the regulation of cell death and autophagy. They explain that retinoic acid may have a role in the gene expression and hormonal regulation of endometriotic implants. They also found that there was an inverse correlation between the expression of Beclin 1 and higher grade of endometriosis (the lower the expression of Beclin1, generally the worse the endometriosis grade).
While this study's results are promising, the authors of the correspondence note the following points that may need clarification:
The authors of the study did not report which site the endometriotic cells used for this study originated from. Endometriosis may present itself as peritoneal nodules, ovarian endometriomas, or deeply infiltrating endometriosis nodules. Knowing the effect of retinoic acid on these lesion types may shed light on their respective origin or pathogenesis.
Where retinoic acid is being produced in these endometriotic lesions.
Potential toxicities of long-term retinoic acid use on women with endometriosis.
Thus, further research is required concerning the use of retinoic acid on females with endometriosis.
---
---
endometriosis
vitamin A
retinoic acid
medical
DISCLAIMER
Endonews is designed to strictly highlight the most recently published scientific research that focuses on endometriosis. It is not designed to provide medical advice or an opinion on the best form of treatment. We highly stress the importance of not using this site as a substitute for seeking an experienced physician, which is highly recommended if you have any questions or concerns regarding your endometriosis needs. We believe in the consciousness of our reader to discriminate that research is different than "standard of care," and trust that they can keep in mind that here at Endonews, we summarize the newest peer-reviewed scientific medical literature, without bias.
<< Previous Article

Next Article >>