The predictors for the coexistence of uterine leiomyomas and endometriosis
By:
Hale Goksever Celik
- Jul 3, 2019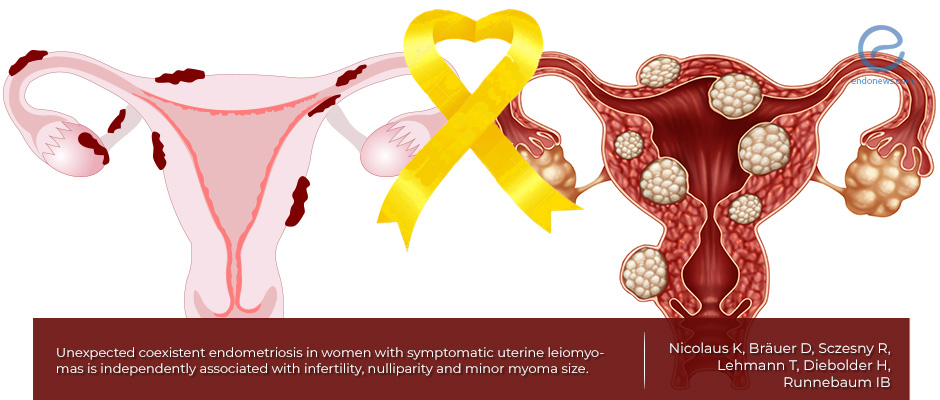 Nulliparity, infertility and minor myoma size are independent risk factors to predict the coexistence of uterine leiomyomas and endometriosis.
Key Points
Highlights:
Importance:
What's done here?
Key results:
Lay Summary
Uterine leiomyomas are the most common gynecological benign tumors affecting 20-25% of reproductive-aged women. Abnormal bleeding, pelvic pain, pelvic pressure, and infertility are major symptoms of these tumors.
Endometriosis is another gynecological disease encountered in 10-15% of reproductive-aged women. The most common symptoms are dysmenorrhea, dyspareunia, chronic pelvic pain, and infertility.
Both diseases share some common features such as estrogen dependence, similar potential symptoms, and genetic predisposition. Ultrasound and/or magnetic resonance imaging can be used for the accurate differential diagnosis.
However, uterine leiomyomas are more easily recognized with the current imaging methods.
Nicolaus et al, a group of scientists from Germany, published a study titled as "Unexpected coexistent endometriosis in women with symptomatic uterine leiomyomas is independently associated with infertility, nulliparity and minor myoma size" in the journal named Archives of Gynecology and Obstetrics. The authors aimed to evaluate the prevalence of unexpected endometriosis in women who underwent laparoscopic myomectomy.
They found that patients (25.6%) had histologically confirmed endometriosis at the end of surgical intervention of uterine leiomyomas, whereas remaining patients (166 women (74.4%) did not. They also found out that nulliparity, infertility and having smaller leiomyoma in size were independent risk factors for the coexistence of both diseases. There was no difference between the patients with and without endometriosis concerning endometriosis symptoms such as abnormal bleeding, pain, dysmenorrhea, previous surgical interventions, leiomyomas related factors (number-weight-locations), and operation complications. Those women with the coexistent leiomyoma and endometriosis had significantly longer operation time. Furthermore, patients with unexpected endometriosis had earlier stage endometriosis and the location was lesser pelvis in most cases.
"Unexpected coexistent endometriosis in women who undergo laparoscopic myomectomy due to symptomatic uterine myomas should commonly be expected," they added.
---
---
endometriosis
uterus
leiomyoma
coexistent
laparoscopic
myomectomy
nulliparity
infertility
size
DISCLAIMER
EndoNews highlights the latest peer-reviewed scientific research and medical literature that focuses on endometriosis. We are unbiased in our summaries of recently-published endometriosis research. EndoNews does not provide medical advice or opinions on the best form of treatment. We highly stress the importance of not using EndoNews as a substitute for seeking an experienced physician.