The management of diaphragmatic endometriosis
By:
Selma Oransay
- Nov 4, 2022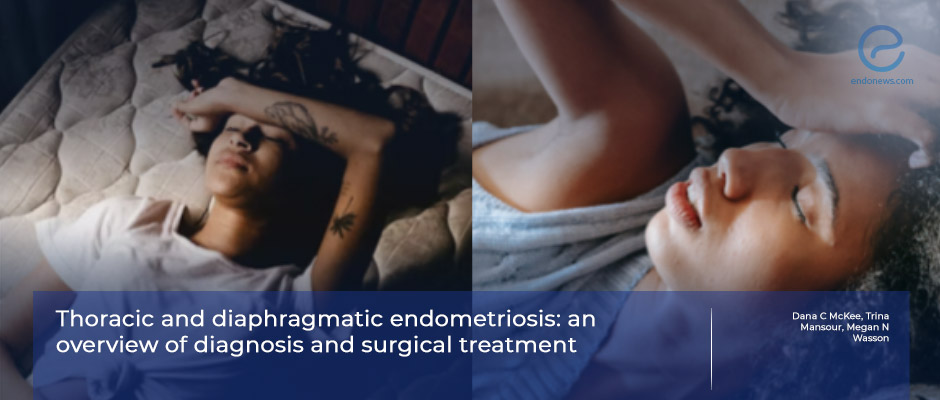 There is a need for a guideline for the appropriate management of the disease.
Key Points
Importance:
The gold standard for thoracic endometriosis diagnosis is the histopathologic confirmation of the biopsy specimen taken from the thoracic site.
This approach is critical to secure precise diagnosis and treatment for preventing recurrent symptoms and progression.
Highlights:
A multidisciplinary approach including thoracic surgeons should be considered in patients with a high suspicion of extensive thoracic involvement.
What's done here:
Key points:
The most common extra-pelvic site of endometriosis is the thoracic cavity, likely due to peritoneal dissemination of endometrial implants and metaplasia.
The presentation is highly variable, therefore the clinician should have a high-level suspicion when a woman of reproductive age complains of catamenial chest pain.
Although MRI is currently the most sensitive diagnostic method for thoracic endometriosis, mild cases may still be missed.
Since the major involvement of thoracic endometriosis is usually the diaphragm, its laparoscopic excision is sufficient for complete resection of the disease.
Lay Summary
Thoracic endometriosis is a rare disease, and it is likely to have been underdiagnosed and underreported. Optimal diagnostic testing and management options are yet to be determined. Imaging for thoracic endometriosis is still in its infancy, and MRI only helps to rule out other pulmonary diseases.
Dr. McKee et al.from Mayo Clinic Arizona, Department of Medical and Surgical Gynecology, Arizona, USA, wrote a literature review of thoracic endometriosis to point out that to date, there is no guideline for the optimal diagnosis and treatment of the disease. This cautionary review has recently been published in the journal named "Current Opinion in Obstetrics and Gynecology".
In this literature-based review, the authors described the clinical symptomatology of the disease, diagnostic methods, and currently applied surgical techniques.
Catamenial pneumothorax, haemothorax, hemoptysis, and rarely intrathoracic endometriotic nodules could be the signs of thoracic endometriosis syndrome. Surgical options include the laparoscopic approach, video-assisted thoracoscopic surgery, and laparotomy along with thoracotomy, when necessary. Postoperative hormonal suppression by GnRH agonists, combined oral contraceptives, progestins, danazol, and aromatase inhibitors are utilized to reduce the risk of recurrent symptoms.
The recurrent symptoms were reported in up to one-third of the cases. Recurrent pneumothorax is almost always associated with diaphragm defects.
The authors cautioned that guidelines for diagnostic and management purposes are needed to help appropriately identify the patients dealing with thoracic endometriosis.
---
---
thorax
abdominal
diaphragmatic endometriosis
surgical approach
pneumothorax
haemothorax
hemoptysis
endometriosis.
DISCLAIMER
EndoNews highlights the latest peer-reviewed scientific research and medical literature that focuses on endometriosis. We are unbiased in our summaries of recently-published endometriosis research. EndoNews does not provide medical advice or opinions on the best form of treatment. We highly stress the importance of not using EndoNews as a substitute for seeking an experienced physician.
<< Previous Article

Next Article >>