The effectiveness of acupuncture in the treatment of dysmenorrrhea
By:
Selma Oransay
- Feb 28, 2023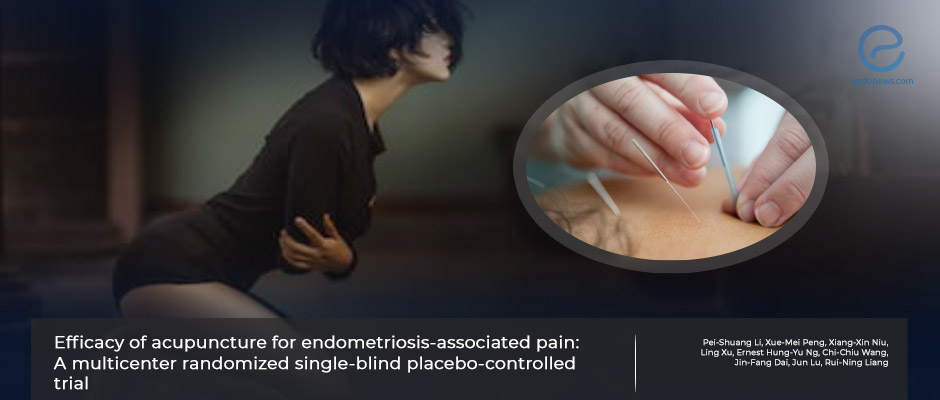 Acupuncture therapy may reduce dysmenorrhea in women with endometriosis.
Key Points
Importance:
Acupuncture therapy may reduce dysmenorrhea in women with endometriosis, however, no significant improvements were found in nonmenstrual pelvic pain and dyspareunia.
Highlights:
Acupuncture may be a safe treatment modality that can help with pain-reducing interventions in women with symptomatic endometriosis, but its efficacy and beneficial effects do not last long when the treatment is discontinued.
What's done here:
A multicenter randomized, single-blind, placebo-controlled study was held in the tertiary hospitals of China, between March 2018 and November 2021.
More than 100 eligible women with endometriosis who completed all acupuncture treatments for 12 weeks and follow-ups for 12 weeks were randomly divided into study and placebo groups. None of them used analgesics during the study period.
Statistical analyses of the comparison of 53 sham-acupuncture patients with 51 women in the acupuncture group were performed to evaluate the effectiveness of acupuncture in improving dysmenorrhea.
The primary outcome was a change in endometriosis-related pain over 12 weeks assessed by the VAS score. The secondary outcome was about physical function, emotional state, quality of life, serum Ca125 levels, and patient satisfaction in weeks 12 and 24 of the survey.
Key Results:
The age, BMI, parity, presence/size of ovarian endometrioma, length/duration of the endometrial cycle, serum Ca125 levels, dysmenorrhea VAS scores, non-cyclic pelvic pain, and dyspareunia were comparable between the acupuncture and placebo groups.
In the study group, acupuncture affected the overall duration of pelvic pain, emotional status, and quality of life with a good satisfaction rate.
No significant improvements were found in nonmenstrual pelvic pain and dyspareunia.
Unfortunately, acupuncture's efficacy and beneficial effects did not last long after treatment was discontinued.
Lay Summary
Asymptomatic endometriosis does not adversely affect women's quality of life and mental health. But the quality of life of women with endometriosis who suffer endometriosis-related pelvic pain, dysmenorrhea, dyspareunia, and dysuria declines as they become more susceptible to anxiety and depression.
The analgesic effects of acupuncture are closely related to the activity of central transmitters, including endogenous opioid peptides, serotonin, dopamine, and others. When a woman with endometriosis receives acupuncture treatment, the acupoints transmit acupuncture signals from the periphery to the central nervous system. Tough, the transmission and perception of noxious signals are prevented or modulated through nervous or humoral pathways.
To investigate the role of acupuncture in endometriosis-related clinical symptoms, Dr.LN. Liang group. from the Jiangxi University of Chinese Medicine, China, set up a multicenter randomized, single-blind, placebo-controlled study which has been recently published in the journal Fertility and Sterility.
The results showed that acupuncture is a safe and effective method of relieving dysmenorrhea, shortening the pain duration, and improving the quality of life in women who suffer from endometriosis-related pain. But it does not affect nonmenstrual pelvic pain and dyspareunia, and its efficacy disappears after the treatment is stopped.
The authors concluded that acupuncture can be used as an alternative therapy for endometriosis-related pain alone or with a combination of drug therapy.
---
---
acupuncture
sham-acupuncture
dysmenorrhea
dysparenuia
pain duration
quality of life
depression
anxiety
endometriosis.
DISCLAIMER
EndoNews highlights the latest peer-reviewed scientific research and medical literature that focuses on endometriosis. We are unbiased in our summaries of recently-published endometriosis research. EndoNews does not provide medical advice or opinions on the best form of treatment. We highly stress the importance of not using EndoNews as a substitute for seeking an experienced physician.
<< Previous Article

Next Article >>