The Delay in Endometriosis Diagnosis Is Huge
Dec 2, 2022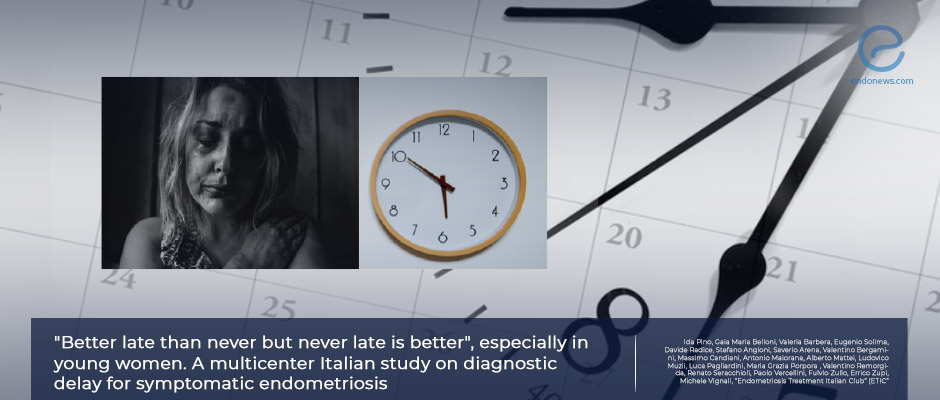 The average delay in endometriosis diagnosis is 11 years for Italian women.
Key Points
Highlights:
There is an 11-year delay in the diagnosis of endometriosis in Italy from when the first symptoms of pain appear.
This delay is even longer at almost 15 years for women whose symptoms appear before age 20.
Importance:
This finding shows the importance of educating patients and clinicians on endometriosis-related pelvic pain.
What's done here:
Researchers conducted a questionnaire-based study on 689 women at 10 Italian centers to diagnose and treat endometriosis.
Key results:
The average delay in diagnosis for all women was 11.4 years.
The average delay for women ages, 9 to 19 was significantly longer at 14.8 years.
For women ages 20 to 30, the average delay was 6.9 years while for women ages 31 to 45 it was 2.9 years.
Limitation:
The study did not include women with infertility; the findings cannot be generalized for women diagnosed with endometriosis due to infertility alone.
The age at which symptoms first appear is self-reported by the women and there may be a recollection bias.
The results are valid only for Italy and there may differ in other countries.
Lay Summary
Eleven years pass on average in Italy for a woman to get diagnosed with endometriosis from when she starts having symptoms. This delay can even be even longer (4 more years) if the symptoms appear before a woman is age 20. These are the findings of a new study by researchers from 16 different institutions in Italy published in The European Journal of Contraception & Reproductive Health Care.
The authors of the study suggest that educating patients and clinicians about pelvic pain related to endometriosis could help reduce delays in diagnosis, especially in younger women.
Their aim in conducting this study was to assess the waiting time of women in Italy before they receive an endometriosis diagnosis. The researchers also wanted to see whether there was a link between the socio-demographic status of the patients and the clinical characteristics or the type of diagnosis.
The team led by Dr. Michele Vignali from the Department of Obstetrics and Gynecology, Macedonio Melloni Hospital, and Department of Biomedical Sciences for Health at Università degli Studi di Milano, conducted a questionnaire-based study in 10 Italian referral centers for the diagnosis and treatment endometriosis.
In total, 689 women completed the questionnaire. All women had histologically proven endometriosis and their disease had started with symptoms of pelvic pain. The questionnaire included questions about endometriosis-related symptoms, family history of the disease or chronic pelvic pain, demographics, and the medical, reproductive, and obstetric history of the women.
The results showed that the average delay in diagnosis for all women was 11.4 years. For younger women (ages 9 to 19), the delay in diagnosis was significantly longer at 14.8 years. The average delay in women, ages 20 to 30 was 6.9 years, whereas in women, ages 31 to 45 it was 2.9 years.
The researchers reported no significant association between a delayed diagnosis and the number or severity of symptoms, familiarity, use of hormonal therapy, or method of diagnosis.
"These data confirm an urgent need for information, awareness and a different cultural approach towards pain symptoms related to endometriosis," the authors concluded.
---
---
endometriosis symptoms
endometriosis diagnosis
delay in diagnosis
DISCLAIMER
EndoNews highlights the latest peer-reviewed scientific research and medical literature that focuses on endometriosis. We are unbiased in our summaries of recently-published endometriosis research. EndoNews does not provide medical advice or opinions on the best form of treatment. We highly stress the importance of not using EndoNews as a substitute for seeking an experienced physician.
<< Previous Article

Next Article >>