The cost-effectiveness of different GnRH agonist regimes for progestogen-resistant endometriosis.
By:
Selma Oransay
- Jun 2, 2023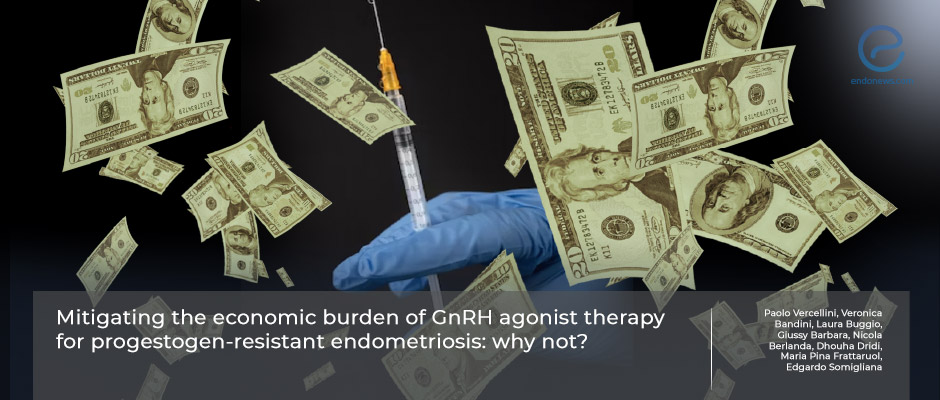 Reducing the cost of GnRH agonist therapy for endometriosis is possible.
Key Points
Highlights:
The extended-interval dosing regimen is appropriate and economical, and using a depot preparation that persists for seven weeks in the body that can be safely injected every six weeks is cost-effective.
Importance:
The current cost of long-term GnRH analog regimes creates financial problems and inequality between patients due to socioeconomic burdens.
What's done here:
The study aimed to evaluate and compare the effect of three alternative modalities for GnRH use in women with endometriosis to find a way to low-cost therapy.
A primary literature search was conducted using the keywords "endometriosis," "adenomyosis," "GnRH agonists," "triptorelin," " leuprorelin," "goserelin," and "buserelin."
Among 1664 available records, 14 studies were selected and

intermittent estrogen deprivation therapy,
low-dose or draw-back treatment, and
extended interval dosing regimens were evaluated.

GnRH agonist, its dosage, total therapy duration, side effects, treatment adherence, and pelvic pain relief were the main concerns while evaluating these studies.
Key Results:
Intermittent estrogen deprivation therapy, low-dose or draw-back therapy, and extended interval dosing regime modalities were applied in 2, 8, and 4 of 14 studies.
Triptorelin depot (3,75 mg) preparation inhibits ovarian function for a more extended period when compared with leuprorelin depot (3,75 mg), allowing injections every 6 instead of 4 weeks.
Annual savings calculated based on the cost indicated by the Italian Medicine Agency, triptorelin depot preparation resulted in a meaningful saving.
It seems possible to adopt the extended-interval dosing regimen using 3,75mg triptorelin formulations plus draw-back therapy to save about one-third of the overall yearly cost.
Limitations:
There was extreme qualitative heterogeneity in the properties of the studied abstracts, which can cause distrust in comparing the GnRH analog regimes.
No quantitative evaluation has been conducted to statistically highlight one of the GnRH analog regimes.
Lay Summary
Surgical and medical treatments are currently used to treat the pelvic pain caused by endometriosis. Respected guidelines recommend using progestins with or without estrogens as first-line medical treatment due to their safety, effectiveness, inexpensive, and tolerability. However, one-third to one-quarter of patients who don't respond to these agents need second-line medications such as GnHR agonists or GnRH antagonists.
All those agents induce varying degrees of hypoestrogenic state to cause inactivity of endometriotic lesions and positively impact pelvic pain symptoms. Pseudo-menopausal vasomotor symptoms, vaginal dryness, physiological complaints, reduced libido, and declining bone mineral density are these medicines' adverse and unwanted effects. Another major disadvantage of the second-line therapy is the cost of this schedule. Depot triptorelin and leuprorelin are accepted agents for GnRH agonist therapy, and the yearly cost of their use combined with add-back therapy is above 2000 euros in Italy.
For this reason, access to the second-line treatment of endometriotic pelvic pain remained inequal for patients due to their socioeconomic status. Reducing the cost of the therapy will be a practical and ethical way to find a resolution for citizens as a whole. Hence, to find the best therapeutical approach regarding declining financial and treatment burdens, Vercellini et al. from the Department of Clinical Sciences and Community Health of the University of Milano, Italy, systematically reviewed the last decade's literature on GnRH agonist therapy modalities. As a result of the literature search, 14 selected articles worthy of evaluation presented three alternative modalities of GnRH agonists.
Using depot formulations according to an extended-interval dosing regimen seems the most feasible and realistic option among the three alternatives of GnRH analog therapies. According to the authors, adapting the extended-interval dosing regime using 3,75 mg depot triptorelin formulations plus add-back treatment will provide a one-third annual saving.
This interesting article was recently published in Human Reproduction Open.
---
---
pelvic pain
leuprorelin
triptorelin
systematic review
GnRH agonists
cost-effectiveness
endometriosis.
DISCLAIMER
EndoNews highlights the latest peer-reviewed scientific research and medical literature that focuses on endometriosis. We are unbiased in our summaries of recently-published endometriosis research. EndoNews does not provide medical advice or opinions on the best form of treatment. We highly stress the importance of not using EndoNews as a substitute for seeking an experienced physician.