The association between endometriosis and ectopic pregnancy
Jan 24, 2020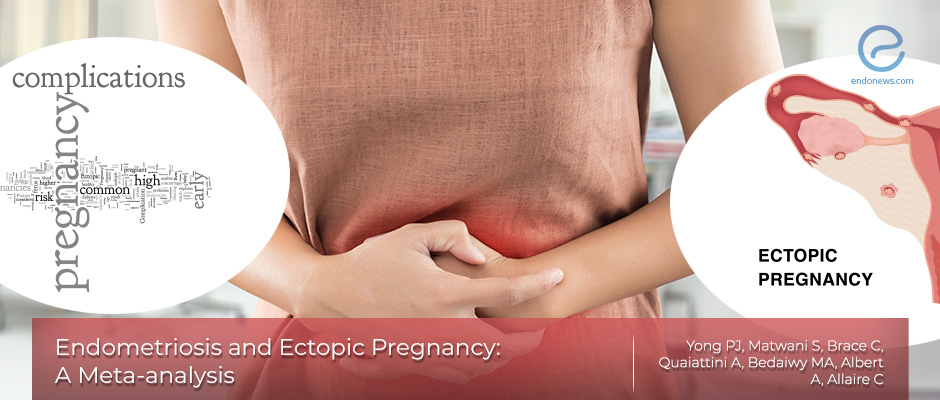 Endometriosis is associated with ectopic pregnancy due to several common underlying risk factors and impaired tubo-ovarian anatomy and adhesions.
Key Points
Highlights:
Endometriosis is not only a disease that causes pelvic pain and infertility, but it is also associated with poor obstetric outcomes such as ectopic pregnancy.
Importance:
Women with endometriosis should be informed about the relationship of the disease to ectopic pregnancy and other pregnancy complications.
What's done here?
This meta-analysis review was conducted to clarify the association between endometriosis and ectopic pregnancy based on the case-control and cohort studies in the literature.
On the other hand, studies in which patients with ectopic pregnancy were compared with controls without ectopic pregnancy were considered as case-control studies.
Ectopic pregnancy was identified through surgical diagnosis, ultrasound diagnosis, or the use of ICD codes.
Out of 1912 studies, only 10 case-control studies and 5 cohort studies, met the criteria.
Key results:
The review of case-control studies showed a significant association between endometriosis and ectopic pregnancy, while the significance was not proven in cohort studies.
Limitations:
Lay Summary
Endometriosis is a chronic inflammatory disease with a broad spectrum of symptoms such as dysmenorrhea, dyspareunia, chronic pelvic pain and fertility problems. It has been understood in the light of scientific evidence that endometriosis is also associated with other poor obstetric outcomes including early and late pregnancy complications.
Ectopic pregnancy is a complication of pregnancy in which the embryo attaches outside the uterus. Yong et al, a group of scientists from Canada, published a review titled "Endometriosis and Ectopic Pregnancy: A Meta-analysis" in the "Journal of Minimally Invasive Gynecology".
The authors sought to investigate the association between endometriosis and ectopic pregnancy. They found that endometriosis was more commonly encountered in women with ectopic pregnancy. The relationship between the two diseases could be explained by the common underlying risk factors (whether genetic or environmental) and demographic factors. There are also possible etiopathogenetic mechanisms for the association between endometriosis and ectopic pregnancy. Tubo-ovarian adhesions, tubal endometriotic lesions, and ovarian endometriomas, by impairing the tubo-ovarian anatomy resulting in ectopic pregnancy. Endometriosis-associated peritoneal inflammation also alters tubal physiology and causes a subsequent risk for ectopic pregnancy.
This association between endometriosis and ectopic pregnancy is increased especially in women with a previous history of ectopic pregnancy or pelvic inflammatory disease. The authors suggested that the inclusion of both case-control studies and cohort studies was the strength of their meta-analysis. However, heterogeneity in the design of the studies, dates of study samples (ranging from 1977 to 2016), sample sizes (from <30 to >100 000), how endometriosis was diagnosed (gold standard histopathologic confirmation vs ICD coding alone), ascertainment of the sample (ranging from single-center to population-based studies), insufficient data to perform subanalyses based on anatomic characteristics of endometriosis, including stage, anatomic subtype, location of disease, or type of surgical procedure (ablation vs excision) were limitations of their study.
"As the evidence for the importance of endometriosis in pregnancy becomes more apparent, guidelines may be needed for the obstetric care of patients with endometriosis." the authors added.
---
---
endometriosis
ectopic pregnancy
meta-analysis
systematic review
poor obstetric outcomes
infertility
tubal adhesions
DISCLAIMER
EndoNews highlights the latest peer-reviewed scientific research and medical literature that focuses on endometriosis. We are unbiased in our summaries of recently-published endometriosis research. EndoNews does not provide medical advice or opinions on the best form of treatment. We highly stress the importance of not using EndoNews as a substitute for seeking an experienced physician.
<< Previous Article

Next Article >>